U.S. U-17 Women's National Team draws Brazil 1-1 in friendly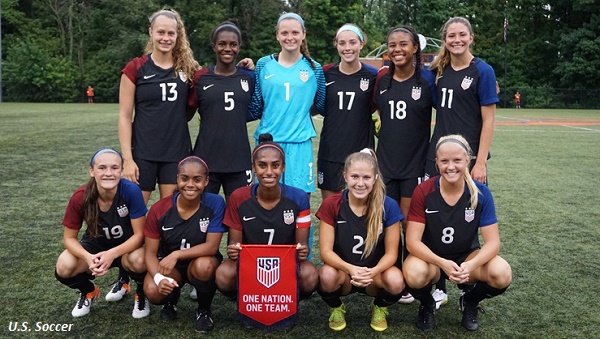 HOLLAND, Michigan (Via U.S. Soccer) – The U.S. Under-17 Women's National Team tied for the second time over four days in two international friendlies against the Brazil Under-17 Women's National Team, drawing 1-1 behind a goal from Emily Smith.
On Aug. 9, the two teams played to a 2-2 draw in East Lansing, Michigan, that was played in front of 2,250 fans. The second leg was watched by 2,278 fans who saw the USA take the lead just minutes into the second half as the young Americans scored off a corner kick.
Taryn Torres sent in the cross from the right side and Smith won the ball out of a scramble in the box to finish.
+Read: U.S. U-15 Girls National Team edges Haiti 1-0 in CONCACAF group play
The lead was short-lived as Brazil tied the game through Kerolin Ferraz in the 53rd minute and that's how it ended.
U.S. head coach B.J. Snow made four changes to the starting lineup from the first match against Brazil and once again utilized all six of his allowed substitutes. The USA still remains unbeaten international play in 2016, moving to 10-0-2.
The matches were among the final chances to evaluate the players before Snow chooses the final roster for the 2016 FIFA U-17 Women's World Cup that will be held in Jordan from September 30 through October 21.
The U.S. plays its first Group D match against Paraguay on Oct. 1 at Prince Mohammed International Stadium in Al Zarqa (4 p.m. local / 9 a.m. ET) before facing Ghana on Oct. 4 at King Abdullah II International Stadium in Amman (4 p.m. local / 9 a.m. ET). The USA will finish group play on Oct. 8 against Japan at Amman International Stadium (7 p.m. local / Noon ET).

U.S. Under-17 Women's National Team Match Report

Match:            U.S. Under-17 WNT vs. Under-17 Brazil WNT
Date:               August 12, 2016 
Competition:  International Friendly
Venue:           Van Andel Soccer Stadium; Holland, Mich.
Attendance:   2,278
Weather:         83 degrees, rain

Scoring Summary:    1          2          F
USA                            0          1          1
BRA                             0          1          1 
USA – Emily Smith (Taryn Torres)                                         48th minute
BRA – Kerolin Ferraz (Jaqueline Almeida)                            53

Lineups:
USA: 1-Meagan McClelland; 2-Ashley Sanchez (23-Frankie Tagliaferri, 75), 4-Kiara Pickett, 5-Brianna Pinto (24-Lia Godfrey, 46), 7-Naomi Girma, 8-Civanna Kuhlmann (16-Adrienne Richardson, 57), 11-Kate Wiesner (15-Kerry Abello, 68), 13-Jaelin Howell, 17-Sydney Zandi (21-Taryn Torres, 46), 18-Kennedy Wesley (10-Emily Smith, 46), 19-Jordan Canniff (9-Alexa Spaanstra, 46)
Subs not used: 22-Laurel Ivory, 3-Karina Rodriguez, 6-Sophie Smith, 12-Hillary Beall, 14-Izzy Rodriguez, 20-Rachel Jones
Head Coach: B.J. Snow

BRA: 2-Isabella Fernandes; 3-Camila Soares, 4-Thais Regina, 5-Angelina Constantino, 6-Thais Reiss, 7-Jaqueline Almeida, 9-Ana Vitoria Araujo, 10-Micaely Brazil, 11-Kerolin Ferraz, 12-Kemelli Ferreira, 18-Raquel Batista
Subs not used: 1-Julia Silva, 8-Bianca Ferrara, 13-Rayane Souza, 14-Kawane Ribeiro, 15-Andressa Rosa, 16-Maria Julia, 17-Nycole Sobrinho
Head Coach: Luiz Ribeiro 
Statistical Summary: USA / BRA
Shots: 5 / 9
Shots on Goal: 2 / 3
Saves: 2 / 1
Corner Kicks: 2 / 1
Fouls: 8 / 10
Offside: 2 / 1 
Misconduct Summary:
BRA – Micaely Brazil (caution)                       9th minute
USA – Kerry Abello (caution)                         89
Officials:
Referee: Becky Pagan
Asst. Referee 1: Rahel Smith
Asst. Referee 2: Nicole Green
4th Official: Nick Balcer