Girls wrap up opening weekend of US Youth Soccer National League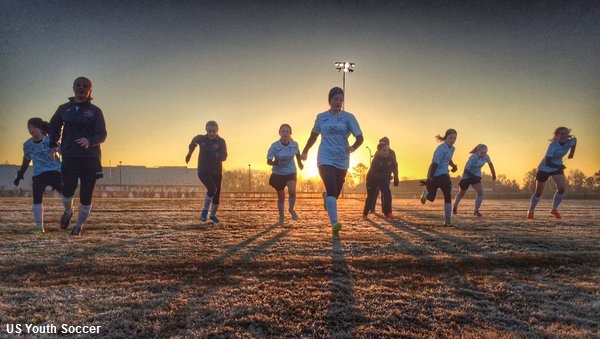 Day 4 of 4 complete
Scores and Standings | Get National League News | Video | Live Broadcast Replays
WILSON, N.C. (Via US Youth Soccer) — After four days of play, the US Youth Soccer National League Under-14, 15, 16, 17 and 18 Girls have solidified their spots in the standings until nearly half the field meets again Dec. 31–Jan. 2 in Orlando, Fla., where they will continue competing for a league title and a ticket to the 2016 US Youth Soccer National Championships in Frisco, Texas.
The National League brings together some of the best teams in the country, all of which have had to earn their place in the league through success in US Youth Soccer regional and national competition. Hundreds of collegiate coaches, as well as members of the U.S. Soccer staff, attended the National League matches in North Carolina to scout some of the top talent in the country. Player evaluation is enhanced by the competitive level and importance of each game, as teams compete for top-two finishes and a berth in the National Championships.
"This is a gathering of some great teams, and you're playing for something to be in the top spots," said Mauricio Ingrassia, the Director of Coaching for Beach FC, which has three teams in the league. "You don't have many slip-up opportunities. You have to be at your best… That's the competitive part that really brings out the best in the team and the players."
+Read: US Youth Soccer National League Girls standings taking shape on Day 3
The competition within each age group has been very close, and multiple teams are still very much alive for every division title. The first-place team's lead is two points or less in eight of the 10 divisions, and five divisions have ties at the top of the standings. The largest division lead belongs to Midwest United FC 01 Royal (MI), which has opened up a four-point advantage in the Under-15 Blue Division.
Meanwhile, seven teams came away with a win in each of their four games, and three sides have yet to concede a goal — Under-14 CUP Gold 01/02 (OH-S) and the Under-16 and Under-18 teams from Carlsbad United Elite (CA-S). CUP Gold 01/02 also led all teams with 17 goals scored.
Competing for a league title and a spot in the US Youth Soccer National Championships, each and every game will play into who represents the National League this summer in Frisco, Texas.
The National League is an extension of the US Youth Soccer Regional Leagues (US Youth Soccer Region I Champions League, Midwest Regional League, Southern Regional Premier League and Far West Regional League). The National League provides an avenue for teams to play in meaningful matches against top competition from across the country for continued development and opportunities for exposure at the national team, collegiate and professional levels.
National League Girls action continues when 32 of the teams meet Dec. 31–Jan. 2 in Orlando, Fla., alongside the Disney Soccer Showcase, while the remaining 48 squads play March 18-20, 2016 in Las Vegas, Nev., alongside the Players College Showcase. Complete standings, scores and schedules, including goal scorers and match information, can be found at the results page here. Click on the score of each game for more information.
Some highlights from Sunday's matches…
Under-14
An entertaining Under-14 Blue Division matchup between TFA Elite 01 (OH-S) and LA Galaxy South Bay Elite (CA-S) ended in a 3-3 draw. The Galaxy came out strong, hitting the post in the opening minutes before Erin Magid broke through with a strike in the 27th minute. Despite consistent pressure from the Cal South side, TFA kept it close and scored on its first real chance when Peyton Miller struck a half-volley from around the penalty spot to level the score at halftime. The Ohio South side struck quickly after the break with a Madelyn Pittman goal, but the Galaxy responded with a Sydney Bloch penalty kick to pull even. Pittman put TFA back in front when she headed in a 48th-minute corner. The post once again denied LA in the final minutes, but Skylar Briggs scored off of a well-placed corner kick to equalize in stoppage time and force the 3-3 draw.
+Read: US Youth Soccer National League Girls play continues in North Carolina
CUP Gold 01/02 (OH-S) finished its first weekend with a 3-0 win over Fullerton Rangers 01 White (CA-S) and sits on top of the Red Division with a perfect four wins. CUP controlled the match from the start, but Fullerton's backline and keeper Monica Balos managed to keep the high-scoring offense of the Ohio side off the scoreboard in the first half. Despite the CUP pressure, Fullerton had a couple good opportunities on the counter, but CUP's possession style of play kept the California side's chances at a minimum. CUP's Kailyn Dudukovich opened the scoring early in the second half as she beat her defender and then got her shot off over a sliding Fullerton player. Dudukovich's shot flew under the crossbar to give her side a 1-0 lead. In the 54th minute, CUP's Mackenzie Bierman's shot was saved by Balos but fell into the path of Morgan White, who hit the rebound into the net for a 2-0 lead. White added her second goal in the 65th minute when she had her initial shot blocked but boomed the rebound near-post past a diving Balos. With the win, CUP finishes the first weekend of play with a perfect 12 points while allowing no goals against.
Under-15
OFC 01 Phillips (OK) remained near the top of the Under-15 Blue Division standings with a 2-1 win over Beach Academy (CA-S). The Cal South side took a first-half lead on Jillian Arriola's 22nd-minute strike. Shortly after halftime, OFC's Carsyn Smittle hit a well-placed shot just inside the post to level the score. Smittle came back just two minutes later and curled a right-footed shot inside the far post to score what proved to be the game winner. The three points help OFC remain in good standing as it aims for a division title.
The Under-15 Red Division standings are tightly compacted after four days of play in North Carolina. Campton United Navy (IL) leads all teams with nine points, while Sunrise Sting 00/01 (FL), Legends FC 00 (CA-S) and FC Pride 01 Elite (IN) are each two points behind with two wins and a tie each.
Under-16
An evenly matched Under-16 Blue Division clash between Albion SC White (CA-S) and FC Pennsylvania Strikers (PA-E) ended in a scoreless draw. Penn Strikers had some close calls in the first half, but they couldn't quite crack the Albion back line, as the game went to half with no score. Albion threatened to change that score line several times in the second half, but the Strikers keeper made some crucial saves to keep the game level. By splitting the points, Albion remained in a first-place tie with in-state foe Carlsbad Elite 99 (CA-S) at 10 points, while the Strikers are close behind with seven points.
In the Under-16 Red Division, 2015 National Championship finalist La Roca Premier PO (UT) is in a tie for first with Cleveland FC (OH-N) at 10 points. FCKC Pink Panthers Elite (MO) is alone in third place with seven points, while defending National Champion Legends FC 99 (CA-S) is tied at six points with Solar Chelsea Elite 00 (TX-N).
Under-17
Beadling Bulldogs (PA-W) picked up an important three points in the Under-17 Blue Division with a 1-0 win over Loudoun 98 Red (VA). In the 16th minute, Emma Thomas powered a shot past the Loudoun keeper to put the Pennsylvania side in front. Beadling came close to doubling its lead when it grazed the crossbar, and Loudoun kept things close heading into the break. The Beadling back line absorbed any pressure it faced in the second half to help the Bulldogs come away with the 1-0 victory and move within a couple points of second place in the division.
+Read: U.S. U-20 WNT opens World Cup Qualifying with 2-2 draw vs. Mexico
Elsewhere in the Blue Division, Beach FC 98 Academy (CA-S) moved into second place with a 2-1 win against FC Kansas City Forte Elite (MO). FCKC jumped ahead in the 18th minute on a Nina Stine goal, but Beach replied shortly after when Nadiyah Siqueiros found the back of the net to level the score. Siqueiros struck again in the 55th minute to give the Cal South side a 2-1 lead, and the defense made sure that was enough as Beach earned the 2-1 victory.
Three-time National Championship finalist YMS Premier Xplosion 98 (PA-E) picked up four wins in four days to finish the week atop the Under-17 Red Division standings. Meanwhile, Beach FC 98 Academy (CA-S) is in second with nine points, and FC Kansas City Forte Elite (MO) and Arsenal FC Bowers (CA-S) each have seven points.
Under-18
Carlsbad Elite 97/98 (CA-S) is on track to add to its record three National League titles, as it one of two teams — along with KHA Red (OH-S) — that are atop the Under-18 Blue Division with 12 points after a week of play. Syracuse Development Academy 97/98 (NY-W) and Tennessee SC 16 (TN) are tied with third with six points each.
A pair of Region I sides — NJ Stallions Dynamite (NJ) and MD United Coyotes (MD) — are tied atop the Under-18 Red Division with 12 points each following the action in North Carolina. Defending National Champion Tampa Bay United 97 Premier (FL) and 2015 finalist Beach FC Academy 97 (CA-S) have work left to do with seven and six points, respectively.