Georgetown, Providence and UConn players earn Big East women's soccer awards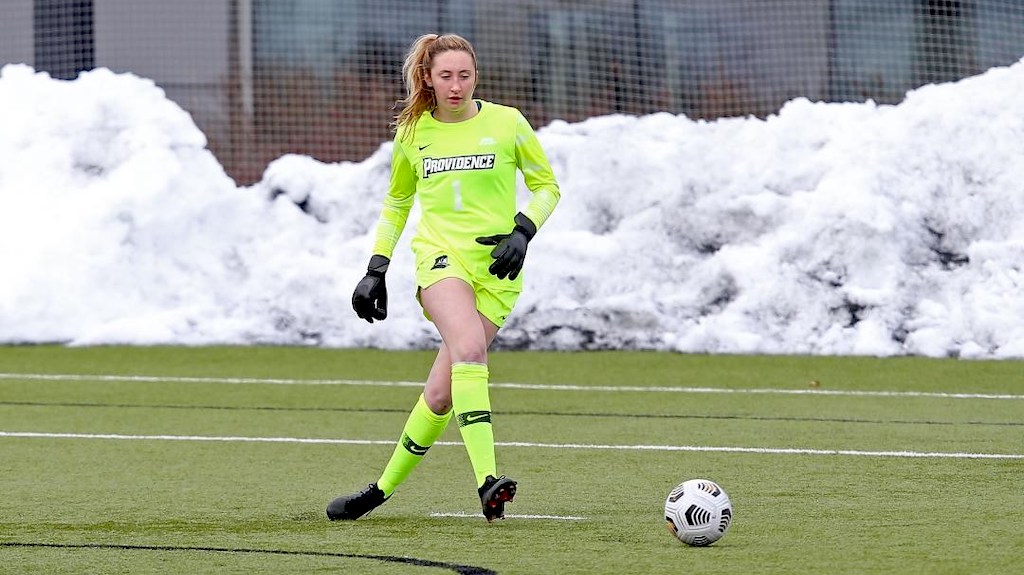 The Big East Conference has revealed the latest set of weekly honors for women's soccer standouts during the Spring 2021 season.
BIG EAST Offensive Player of the Week
Gia Vicari, Georgetown, So., F
Vicari was dominant in the Hoyas' nationally televised win over Villanova on Sunday, tallying seven points off three goals and an assist in Georgetown's 7-0 victory. All seven of Vicari's points came in the first half, and all within the first 27 minutes of the contest. Vicari took five shots on the afternoon with three landing on target. Vicari's seventh-minute goal proved to be the game winner before adding scores in the 25th and 27th minutes, while also dishing an assist in the 20th. The seven-point outing is the second-most by a BIG EAST player this season and the most in a league contest in 2021.
BIG EAST Defensive Player of the Week
Jacqueline Harnett, UConn, So., D
Harnett anchored the UConn defense which scored back-to-back shutout victories last week, beginning with a 3-0 clean sheet against Villanova on Thursday, followed by a 1-0 win at St. John's on Sunday. The Huskies outshot their foes by a 29-8 margin, including a 13-4 advantage in shots on goal. The Huskies' defense limited the Wildcats to just one shot on Thursday, while Harnett was also credited with an assist in that contest, dishing on Isabelle Lynch's insurance score in the 77th minute.
BIG EAST Goalkeeper of the Week
Emma Bodmer, Providence, Fr., GK
Bodmer scored back-to-back shutouts in a 1-0-1 week for the Friars, including a double-overtime scoreless draw with No. 12 Georgetown. The freshman totaled 12 saves on the week, beginning with four against the Hoyas then eight in a 4-0 victory over Seton Hall on Sunday. Providence is the lone team to shutout the Hoyas this season and the first team to score a draw with Georgetown.
BIG EAST Freshman of the Week
Meg Hughes, Providence, Fr., F
Hughes shined in the Friars' 4-0 win over Seton Hall on Sunday, registering five points off a goal and three assists. The rookie forward assisted on Elayna Grillakis' third-minute game winner before scoring the insurance goal in the 37th to make it a 2-0 match. Hughes added two more helpers in the 64th and 70th minutes. In the 1-0-1 week for Providence, Hughes totaled five shots, including two in Thursday's scoreless draw with No. 12 Georgetown.
BIG EAST Weekly Honor Roll
Stephanie Rodriguez, Butler, R-Jr., GK – made five saves in a 1-0 overtime win at Marquette on Sunday; improved to 8-1-0 on the year with her fifth shutout
Isabelle Lynch, UConn, Jr., F – 2-0-0 week highlighted by two-goal outing in Thursday's 3-0 win over Villanova; game-winner against the Wildcats came in the 37th minute
Keelan Terrell, Creighton, So., GK – earned first career shutout on Thursday as the Bluejays blanked reigning BIG EAST champion Xavier, 1-0, on the road; faced 11 shots and made two saves
Kelly Ann Livingstone, Georgetown, Sr., D – led a Georgetown defense which scored back-to-back shutouts, holding Sunday's opponent Villanova without a single shot in the game; combined 38-15 advantage in shots last week, including 17-4 on goal
Laura Hooper, Seton Hall, Sr., M – two goals in 3-2 double-overtime win over rival St. John's, including the golden goal with 21 seconds remaining; 11 total shots in 1-1-0 week for the Pirates