Baylor, Oklahoma State, Texas and West Virginia players earn Big 12 honors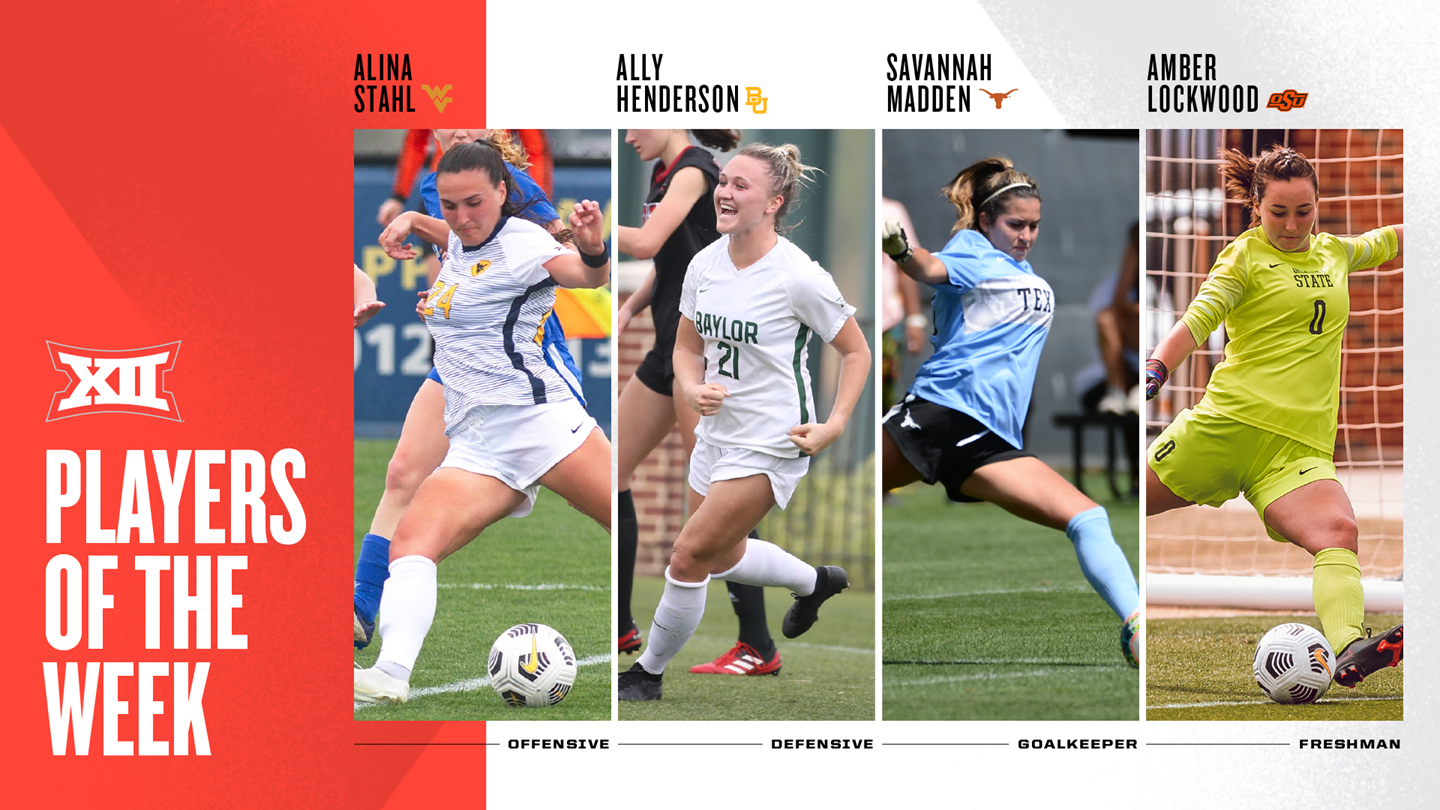 Soccer student-athletes from Baylor, Oklahoma State, Texas and West Virginia were honored with Big 12 weekly awards for their performances in Week 14.
WVU's Alina Stahl earned Big 12 Offensive Player of the Week, while Baylor's Ally Henderson collected Defensive Player of the Week. UT's Savannah Madden was recognized as Goalkeeper of the Week and OSU goalkeeper Amber Lockwood as Freshman of the Week.
Stahl scored the game-winning goal for West Virginia in Saturday's upset win over No. 5 Duke. She found the back of the net for the sixth time this season in the 47th minute, earning her second GWG of the year. Earlier in the day, she tallied an assist for WVU and finished with three total points on the day. Stahl registered three shots, including two on goal. WVU has now defeated a top-10 opponent in 15 of the last 16 seasons.
Henderson, a defensive midfielder, scored a pair of goals on Saturday, marking her first goals since her freshman season. Henderson also steadied a Baylor backline that recorded its seventh shutout of the season and held Louisiana to only three shot attempts and two corner kicks all game.
Madden registered her sixth solo shutout of the season by making five saves during last Friday night's 3-0 road win at Texas A&M-Corpus Christi. The San Diego native hasn't allowed a goal so far over two matches this spring and is riding a shutout streak of 216:01 dating back to Nov. 6 at Texas Tech. Three of her stops came over the opening 45 minutes against the Islanders as the teams went to the break tied at 0-0. Madden followed that up with stops at 54:24 and at 65:49, as the Longhorns erupted for three second-half scores to secure the win.
Lockwood recorded a shutout with a pair of saves against Oklahoma to help Oklahoma State run its winning streak to eight with a 2-0 victory. The eight-straight wins are tied for the fourth-longest winning streak in program history. Making just her second career start and pressed into duty after the scheduled starter was injured in pregame, Lockwood turned in the clean sheet, including making a key save in the 72nd minute on a free kick by the Sooners with OSU clinging to a 1-0 lead.
The award is the second for Madden this season, while Henderson, Lockwood and Stahl are first-time honorees in 2020-21.
BIG 12 SOCCER PLAYERS OF THE WEEK – WEEK 14
Offensive Player of the Week
Alina Stahl, Forward, Jr., West Virginia
Defensive Player of the Week
Ally Henderson, Midfielder, Sr., Baylor
Goalkeeper of the Week
Savannah Madden, Sr., Texas
Freshman of the Week
Amber Lockwood, Goalkeeper, Oklahoma State