Generation adidas Cup Semifinals: MLS NEXT sides vie for trips to title match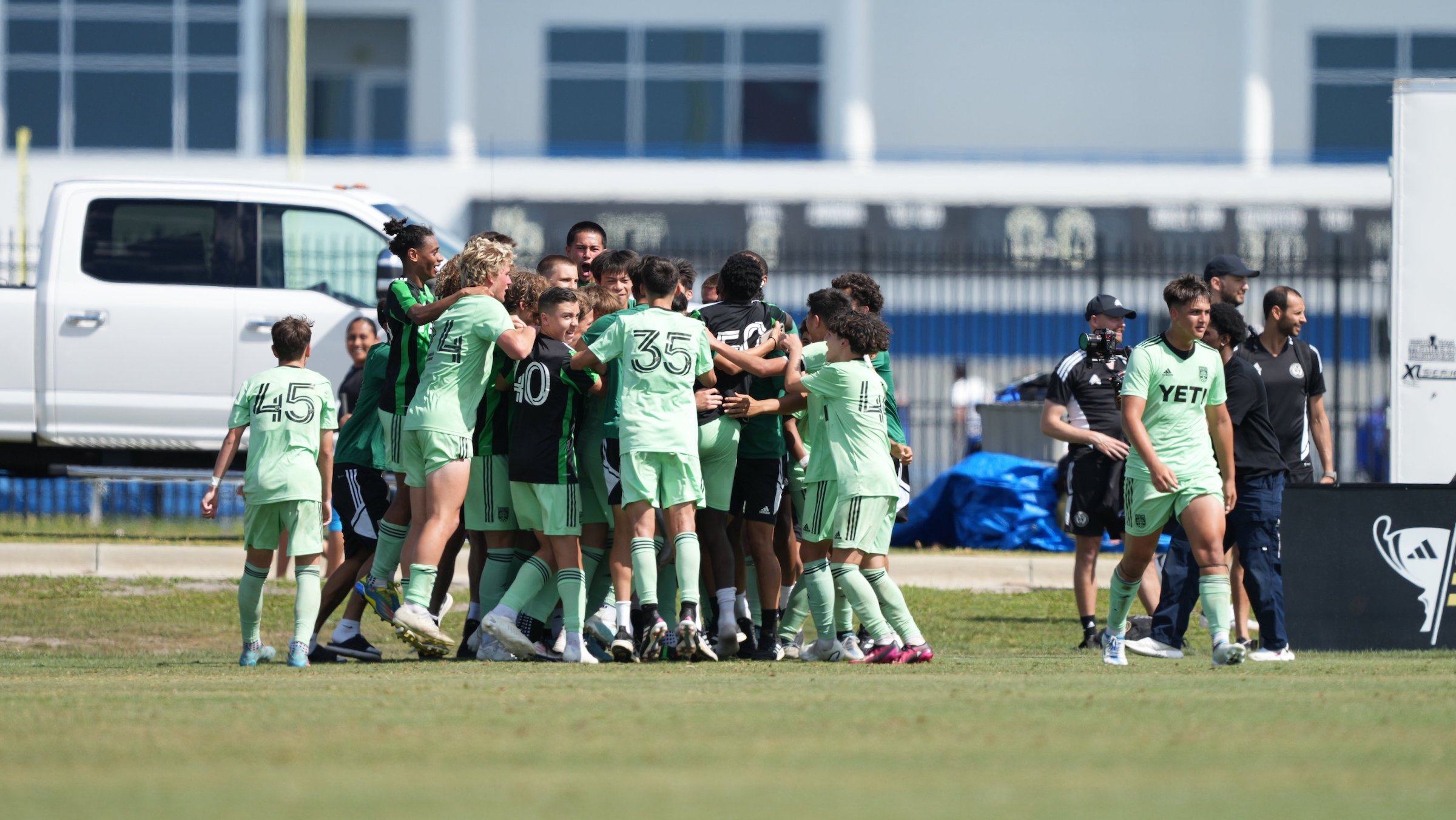 By Sean Maslin
SoccerWire Staff Writer
The Generation adidas Cup enters the semifinals stage on Saturday with four U15 and U17 matchups featuring some of the top academy teams in the world.
Continue reading for previews of each of the matchups as well as some key players to keep an eye on. All matches can be streamed on the GA Cup website.
U15 and U17 Semifinal Matchups (Saturday, April 8)
All Times Eastern
U15
Austin FC vs KRC Genk (10:00 a.m.)
Austin FC are one of the hottest teams entering into the semifinals, having won defeated blanked the San Jose Earthquakes in the Round of 16 and the New York Red Bulls in the Quarterfinals, each by 2-0 scorelines. Against the Red Bulls, Abner Zuniga buried a penalty kick chance to put Austin up 1-0. Tate Duax added a second in the 51st, finishing a long cross from Viggo Ortiz to earn the 2-0 result.
While their attacking work has been on point in the knockout stages, so too has their defensive work. Led by USYNT U15 player Gavin Wolff, the Austin backline has allowed just one goal in five matches at the GA Cup.
Like Austin, KRC Genk are a balanced side that is comfortable at both playing with a lead and needing to find goals when it counts. In the Quarterfinals, they downed Monterrey 1-0. Forward Wout Kapers finished off a high curling free kick in the 41st minute with a perfectly placed header into the back of the net. Kapers is a member of Belgium's U15 National Team.
Philadelphia Union vs Orlando City SC (12:00 p.m.)
Tournament favorites Philadelphia had to earn their spot in the Semifinals the hard way, holding off Real Madrid 6-5 in penalties after playing to a 0-0 draw. Goalkeeper Alex Smith once again came up big for the Union, making two key penalty kick stops against Madrid, making excellent reads on both shots. His work between the posts during this tournament has been nothing short of fantastic, allowing just one goal in five matches.
On the attacking front for Philadelphia keep an eye on Cavan Sullivan. The United State U15 Youth International was instrumental in Philadelphia's 4-1 win over Arsenal in the Round of 16, setting up three of their four goals while scoring the go-ahead effort just 19 seconds into the match. Look for him to work with Anisse Saidi (who scored the second goal against Arsenal) to create attacking chances.
Philadelphia's high-scoring attack tested against another attack-minded side in Orlando that like to put their foot on the gas. The Purple Lions are led by talisman forward Gustavo Delgado, who has five goals at the GA Cup. He saved perhaps his best effort so far for the Quarterfinals, where he netted a brace in their 2-0 win over the Columbus Crew. Delgado is a speedy attacker that can create space between multiple defenders.
What makes Delgado such a difficult target to cover is that he is also an expert passer and can create chances for his teammates with relative ease. Look for Jarrell Bonilla to be the beneficiary of that extra space. Bonilla scored the game-winner in the Round of 16 win over the Seattle Sounders and scored a pivotal goal in their penalty kick win against the Houston Dynamo in Group Play.
U17
Columbus Crew vs FC Dallas (2:30 p.m.)
Saturday's first U17 semifinal will be a battle of two high-scoring sides that like to open up the field and take some cracks at goal. Columbus booked their spot into the semifinals with a 1-0 win over New York City FC. The combination of Taha Habroune and Owen Presthus once again paid off for the Black and Yellow in the 36th minute. Presthus hit a low swerving shot through the defense that looked like it might break the deadlock. While he was denied, Habroune was there for the rebound, coolly slotting in the game-winner.
What makes both players so dangerous is that while they are excellent attacking players they are also willing to help out on defense. New York nearly had the equalizer in the second half but Presthus made a goal-line headed clear to keep the shutout alive. Likewise, Habroune was effective in going on the attack by himself late, forcing balls into the corner and slowing down any New York counter-attacks.
The Crew are going to have their hands full against an FC Dallas side that have dominated teams in this tournament. In five matches, they have outscored their opponents 8-1 and have pulled off four clean sheets. Their latest big win came in the Quarterfinals where they defeated LigaMX giant 2-0. Midfielder Jared Salazar scored the opener in the 42nd minute and helped set up their second goal, a Luke Shreiner effort, at the end of the match to put things away (52nd minute).
Los Angeles Football Club vs Philadelphia Union (5:00 p.m.)
The second semifinal in the U17 age division will feature two sides in LAFC and the Philadelphia Union that both made it in similar fashion: by defeating Brazilian club giants and in rather dramatic fashion. For LAFC, it was Flamengo and a 1-1 draw that went deep into penalties. Goalkeeper Aaron Meone made three impeccable saves in penalties to help lift LAFC over one of the top youth club sides in the world.
If LAFC are to overcome Philadelphia it will be due to the partnership of Carlos Guerra and James Arteaga. It was Guerra's low diagonal effort that found a surging Arteaga near the far post that gave LAFC their goal in regulation and has caused trouble for multiple sides during this competition.
Much like with LAFC, Philadelphia faced a big task against Palmeiras in the Quarterfinals. But they pulled off the victory in the dying minutes of the match, earning a penalty in the 60th minute. Devon DeCorte knocked home the game-winner, finishing off a strong performance from the midfielder. Philadelphia's defense work was also on point during the match, limiting Palmeiras' chances inside of their 18 yard box. In five matches during this tournament they have given up just one goal.