Gatorade National Soccer Players of the Year revealed for 2020-21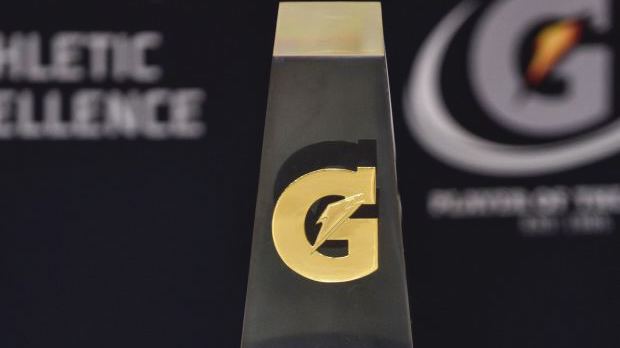 Chicago, Ill. – In its 36th year of honoring the nation's most elite high school athletes, Gatorade today announced Alyssa Thompson of Harvard-Westlake High School (Los Angeles, Calif.) and Bryce Boneau of Keller High School (Keller, Texas) as the 2020-21 Gatorade National Soccer Players of the Year.
Thompson and Boneau won the prestigious award for their accomplishments on and off the field, joining an impressive group of former winners. Past Gatorade National Girls Soccer Players of the Year have combined for 17 gold medals and nine National Championships, while past Gatorade National Boys Soccer Players of the Year have combined for 11 National Championships and 13 MLS first round draft picks. Thompson is also the second-ever sophomore in Gatorade Player of the Year history to win the national award for girls soccer.
The award, which recognizes not only outstanding athletic excellence, but also high standards of academic achievement and exemplary character demonstrated on and off the field, distinguishes Thompson and Boneau as the nation's best high school soccer players. A national advisory panel comprised of sport-specific experts and sports journalists helped select our winners from nearly a million other student-athletes who play soccer nationwide.
[Gatorade State Players of the Year: BOYS | GIRLS]
Competition for both the girls and boys national award was fierce. Thompson topped the list of state winners in girls soccer who collectively boast an incredible list of accomplishments, including five returning state Gatorade Players of the Year, 28 with a GPA of 4.0 and above and 34 with signed Letters of Intent or verbal commitments to play soccer at Division I schools/universities. Boneau surpassed the competition among state winners, which includes 22 with signed Letters of Intent to play soccer at Division I colleges/universities, 36 who volunteered at two or more organizations and 16 with a GPA of 4.0 and above.
One thing's for sure, the future is ✨BRIGHT✨ for Alyssa Thompson. This season she was a scoring machine! Congrats, Alyssa for winning the 2020-21 National Girls Soccer #GatoradePOY 🏆 pic.twitter.com/ntqE2c2SYN

— Gatorade (@Gatorade) June 17, 2021
"Alyssa is the perfect blend of physical ability and mental mastery of the game," said Sheldon Shealer, a high school soccer editor for TopDrawerSoccer.com. "Despite her small stature, she's faster, smarter, more technical and more determined than players in her age group. Beyond being a great individual talent, she's also a team player who helped Harvard-Westlake to a perfect season in what is arguably the strongest girls soccer region in the nation."
The 5-foot-4 sophomore forward Thompson led the Wolverines to an 18-0 record and both the Southern Section, Division 1 and the SoCal Division I Regional championships this past season. Thompson scored 48 goals and passed for 14 assists, tallying a hat trick in a 5-0 win over Villa Park High in the sectional title game and four goals in a 6-1 win over Pacifica High in the regional final. She is a member of the U.S. Soccer Under-18 Women's National Team and is ranked as the nation's No. 2 prospect in the Class of 2023 by TopDrawerSoccer.com.
Thompson has donated her own money to No Kid Hungry, an organization that supports children dealing with food insecurity. She has also volunteered locally supplying PPE materials to hospital workers and hygiene kits to local foster children.
Thompson has maintained a 3.52 GPA in the classroom. She has made a verbal commitment to play soccer on scholarship at Stanford University beginning in the fall of 2023.
"For me, Bryce would be in the top echelon of the kids who played high school this year," says Adrian Solca, executive director of Solar Soccer Club and the United Soccer Coaches Association 2019 National Youth Coach of the Year. "His technical ability is at a high level. His first touch with both feet is very good, he's very agile, he always knows how to advance the play, he controls the tempo and he's the kind of guy that makes the team tick. Either through consistency, or a brilliant pass or an extra run in front, he adds that surprise element in the offensive third from the midfield."
The 5-foot-10, 155-pound senior midfielder Boneau scored 18 goals and passed for 19 assists this past season, leading the Indians (17-3) to the Conference 6A, Region 1 tournament semifinals. The Dallas Morning News Offensive Player of the Year, Boneau was a Conference 6A First Team All-State selection. He is a three-time All-District selection despite missing significant time during both his freshman and junior years because of injuries.
Bryce Boneau was balling all season. Scoring and assisting was like clockwork to him–Congrats @BryceBoneau on winning the 2020-21 National Boys Soccer #GatoradePOY 🏆 pic.twitter.com/ew3uSadhT8

— Gatorade (@Gatorade) June 17, 2021
Boneau has volunteered on behalf of the St. Barnabas Anglican Church in multiple capacities, including the Children's Ministry. The president of his school's Play it Forward chapter, through which he collects and distributes refurbished and reconditioned sports equipment to underserved youth, he has also donated his time to the City of Keller, the local Daddy/Daughter Dance and the Community Storehouse Food Pantry in Fort Worth.
Boneau has maintained an A average in the classroom. He has signed a National Letter of Intent to play soccer on scholarship at the University of Notre Dame this fall.
"For more than 35 years, the Gatorade National Player of Year award has been given to the most elite student-athletes across the country, making it the most prestigious award in high school sports," said Gatorade Senior Vice President and General Manager Brett O'Brien. "The past year has been difficult for all high school athletes, but Thompson and Bryce have persevered and we have no doubt they will have continued success in sports and beyond."
Each year a selection committee evaluates the nation's top talent in the District of Columbia and all 50 states, choosing national winners in 12 different sports: football, girls volleyball, boys and girls cross country, boys and girls basketball, baseball, softball, boys and girls soccer, and boys and girls track and field.