New No. 1 club featured for first time in SoccerWire Top 100 Boys Rankings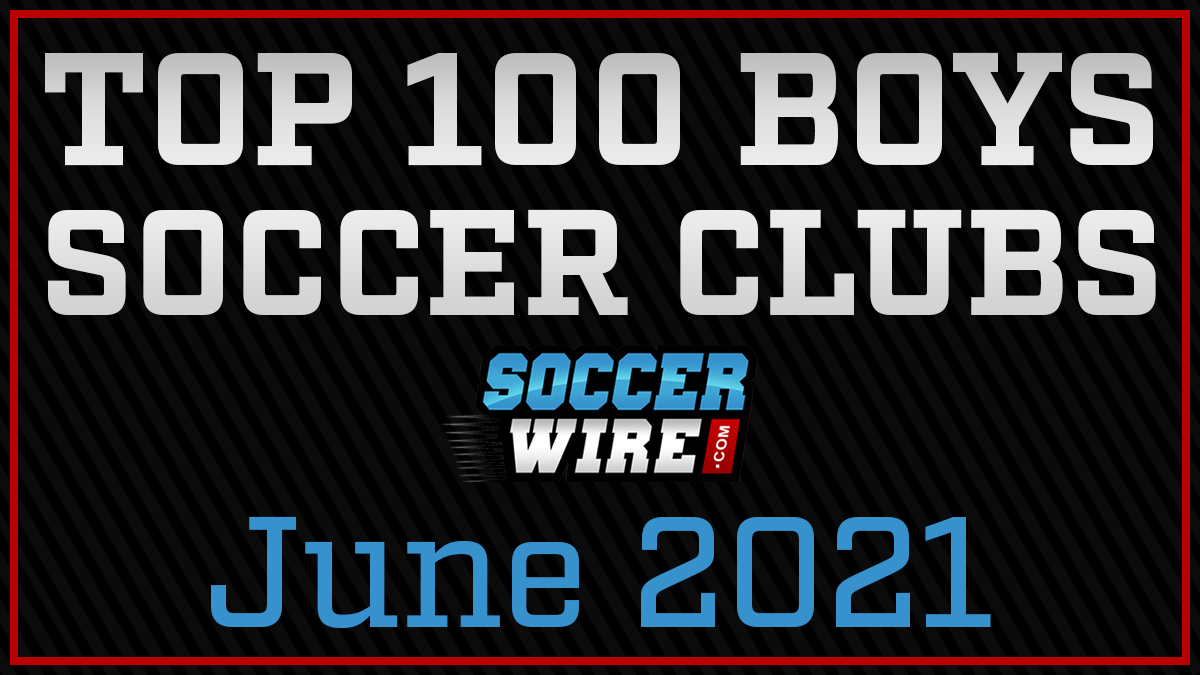 Sterling, Va. – SoccerWire has revealed a new edition of its series highlighting the top youth clubs in the United States, and for the first time since the launch of the boys' rankings, FC Dallas has been overtaken as the No. 1 ranked club. In the Top 100 Boys Soccer Clubs rankings for June 2021, Philadelphia Union has risen up one spot to take the top position.
Philadelphia Union has excelled at developing key players for the United States, ranking first in the part of our algorithm that accounts for U.S. Youth National Team call-ups. Additionally, the Union's U17 team sits at the very top of the MLS NEXT national standings, with their U15 team sitting in third.
In the ratings aggregated by YouthSoccerRankings.US, the most comprehensive database for team results in the youth soccer industry, Union's U17 team is top in the nation, while the U15 team slots in at second and their U16 team sits at 11th.
All of these efforts have led the Union to barely overtake FC Dallas, who also excels in each of these areas. FC Dallas has been solidified as the top boys club in SoccerWire's monthly rankings since the series began in February 2020.
With a primary focus on the American soccer player development landscape, SoccerWire's monthly Top 100 lists are based on an algorithm which measures the competitiveness of U15-U19 teams, along with other key factors including recent U.S. Youth National Team call-ups and season success in the nation's top leagues.
If you want to make sure your club maximizes its chances of making the Top 100, please ensure that your teams' results are up-to-date in YouthSoccerRankings.US.
See below for the full list of SoccerWire's Top 100 Boys Soccer Clubs for June 2021.
| | | | | |
| --- | --- | --- | --- | --- |
| 1 | | Philadelphia Union | | 1 |
| 2 | | FC Dallas | | 1 |
| 3 | | LA Galaxy | | N/A |
| 4 | | Chicago Fire | | 8 |
| 5 | | Colorado Rapids | | 1 |
| 6 | | New York Red Bulls | | N/A |
| 7 | | Atlanta United FC | | 2 |
| 8 | | Los Angeles FC | | 2 |
| 9 | | Sporting Kansas City | | 5 |
| 10 | | D.C. United | | 1 |
| 11 | | Houston Dynamo | | 3 |
| 12 | | San Diego Surf | | 1 |
| 13 | | Real Salt Lake | | N/A |
| 14 | | Inter Miami CF | | 3 |
| 15 | | Seattle Sounders FC | | 1 |
| 16 | | Solar SC | | 1 |
| 17 | | North Carolina FC | | 1 |
| 18 | | PDA | | 3 |
| 19 | | Columbus Crew SC | | 12 |
| 20 | | Real Salt Lake Arizona | | N/A |
| 21 | | Orlando City SC | | 2 |
| 22 | | Weston FC | | N/A |
| 23 | | Barca Residency Academy | | 3 |
| 24 | | Dallas Texans | | 1 |
| 25 | | Bethesda SC | | 40 |
| 26 | | Strikers FC Irvine | | 2 |
| 27 | | FC DELCO | | 7 |
| 28 | | Pateadores | | 8 |
| 29 | | New England Revolution | | 39 |
| 30 | | Chicago FC United | | 37 |
| 31 | | Crossfire Premier | | 2 |
| 32 | | New York City FC | | 1 |
| 33 | | Lonestar SC | | 1 |
| 34 | | Miami Rush Kendall SC | | 5 |
| 35 | | Cedar Stars Academy – Bergen | | 7 |
| 36 | | Sockers FC | Previously Outside Top 100 | N/A |
| 37 | | Charlotte Soccer Academy | | 9 |
| 38 | | Arlington Soccer | | 3 |
| 39 | | IMG Academy | | 12 |
| 40 | | Baltimore Armour | | 3 |
| 41 | | Total Futbol Academy (CA) | | 1 |
| 42 | | Charlotte Independence | | 1 |
| 43 | | Phoenix Rising FC | | 13 |
| 44 | | Jacksonville FC | | 6 |
| 45 | | Shattuck-St. Mary's | Previously Outside Top 100 | N/A |
| 46 | | Boston Bolts | | 4 |
| 47 | | Force SC | | 3 |
| 48 | | Indiana Fire Academy | | 5 |
| 49 | | Pacific Northwest SC | | 10 |
| 50 | | Real Colorado | | 3 |
| 51 | | Pipeline SC | | 3 |
| 52 | | Vardar | | 6 |
| 53 | | Louisville City Academy | | 8 |
| 54 | | BW Gottschee | | 9 |
| 55 | | San Jose Earthquakes | | 3 |
| 56 | | St. Louis Scott Gallagher (MO) | | 8 |
| 57 | | Michigan Wolves | | 2 |
| 58 | | Washington Premier FC | | 17 |
| 59 | | Tampa Bay United Rowdies | | 7 |
| 60 | | Florida Elite Soccer Academy | | 4 |
| 61 | | ALBION SC San Diego | | 16 |
| 62 | | Chargers SC | | 36 |
| 63 | | La Roca FC | | 14 |
| 64 | | Ohio Premier | | 6 |
| 65 | | San Antonio FC | | 3 |
| 66 | | United Futbol Academy (GA) | Previously Outside Top 100 | N/A |
| 67 | | SUSA | | 10 |
| 68 | | Saint Louis FC | | 3 |
| 69 | | FC Cincinnati | | 17 |
| 70 | | Richmond United | | 4 |
| 71 | | NEFC | | 12 |
| 72 | | STA | | 1 |
| 73 | | Manhattan SC | | 8 |
| 74 | | Eclipse Select SC | Previously Outside Top 100 | N/A |
| 75 | | NASA Tophat | | 5 |
| 76 | | Oakwood SC | | 18 |
| 77 | | Albion Hurricanes FC | | 11 |
| 78 | | Gwinnett Soccer Academy (GSA) | Previously Outside Top 100 | N/A |
| 79 | | Alabama FC | | 1 |
| 80 | | Sporting Delaware | | 1 |
| 81 | | Sacramento Republic FC | | 4 |
| 82 | | Charlotte FC | | 10 |
| 83 | | Tulsa SC | Previously Outside Top 100 | N/A |
| 84 | | FSA FC | | 7 |
| 85 | | Portland Timbers | | 2 |
| 86 | | Santa Clara Sporting | Previously Outside Top 100 | N/A |
| 87 | | Oklahoma Energy FC | | 8 |
| 88 | | DMCV Sharks | | 4 |
| 89 | | Austin FC | | 11 |
| 90 | | San Juan SC | Previously Outside Top 100 | N/A |
| 91 | | Virginia Development Academy (VDA) | | 2 |
| 92 | | Las Vegas Sports Academy | | 7 |
| 93 | | Cedar Stars Academy – Monmouth | | 10 |
| 94 | | Ballistic United | Previously Outside Top 100 | N/A |
| 95 | | LA Surf | Previously Outside Top 100 | N/A |
| 96 | | Seacoast United | Previously Outside Top 100 | N/A |
| 97 | | FC Wisconsin Eclipse | | 9 |
| 98 | | NC Fusion | | 5 |
| 99 | | Florida West FC | | 3 |
| 100 | | Cincinnati United Premier (CUP) | | 10 |