Future looking bright for 20-year-old USMNT forward Jesus Ferreira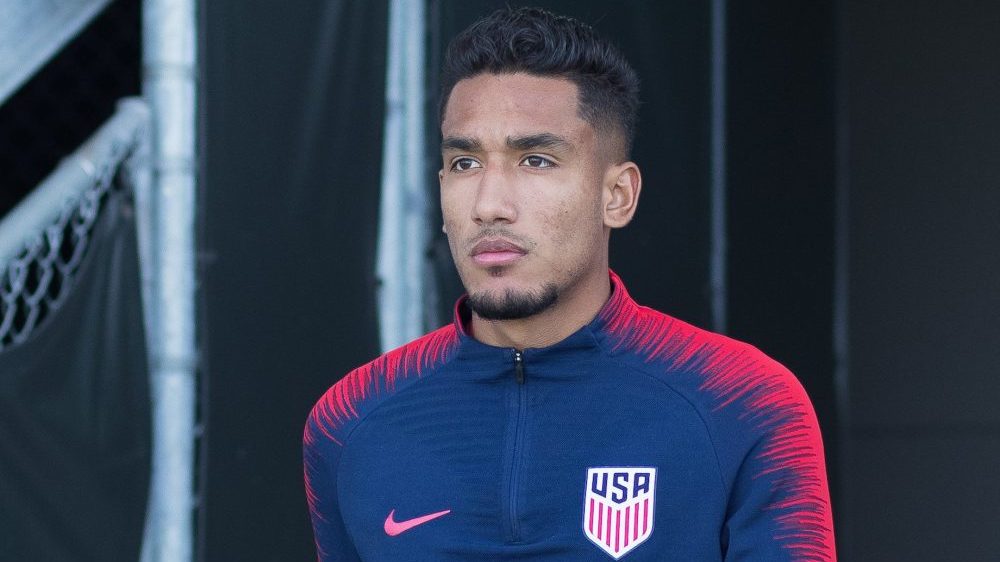 Gregg Berhalter never wavered on his belief in Jesus Ferreira, even after the FC Dallas forward struggled through a disappointing 2020 MLS season.
The U.S. Men's National Team head coach knew Ferreira had a big upside to his game.
"We started working with him last January," Berhalter said. "We had a really good feel for him and really good impression, and an idea of what he can do in our system. We can't control what happens at his at the club level. For us, it's still having faith in a player, believing in a player."
Berhalter was rewarded for his belief as the 20-year-old enjoyed one of the most productive games in USMNT history. Ferreira played a role in five goals in the 7-0 triumph against Trinidad & Tobago Sunday night, bagging a brace and adding a hat-trick of assists while earning Insider's Man of the Match honors at Exploria Stadium in Orlando, Fla.
"This year is a huge year for us and what else than to start with a 🎇?"

More from Insiders Man of the Match @JesusFCD27 following his two goals and three assists vs. 🇹🇹.

— U.S. Soccer MNT (@USMNT) February 1, 2021
As an 18-year-old in 2019, Ferreira enjoyed a break-out campaign with FC Dallas, collecting eight goals and six assists. His production fell off considerably last year, with only a goal and an assist in 19 appearances.
"Obviously, 2020 was a tough year for me only scoring one goal in the league," he said. "Obviously, kind of upset but I didn't take that as a slowing down year, I took it as you have to do better. We have to make sure that 2021 is a way better year than the past two years. Today was a right step forward.
"Me and Gregg had a lot of conversations to what was going on and stuff," Ferreira said. "I mean, it makes me happy that he stuck by me. Now I can show him what I can do best. I'm just happy."
With FC Dallas, Ferreira has been used in multiple positions: as a striker, winger and attacking midfielder. Berhalter deployed the 5-8, 140-lb. forward in the number nine spot.
"We've always seen the talent as a number nine, who can link up the team by dropping," he said. "If you remember last year in January camp against Costa Rica, he did an excellent job of that. He created a number of chances because of him dropping in the midfield. When you have wingers that can threaten the backline, you can afford to drop a striker because you still get that verticality to this stretch the opponent."
If the last name is familiar, it should be. Ferreira was born with some terrific soccer DNA. His father is former Colombia international midfielder David Ferreira, who earned Major League Soccer MVP honors while starring for and leading FC Dallas to the 2010 MLS Cup. David scored 28 goals in 117 matches for the club. He also made 39 appearances for the South American national side, netting three goals while forging a two-decade career that include stops at America de Cali, and Atlético Paranaense before retiring with Unión Magdalena at the age of 39 in 2019.
Jesus Ferreira was 10-years-old when his father earned MVP honors in 2010. Little did he realize at the time he would be following his father's footsteps. When he signed with FC Dallas as a Homegrown Player in 2017, Ferreira was the youngest player (16-years-old) to join the club.
Born in Santa Marta, Colombia on Dec. 24, 2000, Ferreira became a U.S. citizen in 2019 and was granted a waiver by FIFA that made his eligible to join the USMNT.
Ferreira and Paul Arriola showed great chemistry on the field on Sunday night as the FC Dallas forward set up both of the D.C. United midfielder's goals. Arriola returned the favor to Ferreira on the USA's final goal in the 62nd minute.
They played together in Ferreira's debut in a 1-0 win over Costa Rica, exactly a year ago today on Feb. 1, 2020.
"It was the first time meeting him," Ferreira said. "Three weeks of work, it's a little bit short but after three more weeks and getting to know him in a personal level … it connects us better. We showed that tonight. We showed that we know each other's movements and what works for us and how to score. That's the best thing."
The game was a big confidence boost for Ferreira and his Under-23 teammates, who will try to book a spot at the Tokyo Summer Games during the Concacaf Men's Olympic Qualifying Championship in Guadalajara, Mexico from March 18-30.
"A lot of young guys were in this camp, a lot of players that might be in Olympic qualifiers," Ferreira said. "It was great to get those three weeks of training, get to know each other and understand our movements and being able to perform like this. It's an amazing feeling. We ended the camp on the high note."