Forty-eight player roster named for U.S. U-14 Boys National Team camp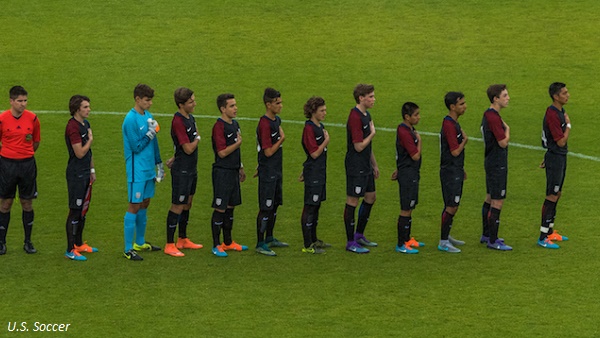 CHICAGO (Via U.S. Soccer) – U.S. Under-14 Boys' National Team Head Coach Clint Peay has named a 48-player roster to the team's sole camp of 2016, set to take place from Nov. 13-20 at U.S. Soccer's National Training Center in Carson, Calif.
During the camp, the U-14 BNT will play two intra-squad matches on Nov. 16, as well as three matches against U.S. Soccer Development Academy clubs on Nov. 19. The BNT will face Strikers FC at 3 p.m., LA Galaxy at 4:30 p.m., and Real So Cal at 6 p.m. (all times PT).
Out of the 48 players on the roster, 44 currently play for U.S. Soccer Development Academy clubs and all players were born in 2003.
+Read: U.S. U-17 MNT blanks Jamaica 4-0 in second training camp friendly
Roster by Position

GOALKEEPERS (5): Andrew Cordes (Colorado Rapids; Denver, Colo.), Eliot Jones (NE Revolution; New Britain, Conn.), Gavin Krenecki (Sacramento Republic; Fair Oaks, Calif.), Jacob Morris (Real Colorado; Parker, Colo.), Tommy Williams (Sporting KC; Roeland Park, Kan.)
DEFENDERS (13): Mateo Acosta (FC United; Skokie, Ill.), Diego Alvarado (Chicago Fire; Addison, Ill.), Fernando Alvarez (C.F. Pachuca; New York, N.Y.), Dominic Briones (Columbus Crew; Pickerington, Ohio), Ryan Cote (Real Colorado; Highlands Ranch, Colo.), Reece Fragle (FC Dallas; Plano, Texas), Camilo Gallego (Kendall SC; Miami, Fla.), Jobany Garcia (Metropolitan Oval; Brooklyn, N.Y.), Jacob Greene (D.C. United; Crofton, Md.), Isaac Homer (Portland Timbers; Portland, Ore.), Kayden Pierre (Vardar; Rochester Hills, Mich.), Boca Rogart (Real So Cal, Sylmar, Calif.), Zachary Sardi-Santos (NE Revolution; Newton, Mass.)
MIDFIELDERS (20): Paxten Aaronson (Philadelphia Union; Medford, N.J.), Valentin Bargagna (Atlanta United; Atlanta, Ga.), Joel Brown (Baltimore Armour; Elkridge, Md.), Sebastian Burke (Chelsea FC; Raleigh-Durham, N.C.), Owen Butcher (Solar Chelsea; Plano, Texas), Elton Chifamba (Columbus Crew; Blacklick, Ohio), Jeremy Garay (D.C. United; Woodbridge, Va.), Brian Gutierrez (Chicago Fire; Burbank, Ill.), Sota Kitahara (Seattle Sounders FC; Edmonds, Wash.), Martin Killeen (LA Galaxy; Brea, Calif.), Ryan Kipness (NYCFC; Stamford, Conn.), Brian Lopez (Weston FC; Miami, Fla.), Morris Matthews (NE Revolution; Cambridge, Mass.), Andrew McGee (Pateadores; Fullerton, Calif.), Jack McGlynn (BW Gottschee; Middle Village, N.Y.), Nicholas Pariano (Crew Wolves; Ann Arbor, Mich.), Nicolas Pereira (Weston FC; Miami, Fla.), Noah Sick (San Diego Surf; San Diego, Calif.), Dominic Vegaalban (Sacramento Republic; Rocklin, Calif.), Micah Worton (Atlanta United; Marietta, Ga.)
FORWARDS (10): Andres Cardenas (Weston FC; Doral, Fla.), Tyler Freeman (Sporting KC; Shawnee, Kan.), Anthony Hernandez (Columbus Crew; Reynoldsburg, Ohio), Tega Ikoba (Vestavia Hills; Madison, Ala.), Marcos Isidoro (LA Galaxy; Los Angeles, Calif.), Lateef Omidiji Jr. (FC Dordrecht; Breda, The Netherlands), Jose Ortega (Bethesda; Potomac, Md.), Sam Sarver (Internationals; Beachwood, Ohio), Andre Saucedo-Avila (Portland Timbers; Beaverton, Ore.), Dante Sealy (FC Dallas; Frisco, Texas)