Former U.S. Youth National Team coach Kat Mertz joins University of Oklahoma staff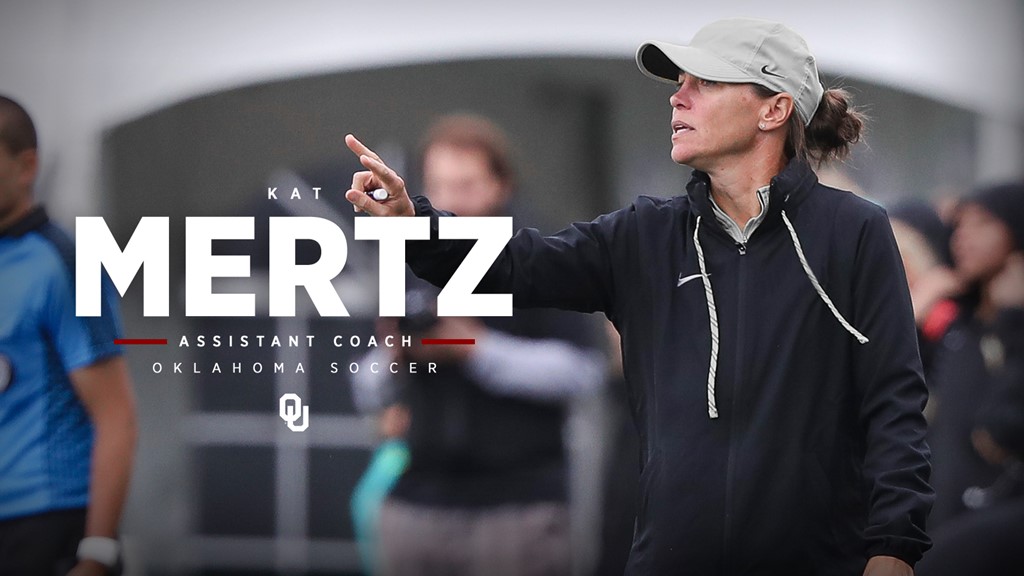 NORMAN — New University of Oklahoma head soccer coach Mark Carr announced the addition of former Oregon, Saint Louis and UNLV head coach Kat Mertz to his coaching staff on Thursday.
Mertz, who has participated in nine NCAA Tournaments as a coach and who has 12 year of experience coaching in the U.S. Women's National Team program, spent the last seven seasons in charge at Oregon, guiding the Ducks to 47 wins and to a program-high No. 14 RPI ranking in 2018. She also served as head coach at Saint Louis (2012) and UNLV (2005-09) and as an assistant coach at Texas (2010-11), UCLA (2000-04) and Virginia (1999).
"When I knew Kat was available, bringing her to Oklahoma and hiring her for our student-athletes was the highest priority," said Carr, who was named OU head coach Dec. 21 after spending the last six years coaching with the U.S. Soccer Federation. "Kat and I go back a long way with our connection with (former UCLA and U.S. National Team head coach) Jill Ellis and we align closely with our expectations and core values when developing a program. She is a role model and believes in the complete student-athlete experience. She is a great teammate and is passionate about people and developing the whole person.
"As a former head and assistant coach, she has so many incredible experiences she can share with our student-athletes. I know she will hit the ground running within our technical team and within our department. She knows recruiting, has an incredible network, is detail-oriented, is an energizer and is passionate about what she does. I am looking forward to working alongside her and having her and her family in Norman as we take the next steps with OU Soccer together."
A member of the U.S. Women's National Team's U-20, U-19 or U-18 coaching staffs from 2007 to 2016, Mertz helped lead the U-20 squad to the 2008 FIFA World Cup title. She was also an assistant coach for the U-15 team in its inaugural season in 2004.
Mertz served as head coach of the Olympic Development Program Region IV '94 age group team and was the ODP Region IV assistant director of goalkeeping from 2004 to 2010.
"I am honored to join the Sooner family and want to thank Mark Carr and (Senior Associate AD) Lindy Roberts-Ivy for the opportunity," said Mertz, who has amassed 101 career wins as a collegiate head coach.
In her five seasons directing the UNLV program, Mertz compiled a 49-39-19 record and led the Rebels to NCAA Tournament berths in 2005 and '06, the same seasons they captured Mountain West Conference Tournament titles. She was also named MWC Coach of the Year after leading the Rebels to the regular season league crown in 2007.
In 2005 — Mertz's first season as head coach — UNLV set school records for wins and fewest goals allowed. The program achieved its first undefeated home record in 2007 and its first national ranking in 2008. Mertz coached 17 All-Conference performers at UNLV, including an MWC co-Offensive Player of the Year and three All-Region honorees.
As an assistant coach at Texas, Mertz helped guide the Longhorns to the NCAA Tournament in each of her two seasons there. UT placed nine student-athletes on the All-Big 12 squads over those two campaigns.
Mertz was the lead assistant coach at UCLA for five years (2000-04), teaming with Carr during the 2003 and '04 seasons. The Bruins reached the NCAA Tournament round of 16 in each of her five years in Westwood and advanced to the NCAA College Cup in 2000, 2003 and 2004. UCLA won three Pac-10 championships and produced numerous All-Americans, Pac-10 Players of the Year and Academic All-Americans during Mertz's time with the program.
A goalkeeper at North Carolina State (1994-97), where she helped the Wolfpack qualify for three NCAA Tournaments and reach the 1995 national quarterfinals, Mertz started 88 of a possible 90 matches. She still owns school records for saves in a career (436) and in a season (135 in 1994) and ranks third in career shutouts (24).
Following her collegiate career, Mertz played two seasons for the Raleigh Wings, a W-1 (top tier) team in the United Soccer Leagues W-League. The Wings won league championships both years.
Mertz earned a bachelor's degree from N.C. State in natural resources, ecosystem assessment in 1998. She holds a United States Soccer Federation "A" national coaching license and a National Soccer Coaches Association of America Advanced National Diploma. She is also a member of WeCOACH, an organization dedicated to the recruitment, advancement and retention of women coaches of all sports and levels.
Mertz and her wife Erica have a son, Jackson, and a daughter, Blake.