Florida youth coach goes from Discovery Cup to CONCACAF Women's Championship in one-week span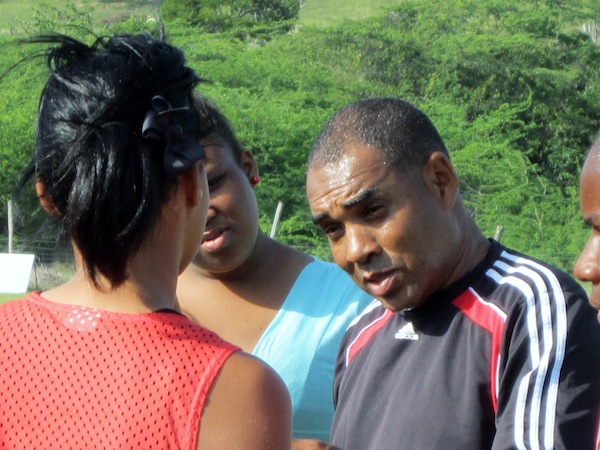 It has been a busy October for Florida Kraze Krush Executive Director Hue Menzies, who has spent a large chunk of the month in the D.C. area coaching his club teams at the Discovery Cup and serving as an assistant with the Jamaican Women's National Team.
Seven Florida Kraze Krush and affiliate club Creeks Krush teams attended the Discovery Cup girls travel tournament held at the Maryland SoccerPlex over Columbus Day Weekend, capturing two championships and advancing one other team to the finals. Menzies led the Kraze Krush U15 Black squad to a title with a gritty 1-0 win over a dynamic McLean '99G ECNL team, one of Virginia's top five U15 sides.
"We were a little bit deeper than them on that day, but it was a great opportunity for us to play a team of that caliber," Menzies said. "Our kids were up for the game, obviously McLean is a very structured club, so I thought it was a pretty even match. We got an early goal and just kept the ball a little bit more than them."
FKK is widely considered one of Central Florida's top soccer clubs on the boys and girls sides, while Creek Krush, the club's Jacksonville affiliate, has a 2,500-player program.
The Discovery Cup has been a popular tournament among FKK teams over the years, adding to the event's strong geographic reach. Menzies, a 30-year coaching veteran who holds an 'A' License and whose résumé includes 15 years of National and Regional ODP experience, serving as an assistant for the University of Texas women's team, helping start the Lonestar Soccer Association and bringing ECNL to the state of Florida, sees as much value for his players in the off-field part of the trip as he does on the pitch.
+READ: Eighth annual Discovery Cup sees teams from six states, 21 clubs capture championships
"We'll definitely be back at Discovery Cup, it's been a great experience for our club," Menzies said. Not only that, it's an educational experience for our players. They get a chance to come into the Capital and see history, rather than just reading about it. That part is great for our players, and we hope to continue building on our relationship with the Discovery Cup."
Other top Krush teams at the tournament included the '99/'00 Kraze Krush White team which defeated Potomac Blue 2-0 in the U15 Green division, and the U13 Creeks Krush Elite which finished as finalists in the U13 Blue division.
Just a week after the Discovery Cup, Menzies was once again on the sidelines coaching in the D.C. area, this time at RFK Stadium trying to help the Jamaican Women's National Team qualify for the 2015 World Cup in the CONCACAF Women's Championship. On Sept. 3, Menzies was named technical consultant for the national team by Ambassador Cedella Marley, Bob Marley's eldest daughter who has helped fund the program.
Jamaica came up short in Group B, losing the deciding match against Mexico 3-1 on Oct. 21 despite taking an early lead on a stunning 14th minute goal by Donna-Kay Henry. However, Menzies remains deeply invested in his native country's national team, stating that the team is on par athletically with any other country in the world.
"This experience has really given me an itch to want to do more for the country, because there's so much talent there but just a lack of exposure, funding and structure to develop players," Menzies said. "We're going to put a great deal of time and effort into it, and do some more with the players that are here in America that are Jamaicans to develop the program."
Prior to Discovery Cup and the CONCACAF Women's Championship, FKK and the Jamaican Women's National Team met up in Florida to play a round of scrimmages on Oct. 6. The FKK Women's All Star team competed well despite being physically outmatched by the Jamaican squad, losing 3-0 and 4-2 after taking a 2-0 lead.
"We tried to play a lot more tactical soccer than the Jamaicans did," Menzies said. "They're so athletic that they can play a little bit more direct, but we did OK. The parents were pretty impressed with the level that we were at, having 15-18 year olds playing against a full national team."
Following a successful Discovery Cup and a disappointing but also perhaps promising for the future week with the Jamaican national team, Menzies returns to Central Florida where he is focused on stabilizing the state's youth soccer landscape which he says has gotten diluted over the years. Between the Northern, Central and Southern parts of Florida, each region seems to be going in several different directions, which is partly due to the geography of everything in Florida being so spread out.
"There's so much talent in Florida, it's just diluted," Menzies said. "It does hurt player development, so coming in from Texas with a bigger mindset of organizing talent from a young age, and working through the system to develop strong teams is my main goal."
"If everybody comes together to do the right thing, we can definitely create some good clubs and start pushing more players through to the national level," he continued.
With newly-branded Creeks Krush having recently hired 2011 NSCAA National Youth Coach of the Year Sean Bubb as Executive Director, that goal may become a reality sooner rather than later.
Bubb, a 25-year coaching czar, built the successful Charlotte Soccer Club in North Carolina from scratch, helped form the 6,000 player Lonestar Soccer Club in Austin, Texas and most recently served as director of coaching for the national powerhouse Dallas Texans ECNL program. The 'A' License coach has also worked at U.S. National Team training centers and helped develop professional and national team players.
With so much of the talent in Florida being dispersed throughout the state – not having a major ECNL or USSDA representation, and not having definitively elite leagues with all the top teams – the partnership between FKK and Creeks Krush is primarily about creating cohesiveness.
"We share the same philosophy and we go up and do some training with them, with a similar structure," he said. "It's more of a franchise, so that's been good for us, and it gives them the opportunity for exposure by carrying the Krush name and the brand, so it helps them out a lot."
"It's not just to wear the uniform, it's to go in there and better the club with training sessions, implementing things from the infrastructure, coaching education, and giving players and teams the exposure that they want," he continued.
Menzies says they have to be creative in how they put together a truly competitive schedule throughout the year, and that it is far more effective being able to work with an affiliate club. Often times, this means traveling out-of-state to find top competition.
Virginia, Maryland and D.C. area clubs can expect to see a lot more Krush teams at tournaments such as Discovery Cup and Jefferson Cup in coming years.