Five division titles clinched in US Youth Soccer Midwest Conference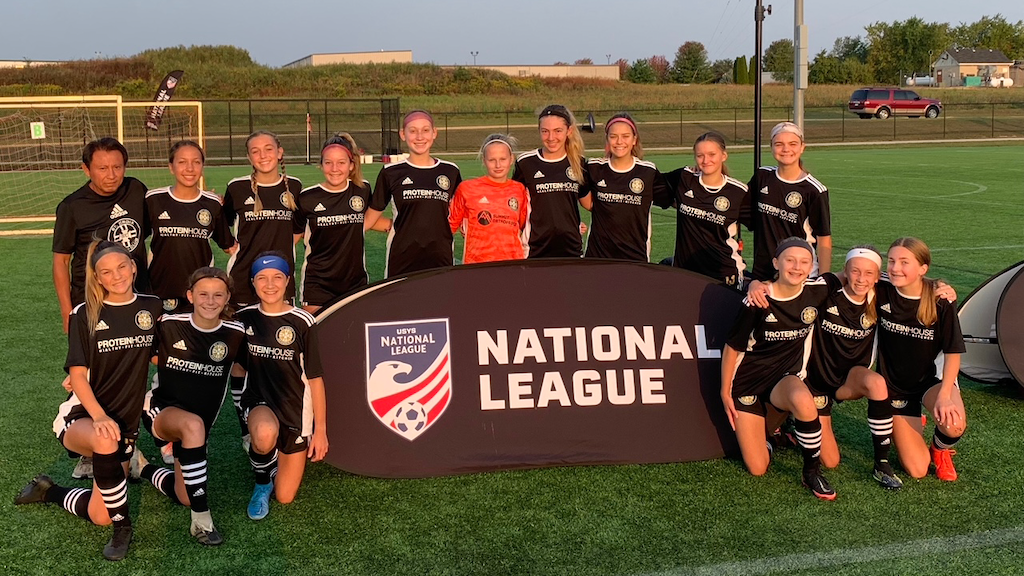 GRAND RAPIDS, Mich. — The US Youth Soccer Midwest Conference saw five division titles clinched as close to 140 games were played across the region as the Fall 2021 season continued.
During the fall season, the 13U and 14U games dictate which teams will retain slots and be promoted to Premier I, while the games in the 15U through 19U age groups help determine which teams will celebrate promotion to higher divisions, secure berths to the 2022 USYS Midwest Regional Championships, or earn automatic qualifying slots for the 2022-23 season of National League P.R.O.
Some notes from the weekend's Team vs. Team action:
SLSG MO G 2003 Bayern Munich (MO) doubled its point tally on the season with two wins over the weekend, bringing its table-topping total to 12 points from four games in the 19U Girls Premier I Division.
The 14U Girls Premier II Yellow Division title was decided as St. Croix 08 Girls Academy 1 (MN) won both other its games over the weekend, finishing the season undefeated across nine games. Second-place WIUFC 2008 Girls Premier (WI) sits seven points behind St. Croix with only two games remaining.
Michigan Rush Northville 09G (MI) won the 13U Girls Premier Black Division with a game to spare following its two wins over the weekend. The victories helped increase Rush's goal difference to plus-37 across eight wins this season to secure its spot in Premier I for the Spring 2022 season.
Billy Goat FC 08 (KS) and Toca FC B08 MLS (KS) did their jobs over the weekend, winning three and two games, respectively, to remain within touching distance of first place in 14U Boys Premier I. The two sides play next week, with the winner hoping Chicago Magic 2008 MCL (IL) drops points in its remaining games, so they overtake the top spot.
First XI 06 Girls (IL) continued their unbeaten start to the season, defeating Plymouth SC Reign 06 Green (MI), 1-0, meaning the Illinois side can guarantee at least a share of first place with wins in its two remaining games in 16U Girls Premier II Yellow.
Three wins from three, including an important 3-1 win over second-place SBV Academy 09 (KS), allowed KC Legends 2009 Academy (KS) to lift itself into first place in the 13U Premier Blue Division.
In a battle of unbeaten teams, Evolution SC 08 Girls Mercurial (IL) edged Chicago Soccer Academy 08 Girls Fiorentina (IL), 2-1, on Sunday, which extended its perfect record to 6-0-0 in the 14U Girls Premier II White Division.
Tonka Fusion Elite 09 (MN) and St. Croix 2009 Girls Academy (MN) each won their game, meaning they both sit on 14 points in 13U Premier White ahead of their matchup against each other this Sunday. The winner will go joint-top of the table with MKSC Academy U13 Girls (WI) with only one game remaining.
The perfect start to the season continued for Ponys FC 2008 (IL), which won all three of its games over the weekend to improve its record to 6-0-0 in 14U Boys Premier II Yellow. A win on Friday against Galaxy 2008 Boys Blue (IL) will see Ponys secure a promotion slot ahead of the Spring 2022 season.
Some notes from the weekend's Girls Club vs. Club action:
Rockford Raptors FC (IL) hosted Evolution SC (IL) with Evolution SC winning the 15U and 17U matchup and the hosts winning the 19U matchup. The win for Evolution SC's 15U team means it is tied with Chicago Inter (IL) on 11 points.
Chicago FC United (IL) began its trip to Michigan with a matchup against Michigan Jaguars, with the home club winning the 17U and 19U matchup, and Chicago FC United winning the 16U matchup. The win in the 17U game left Michigan Jaguars tied with SC Wave (WI) on 9 points.
Chicago FC United (IL) continued its road trip with a matchup against Nationals (MI) on Sunday. Chicago FC United claimed victory in the 19U game and Nationals won the 17U game, while the clubs tied the other matchups. The 16U Chicago FC United side sits within two points of first place, while its 18U counterpart sits atop the standings with two games remaining.
There was much to celebrate as Chicago Inter (IL) hosted Rockford Raptors (IL) on Sunday, when Chicago Inter won the 15U, 16U and 17U matchups, while Rockford Raptors won the 19U game. With its 4-1 victory over Rockford, Chicago Inter's 16U team clinched the division title, and with it, a spot in the 2022-23 season of National League P.R.O. Meanwhile, a 4-0 win for Rockford Raptors' 19U team saw them win their division and secure a spot in the playoff game that will determine a spot in the 2022 Midwest Reginal Championships.
What they're saying:
Winning one's division in the Midwest Conference is no easy feat, let alone going undefeated through the season, and St. Croix 08 Girls Academy 1 (MN) did exactly that, winning both of its games over the weekend to finish 7-0-2.
"Mentally and physically, we were ready and excited to play the last two games of the season, as we knew we had the opportunity to win the league," said coach Joaquin Izquierdo of St. Croix 08 Girls Academy 1 (MN). "We had clear and specific goals that were achieved at the games this weekend, as we not only won both games, but also played very well."
"We encourage the players to try new things in practice and games and that mindset is starting to generate wins on the field," said fellow St. Croix coach Matt Shillings after the team earned a promotion to Premier I for the Spring 2022 season. "We really enjoyed the fall season and are looking forward to a challenging spring season. We know we have a lot of work to do throughout the winter to prepare ourselves for that challenge."
The Midwest Conference is one of 13 Conferences in the National League, and it consists of teams primarily from Illinois, Wisconsin, Michigan, Missouri, Indiana, Iowa, Kansas, Nebraska, North Dakota, South Dakota and Minnesota.
To follow the Midwest Conference results and standings, click here.
Click here for more information on the Midwest Conference. For more information on all 13 of the National League Conferences, the National League Showcase Series, and National League P.R.O., click here.