Fernando Barboto named Match Fit Academy North Director of Coaching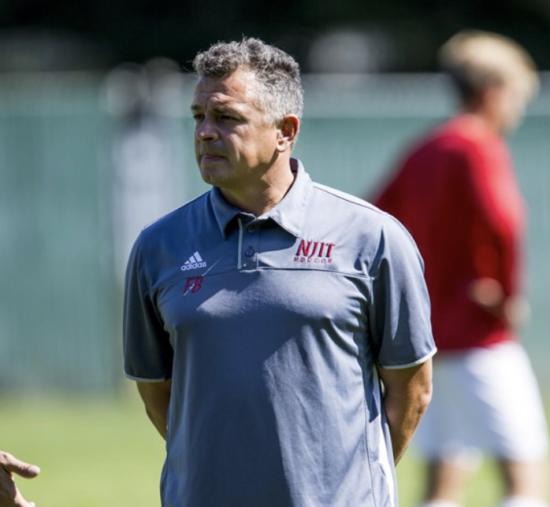 (Via Match Fit Academy) – Match Fit Academy has hired Fernando Barboto, Men's Head Coach at NJIT, as their new Match Fit North Boys Director of Coaching.
Barboto will start work immediately and will join the coaching staff full time for the 2019/20 season. Match Fit Academy North Boys will play out of Morris Catholic and NJIT's new state of the art facility.
Barboto will oversee Match Fit's U12-U18 North Boys players, staff and programming that feeds our ECNL and US Club programs. He will maintain, develop, and conduct coach, player and parent programs, clinics and camps for all levels. As a Director, he will also act as an ambassador for Match Fit Academy FC with the local soccer communities and work directly with the club's Executive Director, Director of Coaching and ECNL Director. Barboto will also be the Head Coach of two teams in the fall.
Girls Director of Coaching Dominick Bucci adds: "This was a very easy choice for us. I have known Fernando for over 30 years both as a teammate and a friend. He grew up in this area and understands what Match Fit Academy is all about. This is about providing players with the best training and playing environment for them to develop. Our boys program in the North will be one of the best places in the country to be part of and a great compliment to our Boys ECNL program in Mercer County"
Match Fit Academy Director of Operations, John R. Calcaterra, explains: "Combining the Match Fit Academy FC philosophy and proven pathway… with the pedigree and professional- ism of Fernando Barboto, Match Fit North Boy's DOC… we are confident in establishing a
quality player base, administrative resources, and facilities to ensure that the highest level of training, development, and exposure is available for all players in the North Jersey area."
A 1994 graduate of New Jersey's Montclair State University, Barboto first became a Division I head coach at Saint Francis University in Loretto, PA, in 2000. At Saint Francis, Barboto took over a program that had never won more than four conference games in 11 previous seasons. Under Barboto's guidance, the Red Flash topped their best pre- vious conference record, winning five league games in each of his first two seasons.
He took the helm at Iona in 2003, inheriting a program that had gone winless in 20 matches in 2002. Barboto's first season at the New Rochelle, NY, college produced five wins. He then guid- ed the program to steady progress, getting a winning record of 7-6-5 in 2006, then 8 wins in 2007, before the breakthrough to 11 victories in 2008. Including that breakthrough season in 2008, Iona's record under Barboto is 85-52-15 over the last eight years.
In conference games, Iona finished on the winning side of the ledger every season from 2006 through 2015. In his 13 seasons at Iona, Barboto's teams were a combined 65-43-10 in Metro Atlantic Athletic Conference games and his conference record at Saint Francis, which competes in the Northeast Conference, was 13-11-3 in three seasons.
His overall record at Iona, including the building years, was 116-103-27 in 13 seasons. His overall record as a Division I head coach is 133-134-34 in 16 seasons.
Coming to NJIT represents a move closer to home for Barboto, who resides in Wayne, NJ, with his wife, Betina, and their sons Maximus and Tristan, and daughter Valentina. As an undergraduate at Montclair State, Fernando Barboto was a four-year letter winner and was National Soccer Coaches Association All-America as senior playing for the perennial Divi- sion III powerhouse.
He went on to play six professional seasons with the North Jersey Imperials of the United Soccer League.
He began coaching as head coach of the women's soccer team at Montclair State, a position he held from 1995 through 1998.
Leaving his alma mater, Barboto signed on as an assistant men's coach at Lafayette, where he helped the Leopards win two straight Patriot League championships. He went from Lafayette to become head coach at Saint Francis.
At NJIT, Barboto takes over a program that has achieved a measure of success in recent years, earning Top 10 Regional ranking in 2012, finishing eighth in NSCAA North Atlantic Region that year. The 2014 Highlanders were ranked in the NSCAA Southeast Region for seven weeks, as well.
Fernando Barboto added: "I'm very excited to be part of this project to build this club on the boys side in the northern part of New Jersey. I believe we can build teams that can develop players to have great fundamentals and a foundation for them to go on and have success and enjoy the game."
Match Fit Academy Technical Director, Malcolm Murphy added: "For us at Match Fit Academy, we see an opportunity to extend our training and playing philosophies to a greater audience. Match Fit North will build upon those efforts and provide another level to the player pyramid, culminating with ECNL. It also allows Match Fit Academy FC to continue toward its goal of be- ing the leading player development club in the Tri-State area."