Falling through the cracks: Ramon Martin del Campo's unconventional soccer odyssey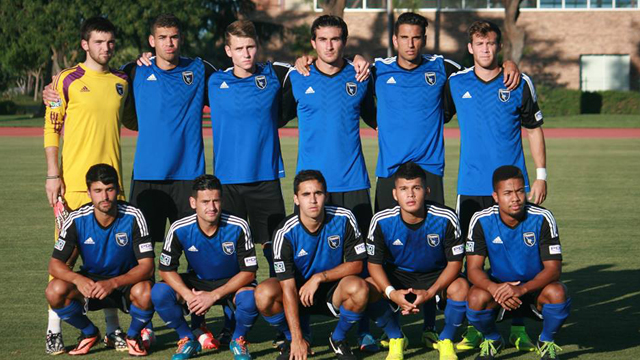 From the very first moment that he saw Ramon Martin del Campo play, coach Dana Taylor knew he was watching a special player.
"As soon as I saw him, I called [the Earthquakes coaching staff] and said 'he's a pro,'" recalled Taylor, who coaches the CSU-Stanislaus men's team and the San Jose Earthquakes' U-23 PDL team, in an interview with SoccerWire.com. "I know sometimes that you need to see players quite a while, but he already has the qualities you need to have as a pro."
It was Martin del Campo's vocal leadership that captured Taylor's attention.
"You would swear that you were listening to someone who had been playing in the EPL [English Premier League] for the last eight years of his life," Taylor said. "He is sitting there pulling guys in, directing guys in the middle of the park, telling people that a forward is checking in over his shoulder. At 6-foot-2 he is a presence on the field, but in the air as well. He's got the voice. He's got a real soft, subtle touch with his feet. He's lethal with his head. You tell me: how many of those players do we have?"
If Taylor had been able to identify Martin del Campo's talents so quickly, why couldn't anyone else — collegiate coaches, professional scouts, U.S. Soccer technical staff — recognize the same potential?
And how could a tall, athletic, commanding center back from Southern California like Martin del Campo simply fall between the developmental cracks in the U.S. youth soccer infrastructure?
The way Ramon himself tells it, his story doesn't sound all that different from that of the average American soccer player. He first started playing recreational soccer when he was six years old and began playing competitively at eight. By the time he was a teenager, he was playing for both his club team, FC San Diego, and for Bonita Vista High School.
But despite his considerable athletic gifts — he already stood around six feet tall at age 14 — Martin del Campo didn't stand out in the crowded field of Southern California's premier soccer talent.
"When you look at Southern California, there's an immensely talented pool of players year after year after year," Martin del Campo's former club coach Brian Quinn told SoccerWire. "We were a good group, but there were just lots of good players, good forwards, good midfield players, goalkeepers, and center backs."
However, like many young defenders learning their position, Martin del Campo struggled to separate himself from his peers, at least in the eyes of the scouts.
"At some point, [Division I] schools weren't talking about me," Martin del Campo told SoccerWire. "There were a bunch of Division II schools [calling].
"And my mom was just like, 'Why not go to a Division II school?'
"I looked at her – pretty mad because I get passionate about these things – and said, 'I refuse to believe that God gave me this talent for ending my career [at a Division II school].'"
Only days after that conversation with his mother, Martin del Campo received an e-mail from UC Davis. Head Coach Dwayne Shaffer had noticed Martin del Campo at a club tournament in Las Vegas, overhearing the young central defender loudly organizing his back line. Shaffer had come to watch another player, but ended up watching Martin del Campo instead.
Martin Del Campo's big break came when he got the opportunity to try out for the San Jose Earthquakes's PDL affiliate in Turlock, Calif. That was where Dana Taylor, the team's head coach, first spotted Martin Del Campo, and where Martin Del Campo says he truly felt like he belonged.
"That was a big breaking point. For me, I saw it as a test for where my level of soccer was. When I was there I got to test myself [against] the best players in California and throughout the nation."
Taylor, too, played a critical role in shaping Martin Del Campo's game.
"[Taylor] helped us, helped sculpt us, helped pave the way for us, helped teach us the ways of [professionals]. I remember being in a practice and messing up once and Dana stopped the whole practice and looked at me and said, 'You do that at a professional trial, you pack your bags and you're done, my friend.'"
This willingness to seek out and accept criticism of his game is perhaps the biggest reason why Martin Del Campo has succeeded at every level he's ever played.
"[He has] great drive to improve," Quinn said. "[He] embraces wanting to be a leader. [He] takes responsibility, good and bad, when he does things well and when he makes mistakes. He's a stand-up kid. He's not immune to being told where [he] needs to do things better. Show [him] what to do, and [he] does it."
The results of Martin del Campo's persistence are impressive.
In May, during a scrimmage between the Earthquakes' U-23 team and the U.S. Men's National Team in Palo Alto, California during the USMNT's pre-World Cup training camp, U.S. Soccer technical staffers got a firsthand look at Martin del Campo. Included among that group was Tab Ramos, who called Martin del Campo into the U.S. U-23 camp in Nassau, Bahamas in August.
Strict roster rules prevented the Earthquakes from signing Martin del Campo, now a senior at UC Davis, to their first team, but he is undeterred by the setback, setting his sights on the MLS SuperDraft this winter. "I want to go and work my way to sign a contract with a MLS team, become a starter, and then from there we move forward," he said.
"I want to become a professional soccer player, not just in the MLS, but in my dreams to go overseas and play someday in Europe."
—