EKU women's soccer program announces trio of new signings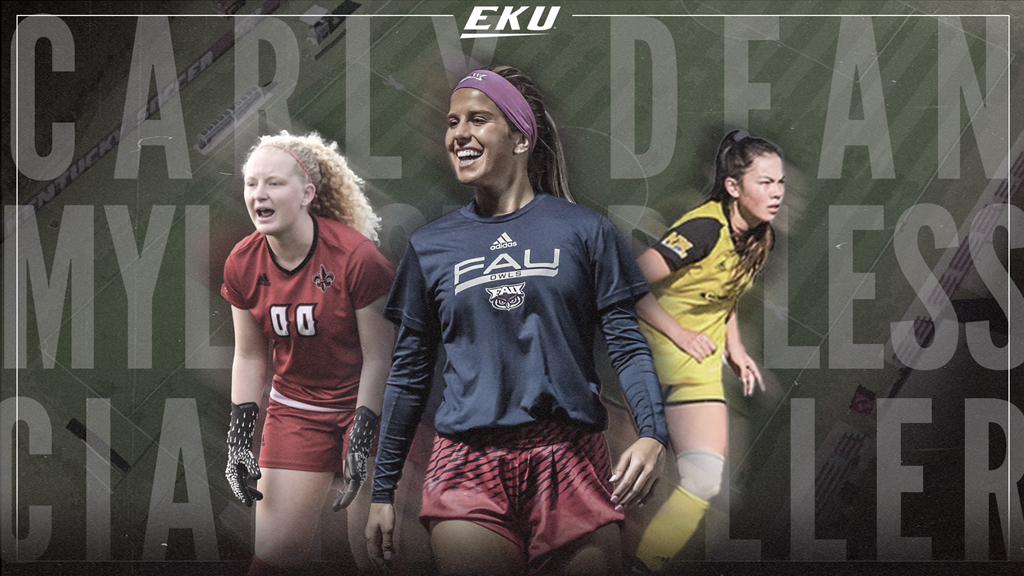 RICHMOND, Ky. – The Eastern Kentucky University soccer team has added three players for the fall of 2021, head coach Matt Cosinuke announced on Monday.
The three incoming Colonels are: Carly Dean, Ciana Miller and Myla Sharpless.
"We are thrilled about our three new family members joining us this fall," Cosinuke said. "We needed more depth and competitiveness in certain positions to keep improving on last year's growth. All three of these players come with championship mentalities and embody the direction of the program. The future in Richmond is bright."
Dean is a transfer goalkeeper from the University of Louisiana at Lafayette. She saw action in five games last season as a freshman, including road matches at Mississippi State and Alabama.
Dean played her final two years of prep soccer at IMG Academy in Bradenton, Florida. Before that, she served as team captain as a sophomore at Sidney High School in Ohio. She was named the team's Defensive MVP and was a first team All-Greater Western Ohio Conference selection.
Miller comes to EKU from Oakmont High School in Roseville, California, just outside of Sacramento. She has been a starter at Oakmont since her freshman year, and she was the school's MVP and a first team all-league performer as a senior.
Miller plays club soccer for Placer United SC. She has started every game and played every minute of every game for the club over the last three years.
She chose EKU over Sam Houston State and UC Riverside.
Sharpless is a transfer midfielder from Florida Atlantic University. She appeared in 13 games at FAU, drawing her first career start last season as a sophomore at Old Dominion. She played a career-high 81 minutes in a double OT draw versus WKU this past spring.
Before signing with FAU, Sharpless was a three-star recruit out of Freedom Area High School, just north of Pittsburgh, Pennsylvania. A four-year team captain, Sharpless scored 60 career goals, recorded 47 career assists and helped lead Freedom Area to a PIAA state runner-up finish in 2018.
She was chosen to be a member of the US Youth Soccer Region 1 ODP team and earned MVP honors at the 11th annual ODP Tournament held in Costa Rica.