ECNL national finalists represent host club well at San Diego Surf Cup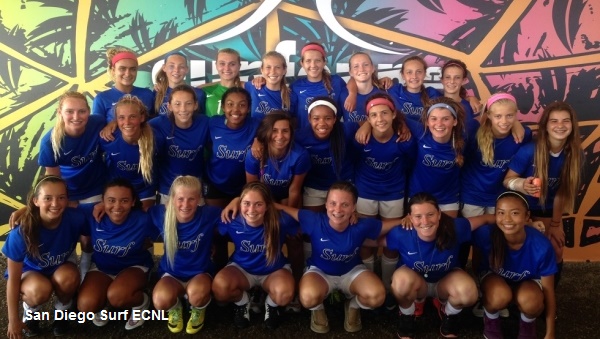 The San Diego Surf rising U-15 ECNL side blazed through the competition at the 2015 Surf Cup over the weekend, scoring 20 goals and conceding just 2 in their run to the top division title.
Representing the host club of the San Diego Surf Cup, one of the nation's premier college showcase events and overall youth soccer tournaments in the country, the Surf rising U-15s exhibited a display of dominance rarely seen in such a high level competition. In a bracket chock-full of ECNL teams, even some playoff qualifiers, along with a collection of other high achieving teams representing various US Youth Soccer and US Club Soccer national and regional leagues, Surf went a perfect 6-0-0 winning all but one match by multiple goals.
On Monday, July 27, Surf defeated fellow ECNL sides So Cal Blues and San Juan SC 4-0 and 3-0 respectively, taking the semifinal and title match with relative ease. The run of six wins in three days was a display of substantial endurance and depth throughout the Surf roster, which dominated possession in almost every match despite having just recently lost two starting defenders to significant injuries.
Mirai Hayakawa, an attacking player, filled in at left back for the 2015 ECNL National Finalists at the Surf Cup, and played brilliantly as the back line barely skipped a beat.
+2015 Surf Cup Showcase Weekend Results
The Surf Cup was an opportunity for redemption for the team, which just a few short weeks ago fell in the ECNL U-14 National Final in Seattle, to in-state rival Slammers FC. Surf had gone undefeated during the ECNL 2014-2015 regular season, going 20-0-2 with 69 goals scored and only 8 allowed. They outscored opponents 18-1 in group play during the U-14 playoffs in Seattle, then defeated Gwinnett Soccer Association 2-0 in the semifinals, setting up a match-up with their fellow Southern California side.
Although Surf defeated Slammers in both regular season meetings and placed first in the California Division, six points ahead of Slammers for the ECNL Champions League's No. 2 overall seed, Slammers rallied for a 2-0 victory in the title match behind a phenomenal defensive effort.
+Read: West Coast FC boys teams shine at San Diego Surf Cup
The loss was a tough one for the talented Surf side to stomach, but they rebounded quickly and dominated the high level competition at their home club's showcase tournament. After just three short days of practice to prepare for the tournament, the team picked up where they had left off with their spectacular play throughout the ECNL season.
Surf coach Paul Dolinsky said that even though the loss was disappointing, all along it was going to be used as a learning experience, one that they could put into practice just a short time later at the Surf Cup, without having to wait throughout an entire offseason.
"Our mentality was all about how we approach the game, we should go into this tournament and next season with a chip on their shoulder," Dolinsky told SoccerWire.com. "The growing process, the maturity process, of understanding how to deal with adversity is really important for our players. They're a very good team and very rarely have they come across adversity, so it's learning about not wanting to have that feeling again after a game."
The Surf offense is led by a pair of U.S. Girls National Team forwards up top, Mia Fishel and Brooke Wilson. The duo combined for 36 goals and 14 assists during the 2014-2015 ECNL season, while their National Team running mate Maddie Mercado added 8 goals and 9 assists. In terms of playing style, Fishel is among the most technically-savvy players in the country at her age group and beyond, while Wilson's rare physical combination of speed and power makes the teammates a match-up nightmare for any opponent.
With two premier athletes up top, managing the ambitions of unique talents like Fishel and Wilson is often not an easy task for coaches, but they have continually chosen to put each other's and the team's success ahead of their own personal numbers.
"I think the longer those two play together you're just going to continue to see better and better things happen," Dolinsky said. They seek each other out and look to play with one another. It's kind of Jekyll and Hyde where you have the technical skills of Mia and the athleticism of Brooke, they feed off one another in their playing styles and it's very hard to stop."
One of the most talented teams in the nation across the board, Surf also has members of the U.S. Youth Futsal National Teams and a host of top college prospects for the classes of 2018 and 2019.
On a team where the 69 ECNL regular season goals scored is equally as impressive as the minuscule 8 allowed by the defense, it was the midfield that deserves perhaps the most credit for both of the lopsided statistics. Continuing at the Surf Cup as the team accumulated a +18 goal differential in just six games, the midfield constantly winning balls away from opponents, finding passing lanes and creating open runs or maintaining long possessions has served both the attack and the back line equally.
With the physical talent and technical ability to control possession seemingly at will against even accomplished ECNL opponents, Surf's most challenging competition is often found on the practice field.
"They need to have that healthy competition within the team, and that's the message that I try to deliver to them constantly so that they're ready for adversity when it hits in a game situation," said Dolinsky.
While Surf dominated most every game at their hometown tournament, the closest game they played was a 1-0 win over New York SC, an unfamiliar opponent on the opening day of the event. A Leyla McFarland proved to be the difference in the match, as Surf responded to the adversity of playing a tough defensive team which had an outstanding effort from its goalkeeper. Adjusting to the physical play of their East Coast opponent and grinding out the win exhibited the type of in-game adjustment and flexibility that Dolinsky has worked to instill in the uber-talented unit.
Surf responded the next day with a 7-1 win over Eagles SC to close out group play and a 3-1 win over West Coast FC ECNL in the quarterfinals before their defining wins in the semis and final, setting up their return to ECNL play with undeniable positive momentum while turning the heads of college coaches and other attending scouts in the process.
+Click here to view the San Diego Surf rising U-15 roster
Surf Cup Boys Champions
U-15: West Coast FC Armour
U-16: Sherman Oaks Extreme FC
U-16 Gold: West Coast FC Armour
U-17: West Coast FC Wyss
U-17 Gold: Crossfire Select B98 Warriors
U-18: Monarcas Academy Aztec
U-18 Gold: Alamo Revolution 98 Blue
Surf Cup Girls Champions
U-15: SD Surf Academy ECNL
U-15 Gold: CCU SoCal Academy
U-16: SoCal Blues
U-16 Gold: Eastside FC G99
U-17: SD Surf Academy ECNL
U-17 Gold: Strikers FC ECNL
U-18: Albion SC USA G97-98
U-18 Gold: Surf Hawaii White 98G