ECNL Mid-Atlantic Conference Recap: 2016 Florida Showcase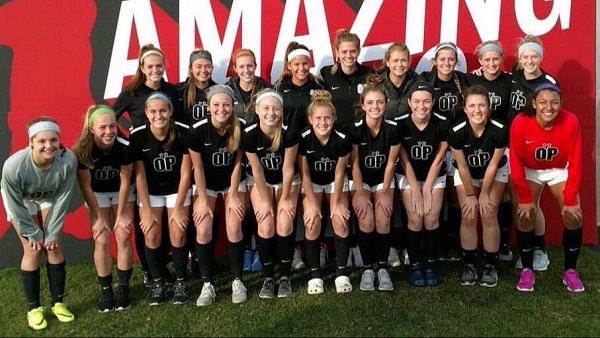 College Coaches | ECNL Florida Showcase Schedule / Standings
A wide collection of ECNL Mid-Atlantic Conference squads in the U-15 through U-18 age groups competed in the league's Florida Showcase this week, going up against opponents from all over the country.
See below for a rundown of some of the top team performances by Mid-Atlantic Conference sides at the event.
U-15
CASL (7-3-3) bounced back from a 2-1 loss to Orlando City in the opening match with a pair of wins over East Meadow SC and FC Boston Scorpions. CASL shut out East Meadow 2-0 on Thursday, behind a brace from Corbin Reifschneider and a strong defensive effort, before edging out FC Boston 2-1 on Friday to finish the event.
Internationals SC (5-1-0) won two of three matches at the Florida Showcase, coming out on top of a 4-3 contest against Texas side Albion Hurricanes FC and a 3-2 decision against East Meadow SC.
Richmond United (2-8-6) earned points in a pair of scoreless draws in Florida, playing stifling defense over the course of the two clean sheet efforts against FC Bucks and West Florida Flames. United gave up just one goal in three matches overall.
+Read: Over 340 teams to compete in Disney Girls Soccer Showcase
U-16
Bethesda SC (5-2-2) extended its current ECNL unbeaten streak to seven with two wins and a draw in Florida. After defeating Orlando City in a 5-1 rout to open the Showcase, Bethesda played Tophat SC to a scoreless draw and blanked West Coast FC 1-0 in its final two matches, giving up just one goal in the entire tournament.
CASL (6-7-3) improved its result in each match, following up a 4-2 loss against FC Dallas with a 2-2 draw against GSA and a 3-0 win over Orlando City.
FC Virginia (9-3-4) reeled off three straight wins, defeating Match Fit Academy FC 4-1, PDA 1-0 and Sporting Blue Valley 3-1. Ellis Wheeler had a highlight performance against Match Fit, recording a hat trick while Alexis Theoret contributed a goal and an assist. Theoret set up Savannah Dixon for the game-winner during Thursday's shutout of PDA.
Maryland United FC (4-2-1) had a strong showing in Florida, racking up two wins and a draw. United shut out Tampa Bay United 1-0 on Wednesday, played Penn Fusion to a 1-1 draw on Thursday and beat Weston FC 3-2 on Friday morning. Olivia Reese scored four of United's five goals at the event, and assisted Madison Synowiec on the other. Synowiec, Sara Wanyana-Tyaba and Annabel Hofmann provided assists on Reese's goals to aid the attack, while the defense continued its impressive start to the season.
Ohio Elite Soccer Academy (6-1-0) picked up all nine available points, earning a 1-0 shutout of World Class FC before beating SLSG Missouri 2-1 and FC Bucks 3-1.
Richmond United (5-8-3) went 1-1-1 in Florida, playing Boston Breakers Academy to a 3-3 draw before falling 4-0 to FC Bucks and wrapping up with a 1-0 shutout win over Match Fit Academy FC.
The Charlotte Soccer Academy (11-6-4) attack was firing on all cylinders during the team's 4-0 and 4-2 wins over Birmingham United and Atlanta Fire. Over the course of the two victories,  Robin Jackson netted three goals and added an assist to lead the offense. Laughlin Ryan was another key playmaker, compiling two assists and scoring a goal of her own. Three other players had a hand in multiple goals as well at the Showcase: Savannah Lueck (2 assists), Faith Adams (1 goal, 1 assist) and Megan Bornkamp (1 goal, 1 assist).
McLean Youth Soccer (14-1-1) continues to overpower almost every opponent it faces. The team cruised to three straight clean sheet wins in Florida, outscoring Northeast Conference sides FSA FC, Continental FC and Connecticut FC by a total of 12-0. McLean now has an overall goal differential of 57-8 on the season, and holds the No. 2 seed in the Champions League standings.
+Read: ECNL National Event to stay in Seminole County, Florida through 2019
U-17
CASL (9-3-4) opened up the Showcase with an emphatic 7-0 win over Weston FC on Wednesday, as three players had a hand in multiple goals. Maggie Pierce netted two goals and and assisted two others to lead the attack, while Tori Hansen found the net on a pair of headers and Hannah Arostegui scored one and assisted one. CASL went on to pick up points in 1-1 and 2-2 draws against Boston Breakers Academy and Sockers FC.
McLean Youth Soccer (13-3-0) racked up 10 goals over the course of two dominant wins to open the Showcase, overpowering West Coast FC 6-1 and Jacksonville FC 4-1.
NC Fusion (4-11-3) had a solid run in Florida, claiming shutout victories 4-0 against Boca United FC and 1-0 over Carolina Elite SA. Fusion also played Connecticut side FC to a 1-1 draw, earning seven of nine possible points.
Ohio Premier (6-1-0) swept the competition at the Showcase, winning three straight matches by multiple goals. Premier downed Michigan side Vardar 4-1 to open the event, then claimed 3-1 wins over Dallas Texans and Orlando City.
Bethesda SC (7-1-1) extended its current ECNL winning streak to five following a perfect run at the Florida Showcase. Bethesda earned a 3-2 win over FC Boston Scorpions, a 3-0 win over FC Wisconsin Eclipse and an 8-1 rout of San Diego Surf, bringing the team's scoring margin to 29-9 on the season.
Maryland United FC (2-3-2) got its season on track in Florida, recording the team's first two wins. After a narrow 2-1 loss to Minnesota Thunder Academy in the opening match, United went on to earn 3-0 and 1-0 shutout wins over Boca United FC and Atlanta Fire. Michelle Money was a key playmaker for Maryland United throughout the event, assisting two goals and scoring one. Caitlin Shepherd and Edith Burdette each had a hand in multiple goals as well, scoring one and assisting one apiece. Defender Sarah Gellert scored a goal while helping the back line earn a clean sheet against Boca United FC, and defender Micah Reed assisted Money on the game-winner against Atlanta.
Richmond United's (4-9-3) week was highlighted by a 4-0 win over Texas side D'Feeters SC on Thursday. United's dynamic duo of Jordan Canniff and Natalie Maurer was simply unstoppable, as the pair combined for three goals and four assists in the match. Canniff had three assists on the day, setting up Maurer twice and providing defender Kiersten Hening with a feed as well.
U-18
Ohio Premier (7-0-0) continued its perfect season with three more wins, defeating West Florida Flames 3-1, Boca United FC 5-1 and GSA 4-0. Premier has now outscored opponents by a margin of 27-7 on its season-opening seven match winning streak.
CASL (8-2-6) had a 1-1-1 showing in Florida, highlighted by a 3-0 win over Orlando City. Jessica McCoppin netted two goals in the win and Robin Pollard added one. Midfielders Brianna Morris, Kendall Augsburg and Kylie Olexa provided assists to power the attack. CASL earned another point in a 1-1 draw against Tophat SC, as Isabella Crabtree set up Sydney Spruill for the only goal.
Bethesda SC (5-4-0) won two of three games at the event, defeating Florida Kraze Krush 2-0 and downing Florida Elite 2-1. Cameron Murtha scored or assisted all four of Bethesda's goals during the team's two wins. Murtha set up Olivia Kane on a goal in each of the wins, and netted one of her own in both matches as well.
Internationals SC (5-0-2) went undefeated in Florida, earning two wins and a draw. The Ohio side opened the tournament with a 3-2 win over Birmingham United, followed by a 1-1 draw against GSA and a 5-1 win over Boca United FC. Jordan Brewster netted two goals and assisted three others over the course of the event, contributing to five of the team's nine scores. Alexandra Hoffman (1 goal, 2 assists) and Paige Casto (2 goals) both had a hand in multiple goals as well.
NC Fusion (5-13-0) racked up nine goals during three games at the event, earning two wins. Fusion's week was highlighted by a 4-3 victory over Boca United FC and a 2-1 win over Atlanta Fire.