ECNL Girls National Playoffs 2022 Day 3 Recap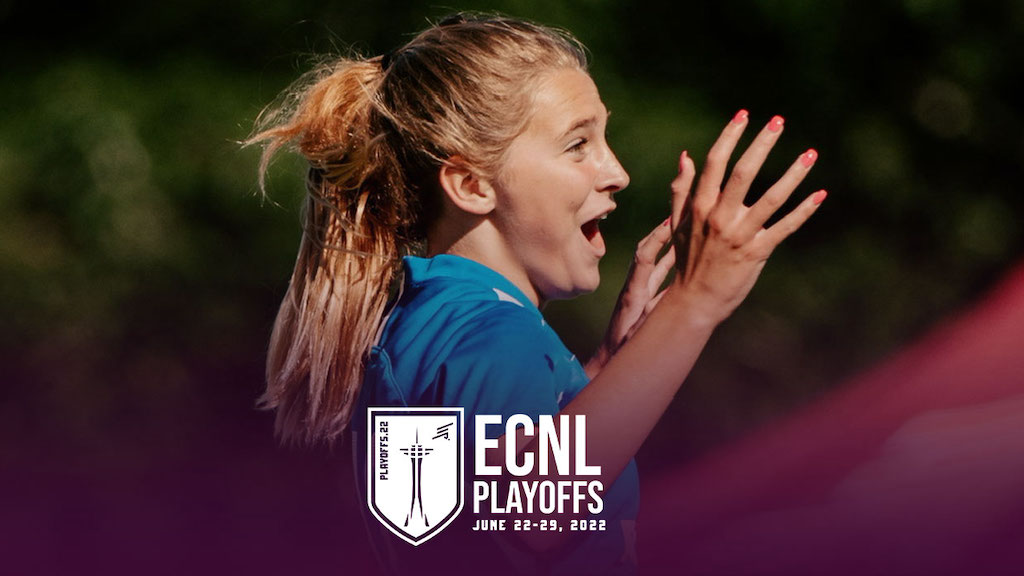 The ECNL Girls National Playoffs continued on Friday in Seattle with the third day of competition. See below for a look a look back on some of the day's action.
Keeping the Faith
For as much fun as the ECNL National Playoffs are, it can also be cruel to teams. An entire season boils down to three games. Making the playoffs is an incredible accomplishment, which makes moving on to the knockout round even more impressive.
At the U14 level, KC Athletics opened up the tournament with an unfortunate loss to the top-seeded Solar SC, the team had to quickly bounce back against a strong Penn Fusion squad Friday afternoon.
From the opening kickoff, Penn Fusion started with the momentum, garnering a corner and multiple solid looks on net. After a few missed scoring opportunities, Penn Fusion converted off a KC Athletics turnover, giving the Philadelphia team a 1-0 lead.
The goal flipped a switch for KC Athletics though, because right after the restart, the girls in blue immediately pressed forward, creating the first real scoring chances. Those opportunities led to a free-kick, where KC Athletics buried the service to even the game at 1-1.
For the rest of the half, both Penn Fusion and KC Athletics raced up and down the pitch trading scoring chances and looking to get the next one to put their team on top. Right before halftime, KC Athletics earned a PK after a Penn Fusion handball in the box and made the most of it, burying the shot to take a 2-1 lead midway through the contest.
For the second half, Penn Fusion came out firing, putting pressure on the KC Athletics back line, searching for the equalizer. The team forced KC Athletics' goalkeeper to make diving saves and earned good looks on net, but each attempt came up short.
After weathering the storm that was the Penn Fusion attack, KC Athletics pushed down the field and after a beautiful cross, banged home a shot to take a 3-1 lead. Armed with momentum and the stellar play in their defending third, KC Athletics circled their wagons and continued to play stout defense, bending but not breaking with every Penn Fusion attack.
As the game entered stoppage time, KC Athletics earned another penalty kick, looking to ice the game. The initial shot was saved by Penn Fusion, but KC Athletics knocked home the rebound, solidifying the 4-1 victory.
With a 1-1 record in group play, KC Athletics will look to set themselves up for a place in the knockout round, with a favorable result against Concorde Fire Premier Sunday necessary.
After two hard-fought games, KC Athletics is proud of what they've accomplished at the ECNL National Playoffs, but their work isn't done yet.
Day three of #ECNLplayoffs is in the books. Tomorrow we continue to chase our dreams 💪 pic.twitter.com/KkYt9Tyt7e

— ECNL Girls (@ECNLgirls) June 25, 2022