ECNL Boys Florida National Event 2021: Day 2 Recap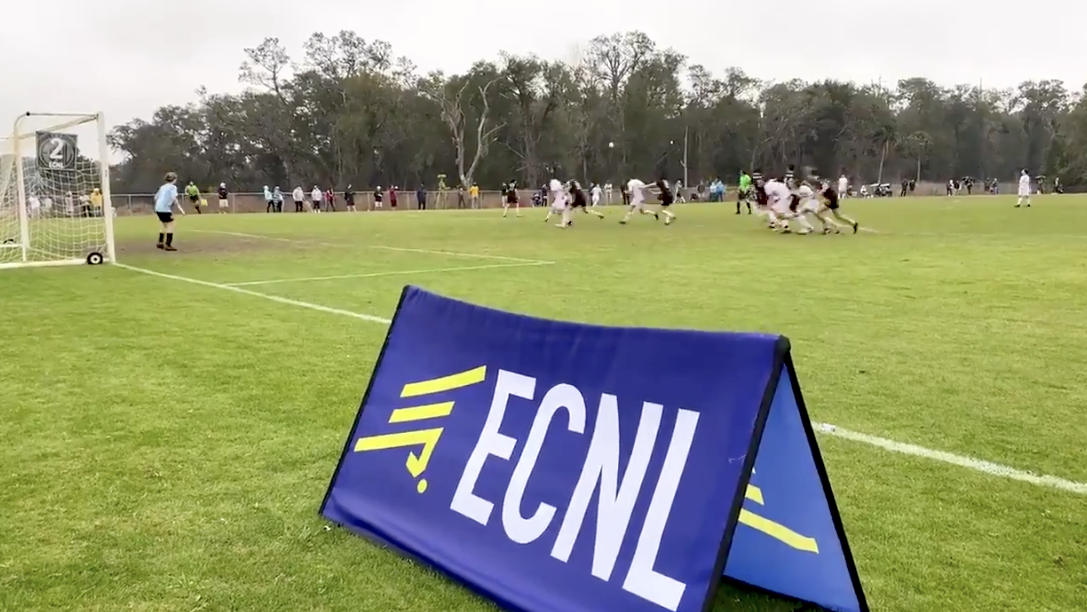 By Jacob Born | ECNLBoys.com
The ECNL Boys Florida National Event continued Saturday, with teams from all over the country competing in their first showcase of 2021. See below for a rundown of highlights from Day 2:
Twice is Nice
One difference between good teams and great teams is how they respond after goals. Good teams can maintain their lead. The great teams add another to their total.
Pipeline FC's U-15 side proved they are a great team Saturday morning, scoring two goals in quick succession twice in a 4-1 win against an impressive Florida Premier FC side that started off its own weekend with a stirring victory Friday.
The Baltimore-based club opened their match with two goals within the first 10 minutes of the contest, scoring both off set pieces. The first came off a corner, as Kobe Keomany sent a long service into the box. Eddie Smith jumped and guided a well-placed header inside the near post to make it 1-0. Just minutes later, Keomany added a goal to his assist. Off a long throw-in from the right side, Pipeline attempted another header but was defended well. However, Keomany was in the box ready to pick up the trash and buried his shot, making it a 2-0 game.
Just before halftime, Florida Premier's Javon Ironside completed a run into the box and received a beautiful cross from the left side of the pitch. He immediately ripped a shot against the grain, beating the Pipeline SC netminder to cut the lead to 2-1.
The score remained 2-1 throughout most of a second half filled with brave tackles and high emotions and as the contest entered the dying minutes of the contest, Pipeline SC once again scored in rapid succession.
Christopher Lobley capitalized on another long throw to make it 3-1, one-timing a header attempt off the restart into the back of the net. And then minutes later, a Pipeline forward drove down the left side of the field and cut into the middle, putting a shot on net. The Florida Premier goalkeeper made the stop but a rebound squirted out, where Christian Ruger knocked it into the net to cap off the day.
"We worked on it in Baltimore all Tuesday, just an hour on set pieces, free kicks, corners and throw-ins," said Pipeline SC coach Philip Greatwich. "On these fields, we know some of them are more narrow, so we knew we could get some advantage on some long throws. And they've been working wonders. We've said to the guys, 'Set pieces win games.' It's good to have some sneak plays in the locker."
Pipeline SC's victory was its second 4-1 win of the weekend, prepping the club to end the tournament on a high note Sunday.
"I'm proud of the boys; we joined ECNL for games like this," Greatwich said. "Both of them were highly contested, a lot of physicality and energy out there. Out of the five games we've played so far this season, they're all probably in the Top 10 of toughest games ever this group has played. It speaks volumes about the level of the ECNL teams we're playing. And even the boys, they're super happy we're playing in these types of events and teams. Hopefully, we can round it all off tomorrow with another competitive game."
Setting Up For Success
Much like its counterparts in Pipeline SC, Florida Kraze's U-16 team also spent a day practicing its set pieces. Reflecting on the squad's 1-0 victory against South Carolina United, it seemed like the practice paid off.
"We usually have one designated day a week to focus on restarts," said center midfielder Kosi Mafela. "We believe games are won and lost on restarts. And that showed today."
The lone goal of the contest came late in the first half, coming off a set piece. Kraze had a corner from the left side, where a high service found the head of Mason Dowdy, who pounded the ball into the back of the net.
In the second half, set pieces continued to be a driver of the contest. Specifically, Florida Kraze's ability to defend them.
Multiple times in the second frame, South Carolina put balls into the box, and each time, Kraze either made a save, made a block or cleared the ball before any real scoring opportunity materialized. It was a concerted team effort to protect the net. That defense gave Kraze enough momentum to flip the field in the final minutes and despite not finding a second score, that offense was enough to secure the clean sheet.
"You have to play well to win games here, that's an important aspect," said Head Coach Ray Sandidge. "It was a tough, tough ball game. Both teams wouldn't give in. We just made one more play than they did."
Squad Up
Three games in three days is not an easy feat to accomplish for any team. But it does create some great opportunities for coaches to experiment and test their own players.
For Charlotte SA Director Steve Gummer, he's taking full advantage of those opportunities, all of which were displayed in the team's 1-1 draw against Solar SC Saturday afternoon.
"This event really gives you the chance to try some new formations out," Gummer said. "We've used two or three over the weekend in different situations and moments in the game."
Lining up in a 3-4-3, Charlotte SA scored in the opening minutes on a goal from Kobe Ankrah. A Charlotte SA winger ran down the left touchline before passing into the box for a quick shot. Solar SC made the save, Ankrah picked up the rebound and slammed it home for the tally.
As the half wound down, Solar SC responded with a goal of their own. Arnie Perez-Valenzuela won a battle in the final third, advanced it and then crossed a pass to the far post. There, Freddy Kossehasse controlled it and buried his shot, knotting the game at 1-1.
In the second half, the game opened up more, resulting in chance after chance for both sides. Solar SC had the majority of the chances early on, but Charlotte methodically chipped away, eventually flipping the field in their favor, partially due to Gummer subbing in fresh legs.
"It was really end-to-end stuff; the game really opened up and was wider than it was in the first half, so we had to be diligent about that," Gummer said. "The three games in three days is really fantastic for fitness. It also gives you a chance to manage the squad so every player gets a good balance of minutes across the three games."
Ultimately, neither side could find the go-ahead goal and at the final whistle, both teams walked off the pitch with a hard-fought point in the draw.
Around The Pitch
A total of 15 teams have yet to allow a goal through two games, with Atlanta Fire United's U-16s and United Futbol Academy's U-17s sporting the best goal differentials at +7.
Through two days of competition, 44 games have been one-goal contests, with another 25 that have ended as draws.
Concorde Fire's U-18/19 team has scored the most goals of any team at ECNL Florida with 10.