Eastern New York Youth Soccer Association utilizing Club Pass Program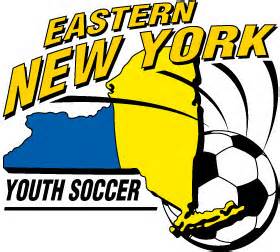 By Randy Vogt
The Eastern New York Youth Soccer Association (ENYYSA) is utilizing a Club Pass Program to help teams who are short due to injuries or other circumstances.
Subject to the league approval of each registered team, this innovative program allows teams who are short due to injuries or other commitments to add players to their roster. Teams can add players from the same club in the same age group or a younger age group so that games are 11 vs. 11 and no teams have to play short.
The United States Youth Soccer Association (USYSA) National League and the National Championship Series (State Open Cups) have been using the Club Pass Program for the past several years with success. To prevent abuse of this system, the rules mandate that "a team must demonstrate continuity of rosters between the league and every level of the National Championships competitions by maintaining a minimum of nine players common to the roster of the team at every level of the competition."
For example, a Girls-Under-17 team would be short for a game this Sunday afternoon due to some players visiting colleges. That team could add players from another Girls-Under-17 team or younger girls teams in the same club.
Also, say a player on a club's A team playing Division 1 has not developed as much as his teammates and his confidence is low since he's struggling. If he accepts the chance to play on the B team playing in a lower division, he could score some goals, get his confidence back and be a better player when he returns to Division 1. Or he might enjoy playing more minutes and being a star in a lower division and has the option to stay with the B team.
The Eastern New York Premier League (ENYPL) has used Club Pass for the past two years. A team may utilize up to four players who were on the roster at the start of the season but could regularly play for another team in the same club.
"The Eastern New York Premier League has utilized the Club Pass Program with much success during the past two years as it affords roster flexibility and can be used as a developmental tool," commented ENYPL Director Steve Padaetz.
The Club Pass Program is available when registering teams on SportsSignup.