U.S U-17 men defeat England, Australia at Nike Friendlies, face Brazil for top spot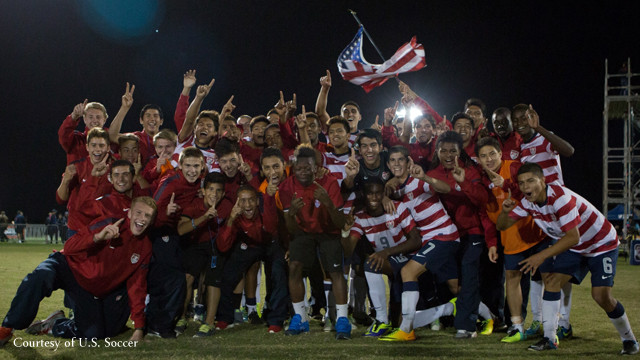 LAKEWOOD RANCH, Fla. (via U.S. Soccer) – After opening the tournament with wins over England and Australia, the U.S. Under-17 Men's National Team will close out the 2014 Nike International Friendlies against Brazil on Tuesday, Dec. 2, at 6 p.m. ET at the Premier Sports Campus (streamed live on ussoccer.com).
The game will be a rematch of last year's finale, which the USA convincingly claimed with a 4-1 victory. The USA-Brazil match is preceded by a 3 p.m. game featuring Australia and England.
+READ: Nike Friendlies preview: U.S. U-17 men welcome Brazil, England, Australia
A win or a draw will give the USA back-to-back tournament titles.
The USA (2-0-0; 6 points) will be entering the match with an unblemished record after taking down England (0-1-1; 1 point) 3-1 on Friday, and downing Australia (0-0-2; 0 points) 2-1 on Sunday.
Midfielder Christian Pulisic led the way with two goals and Alejandro Zendejas tallied a goal and an assist for the USA win against England. Pulisic now has 16 goals on the year, upping his career U-17 MNT total to 17 over a span of 25 games.
Nine different players were in the starting lineup that took the field against Australia, with only midfielder Eric Calvillo and forward Josh Perez having started in both the England and Australia game.
After falling down 1-0 early, forward McKinze Gaines tipped one in for the 1-1 score, tallying his fifth goal of 2014, and third-most on the team. Gaines' goal came from an assist by midfielder Pierre Da Silva, his team-leading ninth of the year.
Midfielder Luca de la Torre scored the game-winning goal against Australia in the 69th minute. It was de la Torres' first goal of his U-17 MNT tenure.
+READ: USSDA Winter Showcase highlights: Tri-State, Potomac teams impress in Florida
The U-17 MNT is coming off a three-game tournament in Chile from Nov. 18-22, with draws against host Chile and Qatar and a heartbreaking 4-3 loss to Brazil after rallying from a two-goal deficit. Head coach Richie Williams' side has compiled a 17-6-3 international record and a 18-6-7 mark overall.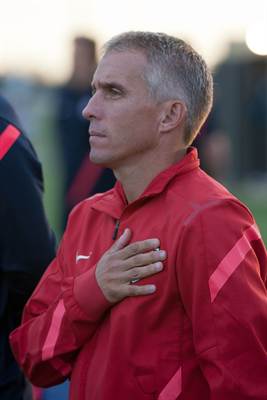 Brazil (1-0-1; 4 points) will also bring a clean record as it convincingly won against Australia 4-0 on Friday and got a 2-2 draw in a dramatic match against England, scoring its two goals in a span of three minutes on Sunday, only to see England equalize late in stoppage time
This marks the USA's last major tournament of the year as the focus will then turn toward preparation for the 2015 CONCACAF U-17 Championship from Feb. 27-March 14 in Honduras.
U.S. Under-17 Men's National Team By Position
GOALKEEPERS (2): 1-Kevin Silva (PDA), 12-William Pulisic (Richmond United)
DEFENDERS (8): 2- Matthew Olosunde (New York Red Bulls Academy), 3- John Nelson (Internationals), 4-Alexis Velela (San Diego Surf), 5-Hugo Arellano (LA Galaxy Academy), 13-Logan Panchot (St. Louis Scott Gallagher Missouri), 14-Daniel Barbir (West Bromwich Albion), 15-Daniel Dieterich (Real Salt Lake AZ)
MIDFIELDERS (6): 6-Eric Calvillo (Real So Cal), 8-Luca de la Torre (Fulham), 9-Alejandro Zendejas (FC Dallas), 10-Christian Pulisic (Unattached), 16-Thomas McCabe (PDA), 20-Keegan Kelly (Baltimore Celtic)
FORWARDS (4): 7-Haji Wright (Unattached), 11-Josh Perez (Unattached), 17-McKinze Gaines (Lonestar SC), 18-Pierre Da Silva (New York Soccer Club)