DMV United: D.C. area youth soccer community vows not to leverage COVID-19 crisis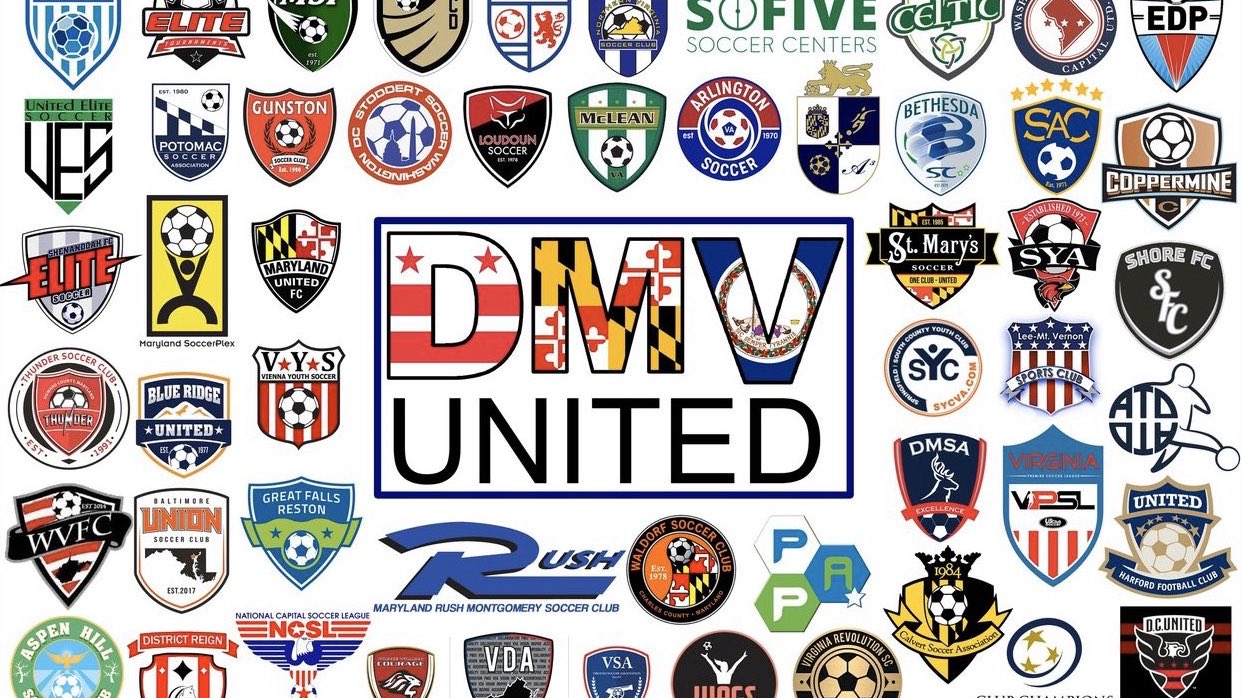 Over 60 youth soccer clubs, leagues and facilities based in Maryland, Virginia and D.C. have vowed to eliminate competition and focus on cooperation during the COVID-19 pandemic.
With all on-field and in-person activities suspended for at least the next month, the D.C. soccer community joined together to form DMV United, which sets up a support structure and outlines rules of operation for the remainder of the shutdown. Each member organization has made a commitment to safety by following the guidelines of local health departments, while also giving back to the community to the best of their abilities. 
One of the primary purposes of DMV United is to establish ground rules for the business side of soccer, during a time of uncertainty when there may be temptation to seek leverage against rival brands. This includes ceasing most marketing efforts until there is a clear restart date, and not using the crisis as a player recruitment tool against other clubs. 
"Some clubs my come out of this in a worse financial position than other clubs," said Matt Libber, Executive Director of the Maryland SoccerPlex. "As part of this commitment, member organizations pledge to not use that as leverage during the upcoming recruitment period."
More than 100,000 players, coaches and club leaders are represented by organizations that have joined DMV United, which will operate as a cooperative, not led by any single club or small group of clubs. 
"In the end, this group is all about trust that clubs will do the right thing and honor their commitments," Libber said. 
With all soccer training and instruction moving online, DMV United members are coming together to share ideas, resources, and best practices for helping players continue their development from home. The newly-created DMV United website includes COVID-19 related resources specifically for coaches, players, parents and businesses.
"The DMV UNITED initiative has brought together organizations across the beltway region to join in sharing best practices for supporting player development remotely and keeping them active at home," stated Thomas Park, Executive Director of Alexandria Soccer Association. "By sharing these best practices, along with club management tactics, the DMV United team stands ready to deliver impactful programming the moment it is safe for our community to return to play."
DMV United members each committed to a set of five principles which are to serve as a guide throughout the remainder of the pandemic, and it the aftermath:
We share the responsibility to pause programming until health departments advise that structured play is safe for all
We share thoughts for all those affected by the virus with commitment to supporting community members in need
We share our commitment to supporting player development with remote training resources and individual guidance
We commit to working as a UNITED soccer community to deliver the highest quality and most impactful programming ever, once we are able to resume structured activity.
We will support one another as we navigate organizational challenges and will not leverage hardships incurred by clubs during the COVID-19 crisis
To view the full press release announcing the launch of DMV United, Click Here.