Dix Hills Elite U-18 Boys earn third Nationals berth in four years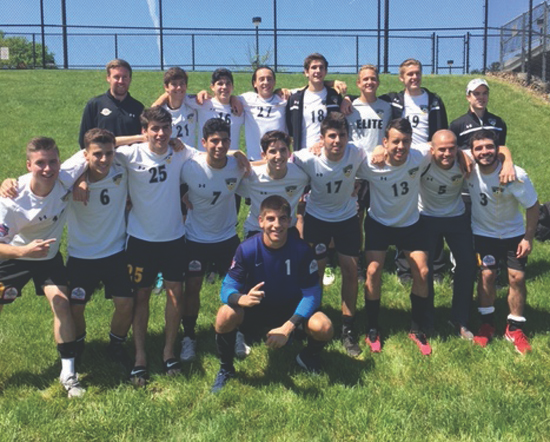 (Via ENYYSA) – The Dix Hills Elite of the Long Island Junior Soccer League (LIJSL) are heading to Frisco, Texas to play for the national championship from July 25 to 31 as the wildcard team from Region 1 after losing a hard-fought battle to Pennsylvania's Lehigh Valley United 2-1 in the Regional Championship finals on July 5 in West Virginia.
Dix Hills had made it to Regionals by beating that very same Lehigh Valley team, 2-1, in the Region 1 Champions League finals on May 8.
This will be the third trip to Nationals in the past four years for the now Boys-Under-18 team. In 2013 as a Boys-Under-15 side, Dix Hills lost in the national championship final in overtime to California's Santa Barbara SC White on a penalty kick. The following year at Boys-Under-16, the boys came close again, losing in overtime in the semifinals to eventual national champion Baltimore Celtic.
+Read: Two-time Region I champion HBC Impact U-15 Girls go for national title
Dix Hills played in the Eastern New York Youth Soccer Association (ENYYSA) State Open Cup finals for five consecutive years from 2011 to 2015, winning the state championship in the odd-numbered years (2011, 2013, 2015).
Dix Hills also competed in the National League for the past four years. In 2014, they became the first National League team not to give up a goal in league play. They finished with a 6-0-1 record, with 14 goals scored and seven consecutive shutouts, playing an amazing 560 minutes of soccer against nationally-ranked opponents without conceding a goal.
The boys are looking forward to going to Texas to seek the national championship that has eluded them and Eastern New York will be making a donation to help with their costs. While working around high school graduation parties and graduation trips, Dix Hills will be training several days a week and scrimmage the Boys-Under-19 Smithtown Arsenal, who are also regional champions and preparing for Nationals.
"This resilient bunch never gives up," commented Dix Hills team manager Howard Manus.