Two-time Region I champion HBC Impact U-15 Girls go for national title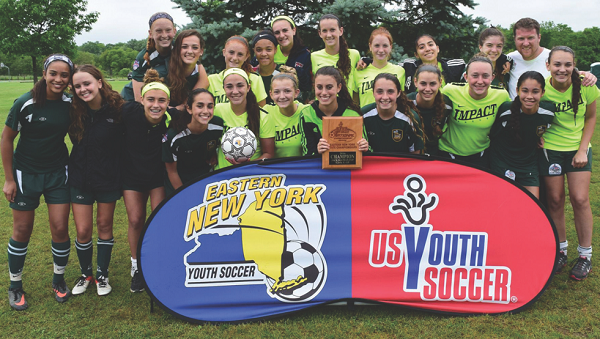 (Via ENYYSA) – The HBC Impact U-15 Girls just keep getting better and better.
After losing the Eastern New York Youth Soccer Association (ENYYSA) State Open Cup final twice, the Long Island Junior Soccer League (LIJSL) team won their first state championship last year and followed it with another title last month in the Hudson Valley when they defeated the Syracuse Development Academy, 7-0, in the final.
They also won the US Youth Soccer Region I Championship in 2015 and again this year. HBC is now aiming to win the US Youth Soccer National Championship when they compete in Frisco, Texas, the future home of the US Soccer Hall of Fame, from July 25 to 31.
At Regionals in Barboursville, West Virginia from June 30 to July 5, an important order of business for HBC was getting by Pennsylvania's Lower Merion Storm in group play, a team they had lost to 4-1 in the Region 1 Champions League back in April.
"To our staff, they were two completely different games and situations as we play regional championships to win and we play our Region 1 league games to develop and play a possession style," explained HBC coach Bill J. Carroll. "Having played Lower Merion and scouted them, we played a very specific style during Regionals, which differs from our usual possession-based model. We played safe and direct out of the back and we were very confident in our ability to attack. This allowed us to defend in two blocks, which made us much more difficult to break down."
Coach Carroll continued, "In our first match, they scored two goals based on possession errors in the back, and then two more on counter attacks when we overpossessed in the attacking third and had so many players committed to keeping the ball. We switched our style of play, knowing they had only seen us as a possession team. We also were intent in not beating ourselves in this match."
HBC defeated Lower Merion, 3-1, and also topped Rochester Rhinos Elite, 4-1, and Massachusetts' Spirit of Liverpool FC Reds, 2-1, to finish first in the group. HBC won their semifinal match over Connecticut's CFC North Wolves, 3-0, and the finals over New Jersey's Princeton SA IGFA, 1-0, with HBC keeper Morgan Novikoff recording the shutout in goal for both games. Ryan Conway, an attacking defender, scored a great goal from 35 yards in the 10th minute of the final to give HBC the Regional title in a match they truly had the better of play.
Coach Carroll said their very deep roster is making quite an impact.
"We have 21 players and they all greatly contributed to this Regional championship. We played 18 different kids during the event, and feel we have many more than 11 starters. This allowed us to rest players, especially those with injuries, as well as regularly have fresher athletes on the field, which we've found is incredibly important to get through a five-game event like Regionals," he stated.
"Our support staff is second to none. Other teams do not receive the parent support but more specifically, the chaperone and administrative support that we have. Our kids traveled down to West Virginia in two vans, driven by chaperones. Room together, eat together, spend all the off time together. We feel this makes us more of a team, which helps them on the field, especially during moments of adversity. It wasn't always pretty, but every girl gave everything they had. Our scoring was spread across 10 players as this group thrives on being a team. Our group is rare in today's premier soccer landscape and the players and support staff deserve a lot of credit for the success we've had."