Development Academy players announce 2016 college commitments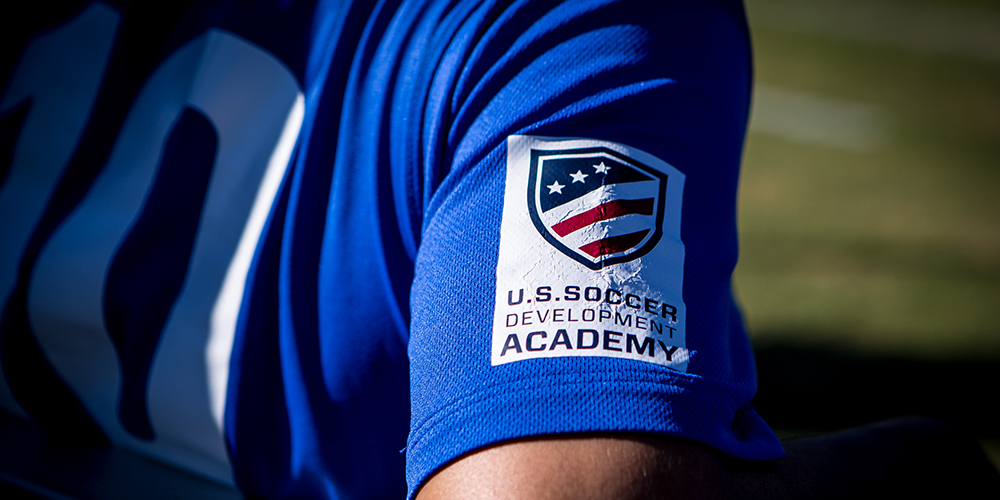 CHICAGO (Via U.S. Soccer) – National Signing Day took place on Wednesday, Feb. 3, with hundreds of U.S. Soccer Development Academy players announcing their college commitments starting this fall.
Of the 48 clubs that submitted college commitments, Players Development Academy led the group with 17 players heading to the collegiate level. The 48-club group includes 414 Academy players.
+Read: Over 1,200 ECNL players announce 2016 college commitments
Here is the breakdown by Academy club:
Beachside of CT SC: Noah Lawrence (Army), Emmet Whitmer (Bucknell), Dan Laranetto (Columbia), Caner Snover (Elon Univ.), Aidan Haas (Fairfield Univ.), Joao Avila (Providence College), Altin Celaj (Sacred Heart Univ.), Niko Petridis (UConn), Henry Kessler (Univ. of Virginia)
Bethesda-Olney: Emil Owusu Amoakohene (American Univ.), David Mason (Georgetown), Francisco Contreras (Loyola (MD)), Jordan Dove (UMBC), Thimothy Ekpone (Univ. of Kentucky), Griffin Bouchard (Univ. of Maryland), Justin Lobe (Yale), Max Graham (Yale)
BW Gottschee Academy: Bernie Wright (Bucknell), Matthew Swain (Columbia), Dylan Nealis (Georgetown), Casey Barone (Penn), Benjamin Issroff (Princeton), Sean McGowan (Princeton), Conor  McGlynn (Siena College), Christian St Louis (Stony Brook Univ.), Kevin Lozada (Virginia Tech)
Carolina Rapids: Nathan Kennedy (Belmont Univ.), Jacob  Schachner (Princeton), Phillip Goodrum (Univ. of North Carolina – Wilmington)
Chargers SC: Usama Abel (Eckerd College), Brendan Weigley (Furman Univ.), Remington Pimm (Memphis Univ.), Jacob Chadwell (Mercer Univ.), Ethan Singer (Navy), Reece Riggins (North Carolina State Univ.), Justis Enlow (Spartanburg Methodist College), Antonio Colacci (Univ. of New Hampshire), Glenn Johnson (Univ. of North Florida), Ben-Avir Espinal (Univ. of South Florida), Cole McKinney (Xavier Univ.)
Charlotte Soccer Academy: Edward Morrissett (Davidson), Tyler Fewin (Elon Univ.), Nicholas Cournoyer (North Carolina State Univ.), Richard VanGurp (Sawnee Univ. of the South), Oliver Leo (Univ. of North Carolina – Charlotte), Patrick Hogan (Univ. of North Carolina – Charlotte), Philip Salice (Univ. of North Carolina – Charlotte), Tyler Dacaret (Univ. of North Carolina – Charlotte)
Chicago Fire: David Kovacevic (Bradley Univ.), Joseph Lee (Brown), Aleksander Labovic (DePaul Univ.), Jacob Graiber (Loyola (IL)), Connor Alba (Marquette Univ.), Matt Moderwell (Northwestern Univ.), Jesus Perez (Univ. of Akron), Louis St. John (Univ. of Dayton), Ben Rohder (Univ. of Indianapolis), Cameron Lindley (Univ. of North Carolina – Chapel Hill), Mauricio Pineda (Univ. of North Carolina – Chapel Hill), Jack Shaw (Univ. of Wisconsin – Madison)
Chicago Magic PSG: Luka Prpa (Marquette Univ.), Emmanuel Sabbi (Univ. of Akron), Spencer Farina (Univ. of Notre Dame), Nick Klabjan (Univ. of Wisconsin – Madison)
Colorado Rush: Charlie Caswell (Davidson), Will Palmquist (Denver Univ.), Gregory (Ty) Lang (Fort Lewis College), Isaiah Jackson (Gonzaga) , Will Eslinger (Indiana Univ.), Jake Zec (Lipscomb Univ.), Connor Johnson (Mississippi College), Fernando Mendez (Neosho County Community College), Noah Bushey (New Mexico Univ.)
Concorde Fire: Taka Lendon (Coast Guard), Jousha Blank (Elon Univ.), Andy Harris (Georgia Southern), Justin Little (Georgia Southern), Ian Marshall (Lehigh Univ.), Roberto Arteaga (Mercer Univ.), Timothy Mc Quaid (Rutgers Univ.), Nathan Leopold (Univ. Rochester), John Roberts Cozine (USC Upstate)
Continental FC Delco: Andrew Stant (Air Force), Braden Miller (American Univ.), Cody Wax (Bucknell), Edward  DiPietro (Drew Univ.), Chad Poarch (Pennsylvania State Univ.), Christopher Smolyn (St. Francis Univ.), Defrim Namani (St. Joseph's Univ.), Donny Namani (St. Joseph's Univ.), Senan Farrelly (Univ. of Notre Dame), Leon Maric (Univ. of Virginia), Antonio Marchio (Widener Univ.)
Crew SC Academy: George Braima (Ohio State), Eli Crognale (Belmont Univ.), Luke Dawley (Butler Univ.), Jack Driscoll (Belmont Univ.), Logan Ecklar (Univ. of Cincinnati), Edward Folds (Wake Forest Univ.), Jake Harr (Lipscomb Univ.), Robert McKelvey (Duquesne Univ.), Reese Moore (George Washington Univ.), Kyle Walsh (Cornell)
Crew SC Academy Wolves: Creaghan Diekema (Belmont Univ.), Ian Adams (Calvin College), Suniel Veerakone (Duke), Giuseppe Barone (Michigan State), Michael Pimlott (Michigan State), Robert Hickson (Princeton), Roderick Green (Saginaw Valley State Univ.), Isiah Handspike (Spring Arbor Univ.), Ian Cairns (Swarthmore College), Thomas Tenuta (Univ. of Chicago), Connor Brazil (Univ. of Louisville), Lucas Rosendall (Univ. of Michigan), Michael Cohen (Univ.of Wisconsin – Green Bay), Nils Valdmanis (Western Michigan Univ.)
Crossfire Premier: Drini Redzepi (George Washington), Trevor Lee (Seattle Pacific Univ.), Noe Meza (Seattle University), Simon Lekressner (Univ. of California – Berkeley), Bryce Logan (Univ. of Washington), Nick Phillips (Western Washington Univ.)
Dallas Texans: Ben Blessing (Air Force), Nick Blessing (Air Force), Andre Nappa (Eastern Illinois), John Wynia (Lipscomb Univ.), Jackson Morse (Memphis Univ.)
Empire United: George Dise (George Washington), Eric Albrecht (Kenyon College), Alex Cancilla (Marist), Tanner Jameson (Tufts), Michael Juszczak (Univ. of Buffalo), Zach Lawlor (Univ. of Rochester), Frank Cotroneo (Villanova), Nikkye DePoint (Villanova)
Everton FC Westchester: Declan Toomey (College of the Holy Cross), Peter Berkanish (Connecticut College), Bart Dziedzic (Fordham Univ.), Dantae Greer (Fordham Univ.), Will Sheng (Middlebury College), Robert Strain (Sacred Heart Univ.), Macdara Heanue (Stony Brook Univ.), Shane Devine (Univ. at Albany, SUNY), Andrew   Carton (Yale)
FC Dallas: Austin Ashley (Cornell), Ben Hale (Furman Univ.),  Hector Montalvo (Grand Canyon Univ.), RJ Sayler (Midwestern State Univ.), Eddie Munjoma Southern Methodist Univ.), Phillip Ponder (Southern Methodist Univ.), Toshiki Yasuda (Southern Methodist Univ.), Reggie Cannon (UCLA), Gio Montesdeoca (Univ. of North Carolina – Chapel Hill), Juan Ramirez (Univ. of Texas – Rio Grande Valley), Weston McKennie (Univ. of Virginia), Chris Villalobos (Valparaiso Univ.)
FC Golden State: Kedrian Ramos (Cal State Bakersfield), Alfredo Cortez (Cal State Fullerton), Bryce Watson (Cal State Fullerton), Noah Walton (Cal State Northridge), Asa Silverman (Harvard), Andrew Gregory (Navy), Alex Pidoux (Saint Mary's Univ.), Ronaldo Lomeli (San Jose State Univ.), Matt Golbranson (Santa Clara Univ.), Ethan Prins (Sonoma State Univ.)
Houston Dynamo Academy: Quayyum Murana (Saint Louis Univ.), Mason Schuster (Univ. of North Carolina – Wilmington), Charles Filby (Virginia Tech), Thomas Menke (Wake Forest), Cameron Walker (West Texas A&M), Quayam Murana (Saint Louis Univ.), Mason Schuster (Univ. of North Carolina – Wilmington), Charles Filby (Virginia Tech), Thomas Menke (Wake Forest), Cam Walker (West Texas A&M)
IMG Academy: Warren Lewis (Drexel Univ.), Cherif Dieye (Louisville), Fernando Rodriguez (Merrimack), Tate Norman (Merrimack), Mitch Broome (Tiffin), Michael Cormack (West Virginia Univ.), Womeldorph Christian (Wofford College)
Indiana Fire Academy: Jack Lang (Bradley Univ.), Derek Sutton (Butler Univ.), Caden McCullough (Drake Univ.), Zach Conroy (Drake Univ.), Spencer Glass (Indiana Univ.), Jacob Crull (Spring Arbor Univ.), Cameron Lindley (Univ. of North Carolina – Chapel Hill)
Internationals: Nick Malinowski (George Mason), Zach Senft (LaSalle Univ.), Jacob Gratzer (St. Francis Univ.), Alex Mapp (Univ. of Akron), Jackson Crawford (Univ. of Akron), Kotaro Umeda (Univ. of Louisville), AJ VanVoorhis (Western Michigan Univ.)
Juventus: Marc Joshua (Stanford)
LA Galaxy: Ethan Zubak (New Mexico Univ.), Rey Ortiz (Portland), Christian Onalfo (San Diego St.), BJ O'Hara (Univ. of California – Berkeley), Erick Galinar (Univ. of California – Irvine), AJ Vergara (Univ. of South Florida)
MN Thunder Academy: Stoil Ganev (Southern Illinois Univ. – Edwardsville), Duncan Werling (UCLA), Brian Vang (Univ. of Wisconsin – Green Bay), Ian Smith (Univ. of Wisconsin – Green Bay)
NC Fusion: Austin Hill (Elon Univ.), Nicholas Graves (Elon Univ.), Max Fisher (Furman Univ.), Jamie Vasconcellos (High Point Univ.), Nikolas   Grundseth (North Carolina State Univ.), Noah Seach (Univ. of North Carolina – Charlotte), Casey Penland (Univ. of North Carolina – Greensboro)
New York Red Bulls: Callum Johnson (Boston College), Rodrigo D'Andrea (Brown), Ryan Mingachos (George Mason), Mason Deeds    (Georgetown), Barry Sharifi (Loyola (MD)), Brian Saramago (Loyola (MD)), Samad Bounthong (Marist), Cristian Martinez (Monmouth), Jared Gilbey (Stanford), Kyle Casey (Stanford), Wojciech Gajda (Stony Brook Univ.), Kyle Perno (Univ. of California – Santa Barbara), Sean Teixeria (Villanova)
Oakwood: Brock Hassett (Coast Guard), Freddy Stokes (Connecticut College), George Spanos (Eastern Connecticut State Univ.), Riley Strassner (Georgetown), Brandon  Garland (Houston Baptist Univ.), Dimitrios Dalardha (Loyola( MD)), Danny Griffin (Providence College), Julian Stifano (Springfield College)
Orlando City SC: Carlos Cuevas (Drexel Univ.), Brandon Bartel (Penn), Logan Laskey (Rollins College), Nathaneal Adamolekun (Univ. of North Carolina – Chapel Hill), Cormac Begley (Univ. of North Florida), Jonathan Rosales (Univ. of South Florida)
PA Classics: Matt Gillis (American Univ.), Robert Miller (Bowling Green State Univ.), Kyle Richards (California Univ. of Pennsylvania), Trevor Clemens (Marshall Univ.), Braden Kline (Providence College), Aaron Robinson (Rider Univ.), Chris Brignall (Temple Univ.), Matt Trepanier (Temple Univ.), Nick Sarver (Temple Univ.), Evan Collins (Univ. of South Carolina)
Pateadores Academy: Cole Crisp (Air Force), Daniel Klemm (Drexel Univ.), Rodrigo San Roman (Loyola Marymount Univ.), Owen Smith (NYU), Jack Gorrien (St. Mary's Univ.)
Players Development Academy: Matthew Mais (Bucknell), Austin Riddick (Georgetown), Joseph Bianco (LaSalle Univ.), Michael Colao (Loyola (MD)), Shane Kastl (Loyola (MD)), Ernest  Mitchell (Marist), Michael Luke (Monmouth), Schuyler Fuchsman (Northeastern), Jack Casey (Notre Dame), Thomas McCabe (Notre Dame), Athanaios Scheidt (Rutgers Univ.), Chaz Burnett (Rutgers Univ.), Cameron Allen (Siena College), Kevin Silva (UCLA), Joasua Goldstern (Univ. of Virginia), Andres Camacho (Villanova), Isaiah Young (Wake Forest)
Portland Timbers: Brandon McCurtain (Campbell), Trevor Wilson (DePaul Univ.), Eric Diaz (Oregon State), Jose Perez (Portland), Bennett Lehner (Univ. of Dayton), Terrell Lowe (Univ. of Virginia), Blake Bodily (Univ. of Washington), Samuel Buzzas (Xavier Univ.), Zach Nelson (Xavier Univ.)
Real Colorado: Robby Jacobs (Clemson Univ.), Ford Edwards (Colorado School of Mines), Riley Adams (Cornell), Nico Padgett (Missouri State Univ.), Jack Umbaugh (Occidental College), Brian Waite (Univ. of Colorado – Colorado Springs), Nick Gilida (Univ. of Colorado – Colorado Springs), Dylan Keeney (Univ. of Denver), Dakotah Bainter (Univ. of North Carolina – Asheville), Nick Cullen (Univ. of Notre Dame), Jaret Townsend (Univ. of Washington), Ryan Sailor (Univ. of Washington), Cameron Unks (Western Washington Univ.)
Real Salt Lake: Jared Osgood (Amherst College), Jason Hernandez (Cal Poly San Luis Obispo), Antony Siaha (Cal State Bakersfield), Sebastien Des Pres (Univ. of California – Santa Barbara), Miles Stray (Univ. of Maryland), Elijah Rice (Univ. of Washington), Alec Felix (Utah Valley Univ.), Mckay Eves (Utah Valley Univ.), Alex Knox (Wake Forest)
Richmond United: Keenan O'Shea (Army), Sawyer Gaffney (Davidson), Anthony Astruc (Hampden-Sydney College), Brandon Hackenberg (Pennsylvania State Univ.), Jake Gelnovatch (Univ. of Louisville), Drew Romig (Univ. of North Carolina – Chapel Hill), Victor Falck (Univ. of Virginia), Anthony Gonnella (Virginia Commonwealth Univ.), Austin Graham (Virginia Commonwealth Univ.), Kelley Walters (Virginia Commonwealth Univ.), Travis Cooke (Virginia Commonwealth Univ.), Ryan Lesher (Washington and Lee Univ.)
San Diego Surf: Kai Heckerman (Bradley Univ.), Tyson Griffin (Cal State Bakersfield), Erik Lyons (Saint Mary's College of California), Matt Serrato (Univ. of Jamestown), Chase Van Wey (Univ. of Portland), George West (Univ. of San Diego), Connor Ryan (UNLV)
Seattle Sounders FC: Harrison Kurtz (Clemson Univ.), Henry Baldwin (Dartmouth), John Dale (Davidson), Johnny Reynolds (Elon Univ.), Roko Bedalov (Elon Univ.), Brady Henderson (Gonzaga), Davis Behnke (Gonzaga), Connor Noblat (Seattle Univ.), Ivory Randle (St. Mary's College), Nicholas Hinds (Univ. of Akron), Tor Saunders (Univ. of Akron), Tobi Jnohope (Univ. of Denver), Handwalla Bwana (Univ. of Washington), John Magnus (Univ. of Washington), Kasey French (Univ. of Washington)
Shattuck-St. Mary's: Trevor Amann (Colorado School of Mines), Luke Haakenson (Creighton Univ.), Josh Bowser (DePaul Univ.), Zachary El-Shafei (DePaul Univ.), Alex Cobban (Drake Univ.), Scott Misselhorn (Drake Univ.), Jorge Burke (Georgetown), Alex Hererra (Loras College), Addison Parrish (Loyola (IL)), Nick Dauchot (Loyola Marymount Univ.), Wyatt Durbin (St. Francis Univ.), Scott Jensen (Univ. of Colorado – Boulder), Churchill Onumonu (Univ. of Dayton), Key Namjoupanah (Univ. of Kentucky), Leo Rabiu (Univ. of Vermont), Jasper Malamud (Univ. of Washington)
SLSG MO Academy: Ado Jahic (Bradley Univ.), Taner Dogan (Harvard), Drew Nuelle (Indiana University), Brandon Santel (Lipscomb Univ.), Adam Bruce (Memphis Univ.), Kaden Keller (Michigan State), Matteo Kidd (Saint Louis Univ.), Spencer  Jones (Saint Louis Univ.), Aidan Dunne (Univ. of Tulsa)
Sockers FC Chicago: Daniel Schiller (Brown), Jeffrey Montemayor (Carthage College), Lucas Geib (Lake Forest College), Aidan Megally (Loyola (IL)), Patrick Seagrist (Marquette Univ.), Sean Lynch (Northwestern Univ.), Duncan Turnbull (Notre Dame), Patrick McGrath (Univ. of Illinois – Chicago)
South Carolina Battery Academy: Andrew Place (College of Charleston), Cole Gulledge (College of Charleston), Chandler Richards (Eckerd College), Conor Sloan (Furman Univ.), Nolan Coulter (Lehigh University), Jon-Cody Mactutus (Roanoke College), Austin Tuggle (Wofford College)
Sporting Kansas City: Dakota Karns (Missouri State Univ.), Absalom Solorio (Niagara), Will Little (North Carolina State Univ.), Andrew McLeod (Northwestern Univ.), Logan Lucas (West Virginia Univ.), Ryan Kellogg (West Virginia Univ.), John Leisman (Yale)
St. Louis Scott Gallagher Metro: Hunter Mudd (College of Charleston), Zach Hall (Duquesne Univ.), John Horstman (Lewis Univ.), Ian Bender (McKendree Univ.), David Viox (Tulsa Univ.)
Strikers FC: Dane Lind (Amherst College), Kenneth Higgins (Cal Poly San Luis Obispo), Garrett Amador (Loyola Marymount Univ.)
Texas Rush Soccer Club: Hunter Hayden (Air Force), Jackson Goebel (Brown), Jorge Cabrera (Houston Baptist Univ.), Alex Reyes (Marshall Univ.), Brandon Guhl (Southern Methodist Univ. ), Angel Lopez (Univ. of Texas – Rio Grande Valley), Payton Miller (Xavier Univ.)
Vardar: Tommy Dokho (Lehigh Univ.), Michael Werunga (Michigan State), AJ Shaw (Oakland Univ.), Kaveon Dux (Oakland Univ.), Spencer Nolff (Oakland Univ. ), Timmy Dolan (Saint Louis Univ.), Nate Tremotti (Seton Hall), Cameron Panley (Univ. of Cincinnati), Pearce Skinner (Univ. of Cincinnati), Aashil Mehta (Univ. of Wisconsin – Green Bay), Mitch Guitar (Univ. of Wisconsin – Madison), Giuseppe Vitale (Western Michigan Univ.)