Over 1,200 ECNL players announce 2016 college commitments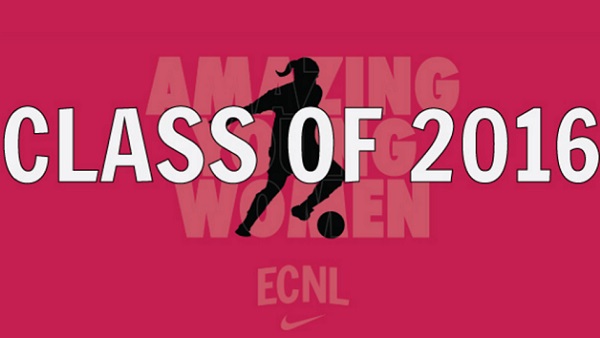 RICHMOND, VA (Via ECNL) – Last week, while players across the country signed their National Letters of Intent (NLI) to continue their soccer careers in college, the 2016 graduating class of the Elite Clubs National League had a record-setting number of commitments. More than 1,200 of the graduating seniors in the ECNL will go on to play soccer at the collegiate level this fall, with 955 alone in NCAA Division I programs.
"The unrivaled number of ECNL players continuing their playing careers speaks to the level of play in the league, and the great development provided by the clubs and coaches in the league" said Jen Woodie, Acting Commissioner, Elite Clubs National League. "ECNL athletes have raised the standards in youth soccer, and they are raising the standards as they continue their careers in college and beyond."
+Read: Development Academy players announce 2016 college commitments
The ECNL is the top female youth development platform in the world, elevating female soccer across the country in competition, player development, coaching, and more.  The ECNL College Impact shows that the number of ECNL alums playing soccer in college has increased year after year.  Now in the 7th year of the league, ECNL graduates are even beginning to impact the NWSL professional league and the full women's national team.
The class of 2016 is comprised of Amazing Young Women who will be playing at multiple collegiate soccer levels:
ECNL Class of 2016: 1,310

College Bound ECNL: 1,217

Total Players Playing Collegiate Soccer: 1,209

Division I: 955

Division II, III, NAIA: 264

Undecided: 91
Beyond its impact on the field, the ECNL's holistic programs Amazing Young Women, S'Heroes, and The Zone, are preparing ECNL athletes to be the future leaders of tomorrow.
To view the college bound ECNL Class of 2016 in full, click here.
*Information above is based on individual member club submissions as of February 1, 2016.