Montreal Impact Academy adds five new coaches to staff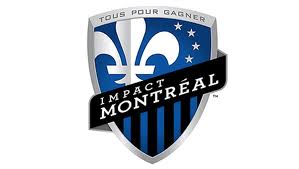 MONTREAL (Via Montreal Impact Academy) – The Montreal Impact Academy announced on Wednesday the hiring of Benoit Deplagne, Mathieu Rufié, Jules Gueguen and Michael Fiorino, to replace coaches promoted with the first team. Also, Nicolas Gagnon will now be head coach of the Impact U16 team.
"We had three months where we had to work with reduced staff, so we are happy to be back in a regular situation with new blood," said Academy director Philippe Eullaffroy. "We hope that these quality coaches will be as successful as Jason (Di Tullio), Wilfried (Nancy) and Yannick (Girard) were with the Academy. Everyone will help them integrate so we can keep going forward with youth development."
Benoit Deplagne will be the Academy chief fitness coach. Holding a License in sports training and a level 2 Master in performance engineering from the Faculté des Sports de Montpellier, he also holds the fitness coach competency certificate of high-level sports from the Montpellier CREPS, which he got in 2011. He worked for three years at the Nimes Olympique Academy, in Ligue 2.
Mathieu Rufié will be the new U14 Impact head coach. He holds the UEFA A License and the National B License from Canada. He started in France, in the elite sport-études program at Lycée Monteil de Rodez and in the Onet le Château Football Club, with the U17, U19 and then senior teams (regional level), between 2006 and 2012. Then, he was an educator at the Association régionale de soccer de la Rive-Sud in the sport-études program and with the U17 and U18 AAA CS Longueuil teams, in 2013 and 2014. He was then named head coach of the senior PLSQ team for the 2014 and 2015 seasons. He won the PLSQ championship in 2014.
Jules Gueguen will be the new assistant fitness coach and assistant coach for the Academy teams. He got his masters in sports psychology from the Lund University in Sweden, in 2014. He also holds a DEPP in evaluation and fitness training from the Institut national du sport du Québec, with a B.Sc. in kinesiology from UQÀM. Between 2013 and 2015, he was assistant coach and sport psychology consultant with UQÀM.
As for Michael Fiorino, he will be the new video analyst for the Academy teams and the team manager for the U13 and U14 teams.
Philippe Eullaffroy continues to hold significance to the fact that the Academy coaches are researchers on top of being educators.
"The selection process is done in a way where we can evaluate the knowledge, but also the search, curiosity, experimentation and openness capacities of the candidates. They will put their knowledge and research mentality to the service of the Academy and its youth. They will also bring a new perspective."