Boys roster, schedule released for id2 International Tour to Spain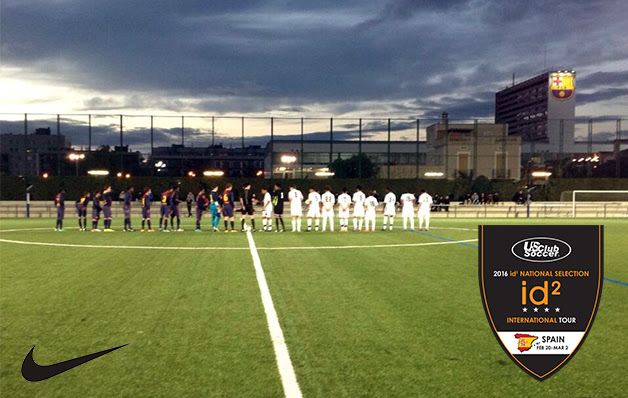 CHARLESTON, S.C. (Via US Club Soccer) – Members of the 2016 id2 National Selection International Tour will travel to Spain, Feb. 20-March 2. A group of boys – 16 born in 2002 and two born in 2003 – from 18 different clubs around the country make up the id2 National Selection team that will play against top LaLiga academies, watch a professional game and train in some of Spain's best facilities.
The international tour will continue to be supported by Nike, and new to 2016, LaLiga is offering its resources to enhance the experience. Premier International Tours is also assisting with travel logistics.
ROSTER:
| Number: | Name: | Position: | Hometown: | Club: | Birth Year: |
| --- | --- | --- | --- | --- | --- |
| 00 | Charlton Alonso | GK | Paramus, N.J. | World Class FC | 2002 |
| 2 | Erik Centeno | D | Stockton, Calif. | Earthquakes – East Valley FC | 2002 |
| 1 | Gandhi Cruz | GK | Aurora, Ill. | Chicago Magic PSG | 2002 |
| 11 | Jack de Vries | M | Wayne, Pa. | Philadelphia Union | 2002 |
| 9 | Cameron Dunbar | F | Chula Vista, Calif. | Albion SC | 2002 |
| 14 | Daniel Edelman | M | Warren, N.J. | PDA | 2003 |
| 10 | Max Goeggel | M | San Francisco, Calif. | Ballistic United SC | 2002 |
| 5 | Ryan Hikida | D | Issaquah, Wash. | Issaquah SC | 2002 |
| 6 | Bryang Kayo | M | Montgomery Village, Md. | Bethesda-Olney | 2002 |
| 17 | Kawika Kelii | F | Waianae, Hawaii | Maui United SC | 2002 |
| 12 | Wyatt McCarthy | M | New York, N.Y. | Manhattan SC | 2002 |
| 7 | Alfredo Moran Loera | F | Chula Vista, Calif. | Surf SC | 2002 |
| 16 | Thomas Musto | M | Makawao, Hawaii | Surf Hawaii SC | 2003 |
| 15 | Matthew Owusu | D | Finksburg, Md. | Baltimore Celtic SC | 2002 |
| 8 | Nicola Rosamilia | M | Roseland, N.J. | Ironbound SC | 2002 |
| 3 | Derrick Silva | D | Tucson, Ariz. | Tanque Verde SC | 2002 |
| 4 | Luis Toledo | D | Longmont, Colo. | FC Boulder | 2002 |
| 18 | Andrew Tong | D | Chelmsford, Mass. | GPS Massachusetts | 2002 |
Head of Delegation: Tim Lesiak (Maineville, Ohio)
Head Coach: Gerry McKeown (Summit, N.J.)
Assistant Coach: Jim Barlow (Montgomery, N.J.)
Goalkeeper Coach: Matt Bernard (Folsom, Calif.)
SCHEDULE:
Games:
Tuesday, Feb. 23

vs. Valencia Infantil A (2002s),

6:45 p.m. CET

at Paterna Training Ground

Thursday, Feb. 25

vs. Villarreal CF Infantil A (2002s),

7 p.m. CET

at Villarreal Sports City

Monday, Feb. 29

vs. Espanyol Infantil A (2002s),

7 p.m. CET

at Campo de juego Badalona

Tuesday, March 1

vs. FC Barcelona Infantil A (2002s),

7 p.m. CET

at Ciutat Deportiva Joan Gamper