Dates, locations of US Club Soccer National Cup XIX Regionals announced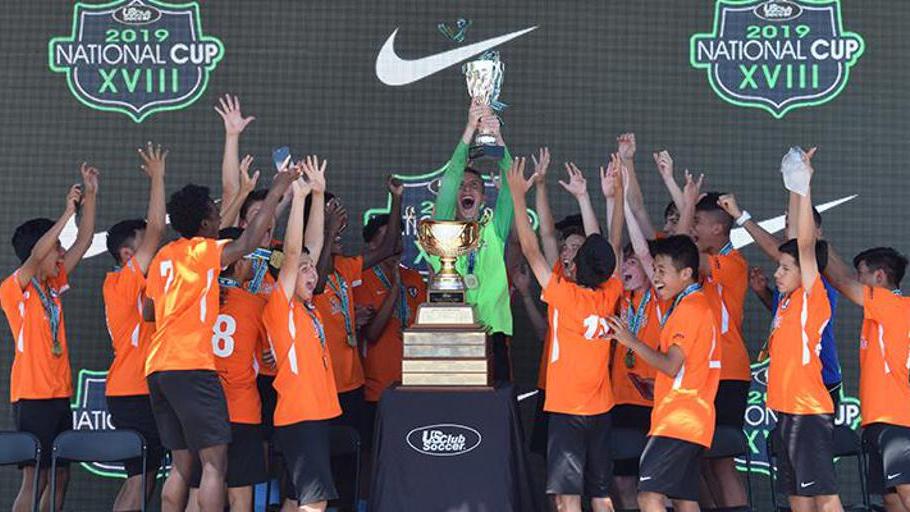 The 19th edition of the National Cup, US Club Soccer's cup-based championship series, features six Regionals throughout the country in June 2020.
In addition to these Regionals, the National Cup also includes various state cups, which begin in the spring. National Cup XIX Regionals are open to 13-U through 18/19-U boys and girls age groups (2007s through 2001/2002s) for Midwest, Northwest, South Central and Southeast Regionals and 12-U through 18/19-U (2008s through 2001/2002s) for the Mid-Atlantic and West Regionals.
Winning 13-U through 18/19-U boys and girls teams from Regionals and qualifying state cups advance to the National Cup XIX Finals, of which the location and dates will be announced soon alongside the new logo for 2020.
South Central Regional
This is the third time US Club Soccer will host a South Central Regional – supported by a membership influx in that region of the country over the past few years. Mohawk Sports Complex has 17 fields, including 10 with lights.
West Regional
Davis Legacy Soccer Complex has a long National Cup history, as the venue enters its eighth consecutive year hosting the West Regional. Davis Legacy Soccer Complex recently expanded, and this is the third year in a row that the Regional hosts both boys and girls competition on the same weekend.
Midwest Regional
The Midwest Regional is the longest running host of a Regional, as Libertyville Township Soccer Complex and Waukegan Sports Park enter their ninth consecutive year. Annually, this Regional brings in more than 200 teams.
Southeast Regional
The BB&T Sports Park has hosted the Southeast Regional the past three summers, as well as from 2008-10. The complex consists of 13 full-size fields and a stadium field.
Northwest Regional
The Northwest Regional will shift to Snohomish, Washington for the next four years after stops in Yakima, Redmond and Boise, Idaho. Stocker Fields is well suited for the large tournament, as it can be configured for up to 21 fields.
Mid-Atlantic Regional
The Mid-Atlantic Regional in Somerset, N.J. concludes the Regional slate with competition ending June 30th. PDA Soccer Complex and Morningside Farm enter their seventh consecutive year hosting the event.
---
Applications will be available in January. The National Cup XIX will continue to have Super Group (most competitive) and Premier Group divisions.
Participating teams should be well-versed in official National Cup XIX rules.  As a reminder, below are some of the recent rule changes.
There is no advanced roster freeze. Once an official team roster is turned in at check-in (either the night prior or the morning of the start of the event), that will be considered the final roster and no additions are allowed after that.
Head injuries: passcards will be pulled for players being treated for suspected, serious head injuries. Prior to returning to play, written clearance must be obtained by a doctor. The athletic trainers on-site will need this additional clearance prior to allowing athletes back on the field.
Substitutions will be limited for 13-U through 18/19-U age groups. Seven substitutions are allowed per half, and once a player is subbed out in any given half, he/she may not return to play.
Rosters: the 18-player game day roster will be strictly enforced.
Jersey numbers will be required on all official rosters.
Hard casts are not allowed. This includes hard casts with padded covers. There are acceptable soft casts which can be approved in advance of tournament play.
Any eyewear worn during games must be sport-approved eyewear.
In brackets which require semifinals, teams will be re-seeded based on points, unless two teams have already played each other in group play. In that case, each of those two teams will be placed in different semifinal games.
There is a three coach/team staff limit to each team sideline/bench area. The referee has authority to reduce this number if staff behavior is negatively impacting the game.