Danny Levya makes MLS debut as 3rd youngest player in history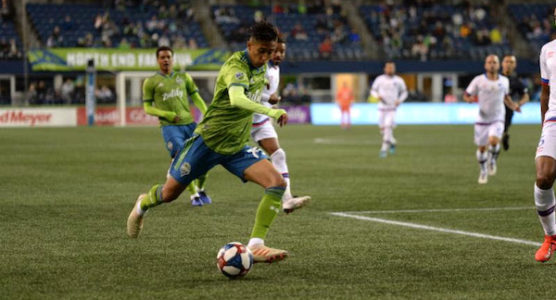 The Major League Soccer youth movement was again on full display earlier this month, when Danny Leyva made his league debut for Seattle Sounders FC.
Leyva came on as a substitute in the 82nd minute of his club's 2-1 loss to the Montréal Impact at Stade Saputo on June 5, barely a month after he was eligible to obtain a driver's license. At age 16 years, 31 days, Leyva became the third-youngest player to appear in a Major League Soccer game.
Signed as a Homegrown Player on April 9, the Sounders FC Academy product is the 15th-youngest player to sign a Major League Soccer contract.
Leyva was the 13th player at the age of 16 years or younger to play in an MLS game. Here are the youngest players to appear in a league match, with the dates of their debuts:
YOUNGEST TO PLAY A GAME IN MLS HISTORY (years.days)
| | | |
| --- | --- | --- |
| 14.306 | Freddy Adu | 4/3/2004 DC vs SJ |
| 15.257 | Alphonso Davies | 7/16/2016 VAN vs ORL |
| 16.031 | Danny Leyva | 6/5/2019 SEA at MTL |
| 16.061 | Gianluca Busio | 7/28/2018 KC vs DAL |
| 16.161 | Jesus Ferreira | 6/3/2017 DAL vs RSL |
| 16.173 | Diego Fagundez | 8/6/2011 NE vs CHV |
Prior to signing his Homegrown Contract, Levya played in the U.S. Soccer Development Academy for the Sounders FC Academy from 2017-2019. He joined the Sounders Academy in 2017, after playing for youth club Barcelona Las Vegas. During his time in the Sounders Academy program, he represented the club's U-15 and U-17 teams last season (2017-2018) and compiled 11 goals and 13 assists across all competitions.
He began playing two years up with the U-17s during the first round of 2018 Generation Adidas Cup, which Sounders FC won. He went on to feature in every postseason match as the U-17s collected the club's first-ever U.S. Soccer Development Academy national championship. In two seasons for the Academy, Leyva played in 66 matches for the U-15s and U-17s across all competitions.