D.C. United appoints Danita Johnson as President of Business Operations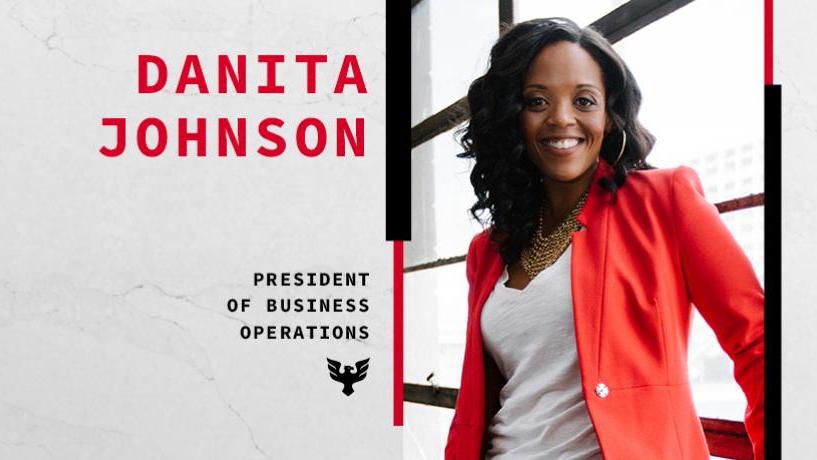 WASHINGTON, D.C. – D.C. United have announced Danita Johnson will become the club's new President of Business Operations.
Johnson will be joining D.C. United from Women's National Basketball Association (WNBA) franchise, the Los Angeles Sparks, where she has spent the last two years serving as the organization's President and Chief Operating Officer.
"After conducting a thorough search process, we are confident that Danita Johnson is the right person to lead our business and help take our club to new heights," said Jason Levien, Co-Chairman and CEO of D.C. United. "Throughout her career, Danita has demonstrated the ability to develop a positive and inspiring work culture, and she has done a tremendous job connecting with the communities in which she has lived and worked. We are thrilled that she has agreed to join us at this critical moment in D.C. United's trajectory."
Johnson has 15 years of experience in the sports industry and has served several roles in the WNBA, NBA, and NBA G League, specializing in revenue generation, community programs, and digital media and marketing. During her time with the Los Angeles Sparks, Johnson led the organization to a league-best in corporate sponsorship dollars earned and launched the annual #WeAreWomen campaign, which drew a historic attendance of 19,000 to Staples Center for a WNBA game. Additionally, under her leadership, the organization saw a 50% increase in ticket sales from 2014-2017 and led the WNBA in attendance in 2017 and 2019, including a 17.8% increase in fans per game in the 2017 season, her first as President and COO.
Prior to her time in Los Angeles, Johnson developed and led the Ticket Sales and Service department for the Washington Mystics while with Monumental Sports & Entertainment. Johnson also boasts NBA experience with the Los Angeles Clippers and played a pivotal role in launching professional basketball franchises, the Bakersfield Jam of the NBA G League in 2006 and the Tulsa Shock of the WNBA, which relocated from Detroit in 2010.
"I've learned a lot from my time with the WNBA, especially the Los Angeles Sparks organization, and I'll be forever grateful to the league for how it has lifted me up, both personally and professionally. I look forward to bringing my versatile background and leadership experience from my time working for various organizations for other professional sports leagues across the country to Major League Soccer," said Danita Johnson. "It is my belief that establishing a winning culture off the field impacts every aspect of the business, from fan interactions to community engagement, and I am committed to doing just this for one of the most storied and decorated clubs in American soccer history."
A native of Fayetteville, North Carolina and a graduate of Western Carolina University, Johnson sits on the board of the Share Winter Foundation, is a member of Delta Sigma Theta Sorority, Inc., and is a WISE Within Mentor.
Notably, Johnson will become the first Black President of an MLS club and is believed to be only the third woman in league history to serve in this role. She will officially join the club in January 2021.