Los Angeles FC advances to Concacaf Champions League Final with chance to make history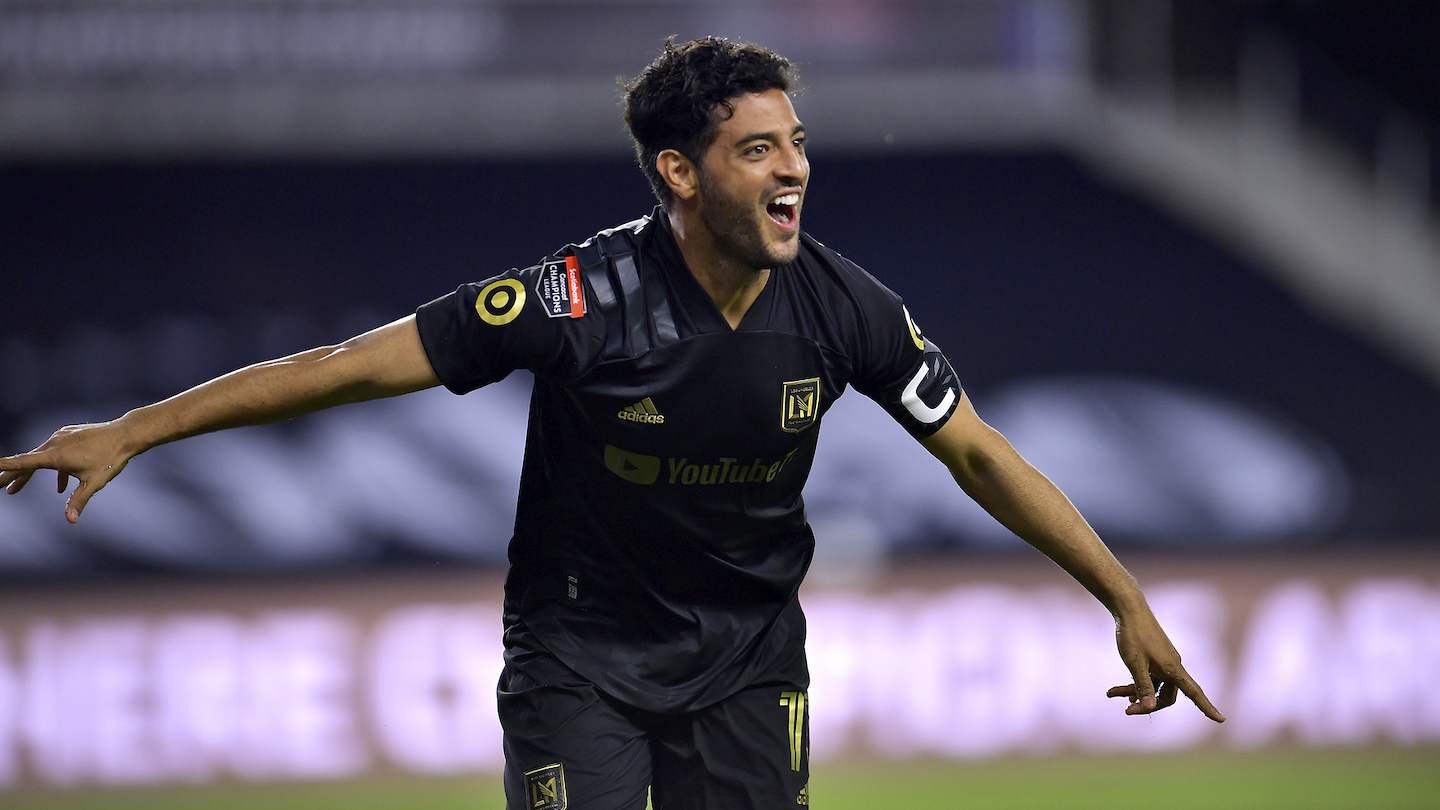 Of all the 52 wins in LAFC's three-year history, the magnitude of the 3-1 victory over Mexico's Club América in the Concacaf Champions League Semifinals on Saturday night is hard to describe. Yes, it was historic. Of course, it was thrilling. You know it featured a scintillating comeback. But trailing at halftime and down to 10 men, it certainly looked improbable.
One thing is for sure – it was a massive win for the Black & Gold, and maybe the biggest win for an MLS team ever over a Liga MX club in a competitive match, putting LAFC into its very first final, the Championship game of the Concacaf Champions League versus Tigres UANL on Tuesday, Dec. 22 at 7 p.m. PT.
It was not easy for LAFC against the most decorated and venerable team in Mexico, Club América, on Saturday night, as LAFC became the first team in MLS history to eliminate three Mexican clubs in the same edition of the tournament.
America took the lead in the 11th minute on a header form Sebastián Cáceres, sending a corner kick to the far post. A major incident just moments before halftime saw LAFC's Eduard Atuesta ejected for getting tangled with América goalkeeper Guillermo Ochoa, forcing the Black & Gold to start the second half with just 10 players.
But then it was Carlos Vela to the rescue. The 2019 MLS MVP scored two goals in 72 seconds, with the first goal coming just 13 seconds into the second half. Vela now has five goals in four Champions League matches in 2020.
Latif Blessing scored off a Diego Rossi rebound in injury time to supply LAFC with the 3-1 margin and secure a historic spot in the final.
"It was an amazing effort," LAFC head coach Bob Bradley said. "I'm really proud of everybody. To now be in a final is really special."
VELA
When LAFC needed a lift, and more importantly needed a goal – it was Carlos Vela who provided it on Saturday night vs. Club América. The 2019 MLS MVP and Golden Boot winner has had a difficult 2020, missing extended periods of time due to a knee injury and a family situation. But Vela is motivated, focused, and healthy for the return of the Champions League.
The LAFC captain scored two of the most incredible goals in Club history, turning a 1-0 deficit while down a man into a 2-1 lead in just 72 seconds.
"Carlos is such a special player," Bradley said. "He is a special leader, a captain, and man. What a night for him."
With the situation looking bleak and LAFC ending the first half losing and frustrated after Eduard Atuesta was ejected, Vela pounced on an errant América pass just 13 seconds into the second half and quickly converted to tie the game.
"He has missed a lot of time this year," Bradley said. "You can tell that at the end of the year how much [Champions League] means to him, and when it comes across to other players like that – that is leadership."
More importantly, Vela continues to back it up on the field – not only scoring goals but also taking care of all the little details that coaches appreciate so much.
"He does everything to help you manage a difficult team," Bradley said. "He's a great guy and an amazing player. He scores great goals, his ability. He is strong and has great balance and is not afraid of contact. We are lucky to have him around and you can tell he is really committed right now."
THE WINNING PROCESS
It is no secret that in their three years, LAFC has struggled in some big matches. Despite winning more regular season games than any other MLS team since 2018, the Black & Gold were eliminated in the MLS Cup Playoffs in their inaugural season after suffering a loss in the U.S. Open Cup Semifinals. The 2019 Supporters' Shield winners were met with disappointment in the MLS Cup Western Conference Finals last year, coming up one game short of the final again. It was a situation that did not sit well with Bradley or the team – and one that they continued to work on.
"Our mentality, after halftime – that intensity in the second half was just awesome," Bradley said. "We have been trying to develop that kind of mentality and win tough games and get to finals. I think we've learned from some of the moments that slipped away from us before, and tonight you could see the concentration in the second half."
Against a tenacious opponent in a unique and difficult tournament, a still-young LAFC grew up in the glare of the Concacaf Champions League spotlight.
"We do continue to grow," Bradley said. "You could see that after we got knocked out against Seattle [in the 2020 MLS Cup Playoffs], there was a real mentality and a sense that we wanted to focus on this."
A team that was formed with the goal of winning trophies was frustrated about the big game losses.
"We've been close, and in some of the important games we've made some mistakes," Bradley said. "We know what it feels like, semifinals are the game where everybody feels the pressure because getting to a final is so special. The whole idea of our group was to come together and get to a final, that is how you grow as a Club. We are in our third season and we know we have to keep trying to get better and develop that mentality."
Bradley and the coaching staff always approached those difficult losses with hard introspection and doing the work of getting better.
"We've never shied away from looking hard at ourselves," Bradley said. "In big games, every play counts."
RED CARD ADJUSTMENTS
It was clear from the start that Club América would attempt to be physical with LAFC and use their experience to try and push the Black & Gold off their game with fouls, flopping, and off-the-ball antics.
Diego Palacios was goaded into an early yellow card, and then disaster seemed to strike just moments before halftime when Eduard Atuesta was ejected with a straight red card after an altercation with América goalkeeper Guillero Ochoa. Atuesta attempted to dribble into the America box and appeared to be fouled by an America player. Then as play moved on and LAFC's midfielder remained on the ground, Ochoa stood over to him screaming. As Atuesta got up, Ochoa dropped to the ground, and after the ensuing altercation it was the MLS 2019 Best XI player who was sent off.
"I got a lot of text messages from people who saw the replay and saw exactly who initiated the problem between Ochoa and Eduard," Bradley said. "I've been told that Eduard didn't do anything."
Bradley knew that LAFC would have to deal with shenanigans from the Mexican club, but was hoping to come out unscathed.
"That was just an attempt to use that as a way to get the edge and the win," Bradley said. "We've got to be smart enough that we don't get caught up with all that other stuff going on. I thought our guys handled it well."
Forced to play the second half with just 10 men, Bradley brought Latif Blessing on for Danny Musovski, and the Black & Gold proceeded to perform a masterclass of how to play despite being outnumbered.
"We have many days in training where we play 11 v. 10," Bradley said. "We typically play a 4-3-2 in that situation, and tonight we did and worked the midfield with [José Cifuentes] and Latif and Mark [Anthony Kaye]. I think that part was really good."
MEMORIES OF MEXICO
Bradley was the head coach of the U.S. National Team from 2006-2011, and the USA and Mexico had numerous memorable matchups during his tenure, with most games turning into spirited, tense, and physical affairs.
The intensity of LAFC's semifinal with América brought Bradley back to some of those nights.
"It did remind me of those games," Bradley said. "During that time, games with Mexico were always special. The players were always so motivated for those matches. There have been moments when us and Mexico played where there were situations on the field and going off at halftime. That intensity shows up in big rivalries and big games and you could feel that tonight."