Columbus Crew SC beats Seattle Sounders 3-0 to capture MLS Cup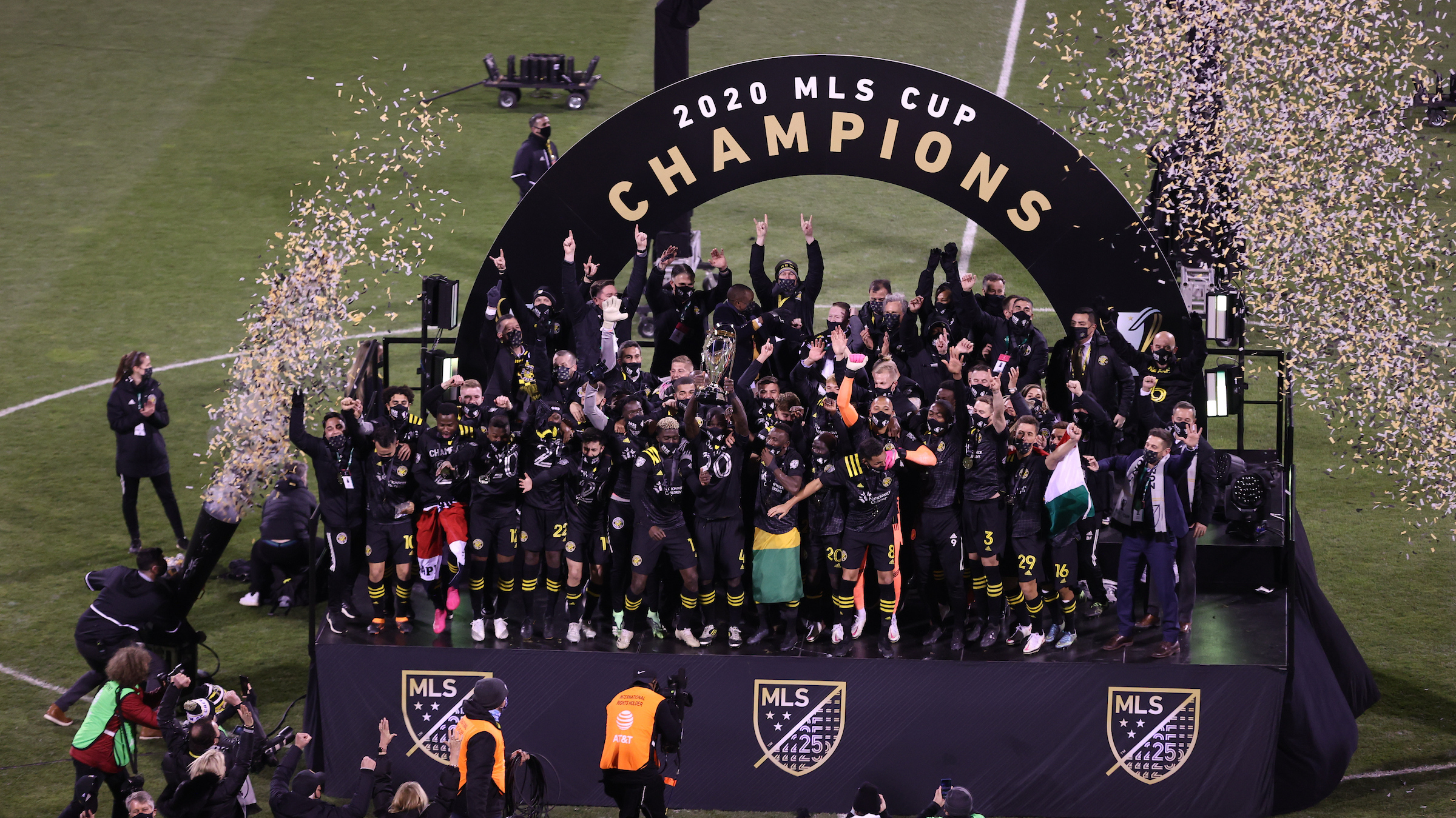 Columbus Crew SC delivered on their lofty aspirations from a 25th Major League Soccer season like no other, winning MLS Cup 2020 in convincing fashion in what will be the last playoff match at MAPFRE Stadium, the first soccer-specific stadium in league history.
Behind an inspired performance from club-record signing Lucas Zelarayan, the Crew resoundingly beat the Seattle Sounders 3-0 on Saturday night at home, denying Seattle a championship repeat and returning to MLS's peak for the first time since 2008. The Crew, who entered new ownership in 2018 after a fan-led movement to keep the club in Ohio, overcame incredible adversity to lift the Philip F. Anschutz Trophy.
Zelarayan put an exclamation point on his MLS Cup MVP performance, icing the game in the 82nd minute by making it 3-0. The Argentine playmaker collected a Luis Diaz pass atop the 18-yard box, then lashed home his left-footed shot to the top corner to cap a clutch performance from the midfielder.
The Crew were without winger Pedro Santos and midfielder Darlington Nagbe due to COVID-19 positive cases, though their absences were hardly noticeable – especially during a dominant first half. And Columbus found their reward in the 25th minute when Zelarayan made it 1-0 for the hosts, peeling to the back post and willing a left-footed shot past Seattle goalkeeper Stefan Frei, making the most of a deep, early cross from right back Harrison Afful.
The Crew doubled their lead six minutes later, with Derrick Etienne Jr. curling home a delicate shot to the far corner. The Haitian international winger earned the 2-0 advantage in the 31st minute, one-timing a right-footed shot with finesse after Zelarayan faked his shot and picked out the incisive pass.
Seattle made four substitutes between halftime and the 60th minute, including both outside backs, looking to recapture the magic of their comeback victory over Minnesota United FC in the Western Conference Final.
Those efforts fell short, though, with Nicolas Lodeiro nearly cushioning home a layoff from Jordan Morris in the 71st minute. Cristian Roldan also came close in the 51st minute when his corner-kick header missed the top corner, and Morris hit the crossbar with a header in the 80th minute. Yet they couldn't get one past Eloy Room, who finished with two saves upon his return to the lineup.
Columbus could have banked a third goal in the first half, but Frei reacted well to keep out a powerful Gyasi Zardes shot in the 17th minute. The Crew's center forward collected a cushioned header from Josh Williams off a corner kick, yet his left-footed effort was denied on the doorstep.
MLS CUP POSTGAME NOTES
Columbus Crew SC 3 (Zelarayán 25, 82; Etienne 31)
Seattle Sounders FC 0
Columbus Crew SC won MLS Cup for the second time in club history, making their third appearance in the title game, also winning MLS Cup 2008 vs. New York Red Bulls, 3-1.
Crew SC became the seventh team in MLS Cup history to win multiple league championships.
Lucas Zelarayán was MLS Cup MVP after scoring two goals and adding one assist, involving in all three Crew SC goals.
Zelarayán became just the third player to score two goals in MLS Cup, along with Landon Donovan (SJ, 2003) and Alecko Eskandarian (DC, 2004).
Zelarayán also became just the second player in MLS Cup history to be involved in three goals in a single final. The first: Guillermo Barros Schelotto, who recorded assists on all three goals for the Columbus Crew in MLS Cup 2008.
Aidan Morris of Columbus Crew SC became the youngest player in history to start an MLS Cup final, at age 19 years, 27 days. He is just the second teenager to start in MLS Cup, after Landon Donovan, who was aged 19 years, 231 days when he started MLS Cup 2001.
Morris became the youngest player to be involved in a goal when he recorded an assist on the first Columbus goal. The previous was also Donovan, who scored in MLS Cup 2001.
Derrick Etienne Jr. scored in his first MLS Cup appearance, his first career goal in the MLS Cup Playoffs (in his seventh game).
Crew SC goalkeeper Eloy Room was the 10th goalkeeper to record a shutout in the MLS Cup final, recording two saves.
It marked the seventh time in MLS Cup history a team scored three or more goals in a game, the second year in a row after Seattle's 3-1 win last year. Crew SC are one of two teams to have done it twice, along with their MLS Cup 2008 victory (also: D.C. United, 1996 and 2004).
Crew SC held a 2-0 lead at halftime, the fifth time a team led by two goals at halftime, the first time since 2004 (D.C. United).
Caleb Porter became the sixth head coach in MLS history to win multiple titles, the fifth now with two wins (behind Bruce Arena with five). He is also now the third coach in league history to win MLS Cup with two different teams, having also won in 2015 with the Portland Timbers (also in Columbus, vs. the Crew).
Sounders FC saw their winning streak in the MLS Cup Playoffs put to an end after eight games, the longest postseason winning streak since the end of the shootout era (since 2000), and the second-longest in league history.
Nicolás Lodeiro saw his streaks of seven consecutive games in the MLS Cup Playoffs with an assist, and eight consecutive games with a goal and/or an assist – both all-time MLS postseason records – come to an end.