MLS Cup Final matchup is set as Seattle Sounders FC wins Western Conference title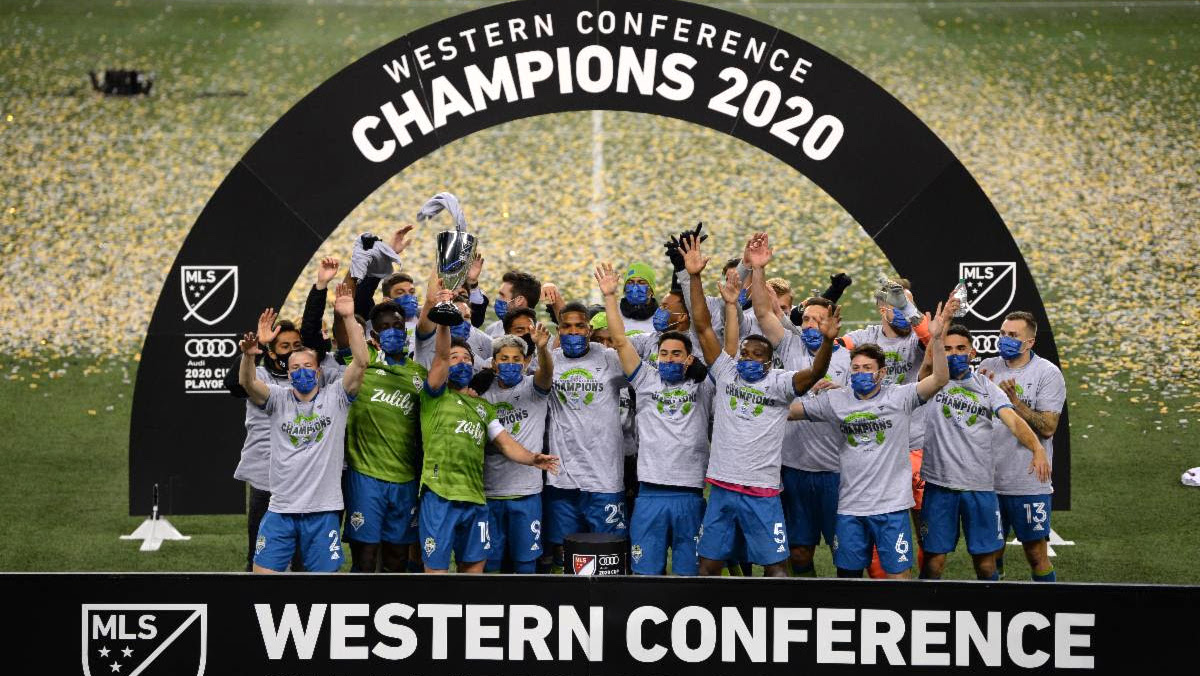 SEATTLE, WASH. – Sounders FC secured its fourth MLS Cup appearance in five seasons with a 3-2 come-from-behind victory over Minnesota United FC Monday evening in the Western Conference Final.
After Minnesota carried a 2-0 lead into the final 15 minutes of play, Seattle stormed back with three late goals from Will Bruin, Raúl Ruidíaz and Gustav Svensson, clinching the club's fourth Western Conference crown since 2016. Brian Schmetzer's side now faces Columbus Crew SC in the league's championship fixture next Saturday, December 12 at MAPFRE Stadium, with a 5:00 p.m. PT kickoff on FOX.
Minnesota United got on the board first in the 29th minute when Emanuel Reynoso struck a free kick from distance that slotted into the bottom right corner past the fingertips of Stefan Frei. In the 53rd minute the Rave Green appeared to bring it level courtesy of Raúl Ruidíaz, but after video review, the referee determined Ruidíaz fouled a Minnesota defender on his scoring chance, negating the goal. Minnesota made it 2-0 in the 67th minute when Bakaye Dibassy's head found the end of a free kick, doubling the Loons' lead.
Bruin quickly answered to halve Minnesota's advantage in the 75th minute, when a deflected shot by Ruidíaz found the feet of Bruin, who slotted it into the bottom left corner to bring Sounders FC within one goal. Ruidíaz evened the score in the 89th minute when a deflected corner found his feet from point-blank range. Svensson found the back of the net in the 93rd minute to give the Rave Green a 3-2 lead, securing the emphatic victory.
Sounders FC now heads to Central Ohio for the 2020 MLS Cup on Saturday, December 12 to face Columbus Crew SC, who defeated the New England Revolution on Sunday in the Eastern Conference Final. This marks Seattle's fourth MLS Cup Final appearance in the last five seasons (2016, 2017, 2019), and the first time Seattle has faced a team other than Toronto in the league's championship match.
MATCH SUMMARY
Seattle Sounders FC 3 – Minnesota United FC 2
Monday, December 7, 2020
Venue: Lumen Field
Referee: Ismail Elfath
Assistants: Corey Rockwell, Cameron Blanchard
Fourth Official: Joseph Dickerson
VAR: Timothy Ford
Attendance: Closed Door
Weather: 53 degrees and clear
SCORING SUMMARY
MIN – Emanuel Reynoso 29'
MIN – Bakaye Dibassy (Emanuel Reynoso 67')
SEA – Will Bruin 75'
SEA – Raúl Ruidíaz 89'
SEA – Gustav Svensson (Nicolás Lodeiro 90'+3')
MISCONDUCT SUMMARY
SEA – Alex Roldan (caution) 9'
SEA – Shane O'Neill (caution) 27'
MIN – Bakaye Dibassy (caution) 62'
LINEUPS & STATS
Seattle Sounders FC – Stefan Frei; Alex Roldan (Kelvin Leerdam 70'), Yeimar Gómez Andrade, Shane O'Neill, Nouhou (Brad Smith 70'); Cristian Roldan, João Paulo (Will Bruin 73'), Joevin Jones (Gustav Svensson 77'), Nicolás Lodeiro, Jordan Morris; Raúl Ruidíaz
Substitutes not used: Stefan Cleveland, Román Torres, Xavier Arreaga, Jordy Delem, Jimmy Medranda
Total shots: 24 (Ruidíaz, 8)
Shots on goal: 5 (Ruidíaz, 2)
Fouls: 11 (A. Roldan, 4)
Offside: 3 (Lodeiro, 3)
Corner-kicks: 10 (Lodeiro, 10)
Saves: 3 (Frei, 3)
Minnesota United FC – Dayne St. Clair; Romain Metanire (Hassani Dotson 40'), Michael Boxall, Bakaye Dibassy, Chase Gaspar; Jan Gregus, Osvaldo Alonso, Ethan Finlay (Kei Kamara 70'), Emanuel Reynoso, Kevin Molino; Robin Lod (Aaron Schoenfeld 90'+4')
Substitutes not used: Adrian Zendejas, Brent Kallman, Jose Aja, Marlon Hairston, Jacord Hayes, Thomas Chacon
Total shots: 7 (Molino, 2)
Shots on goal: 5 (Five players, 1)
Fouls: 15 (Six players, 2)
Offside: 0
Corner-kicks: 5 (Reynoso, 5)
Saves: 2 (St. Clair, 2)