Croix Bethune leads U.S. U-17 WNT to 4-0 rout over Mexico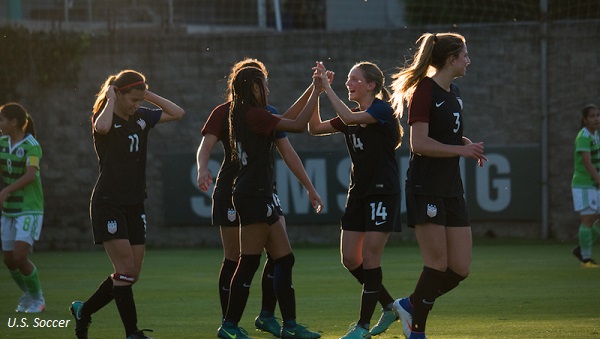 MEXICO CITY (Via U.S. Soccer) – The U.S. Under-17 Women's National Team rebounded from a 1-1 draw with Mexico on Nov. 16 to defeat its counterparts 4-0 in the second of two friendly matches at Mexico's National Team Training Center. Midfielder Croix Bethune scored twice, sandwiched between single scores from forwards Isabella D'Aquila and Jordan Canniff.
The two matches served as excellent preparation for both teams ahead of the 2018 CONCACAF U-17 Women's Championship. That tournament, to be held in Nicaragua next spring, will qualify three teams for the 2018 FIFA U-17 Women's World Cup in Uruguay.
"Obviously, we are very happy with the 4-0 result," said U.S. U-17 WNT head coach Mark Carr. "We made several changes from the first game and our players responded with a very disciplined performance. Coming out of this experience in Mexico, we know that we have a lot of work ahead of us as we continue to improve leading into World Cup qualifying next year."
+READ: U.S. U-17 Women's National Team plays Mexico to 1-1 draw
The age cutoff for the next U-17 Women's World Cup is players born on or after January 1, 2001. For these games U.S. U-17 WNT head coach Mark Carr named 19 players born in 2001 and three born in 2002.
As in the first match two days ago, the USA scored early. Midfielder Hannah Bebar played a ball over the back line to Sunshine Fontes, who crossed into the middle for D'Aquila to finish first-time. It was D'Aquila's third international goal in four U-17 appearances.
Unlike the match two days ago, the USA piled on three more goals to put the game away. It took the young Americans until the second half to score a second, but it came as part of a two-goal flurry from Bethune in a six-minute span.
Her first score came when the ball popped out to the top of the penalty box and she side-footed her shot into the top corner in the 51stt minute. She made it 3-0 in the 56th when she evaded a few defenders and hit a blast from outside the penalty area that flew into the upper left corner. The goals were Bethune's second and third at the U-17 international level in 10 caps.
+READ: Twenty-six players called to U.S. U-20 WNT training camp
Bethune also created the fourth and final score, slipping a through ball into the path of Canniff, who dribbled along the end line and showed patience before beating the goalkeeper at a tough angle for her eighth U-17 goal in 18 caps.
U.S. Under-17 Women's National Team Match Report
Match: United States U-17 Women's National Team vs. Mexico
Date: November 18, 2017
Competition: International Friendly
Venue: Centro de Alto Rendimiento; Mexico City, Mexico
Weather: 70 degrees, clear
Scoring Summary:    1          2          F
USA                              1          3          4
MEX                             0          0          0
USA – Isabella D'Aquila (Sunshine Fontes)                8th minute
USA – Croix Bethune                                                   51
USA – Croix Bethune                                                   56
USA – Jordan Canniff (Croix Bethune)                       80
Lineups:
USA: 12-Angelina Anderson; 17-Smith Hunter, 15-Natalia Staude, 16-Michela Agresti (capt), 2-Makenna Morris (3-Kate Wiesner, 54); 14-Hannah Bebar, 24-Croix Bethune, 20-Sophia Jones (21-Samantha Kroeger, 65); 19-Kalyssa Van Zanten (9-Jordan Canniff, 46), 13-Isabella D'Aquila (11-Lia Godfrey, 46), 18-Sunshine Fontes (10-Mia Fishel, 78)
Subs not used: 1-Cayla White, 4-Tori Hansen, 5-Kennedy Wesley, 6-Astrid Wheeler, 7-Samantha Meza, 8-Maya Doms
Head Coach: Mark Carr
MEX: 20-Jaidy Gutierrez; 16-Reyna Reyes, 2-Tanna Sanchez, 15-Julieta Peralta, 5-Ximena Rios (11-Esmeralda Zamarron, 57); 8-Nicole Perez (capt), 6-Mariana Elizondo, 4-Arely Salcedo (14-Nayeli Diaz, 40), 19-Natalia Mauleon (17-Yolanda Jimenez, 77); 10-Alison Gonzalez, 9-Vanessa Buso (21-Fernanda Rosales, 75)
Subs not used: 1-Clarissa Ramirez, 3-Nicole Soto, 7-Fatima Arellano, 12-Dayan Tellez, 13-Noemi Granados, 18-Valentina Oviedo, 22-Valeria Perez, 23-Valeria Reza
Head Coach: Christopher Cuellar
Stats Summary: USA / MEX
Shots: 11 / 5
Shots on Goal: 5 / 3
Saves: 3 / 1
Corner Kicks: 4 / 1
Fouls: 6 / 1
Offside: 5 / 3
Misconduct Summary:
None