Twenty-four players called to U.S. U-18 Men's National Team camp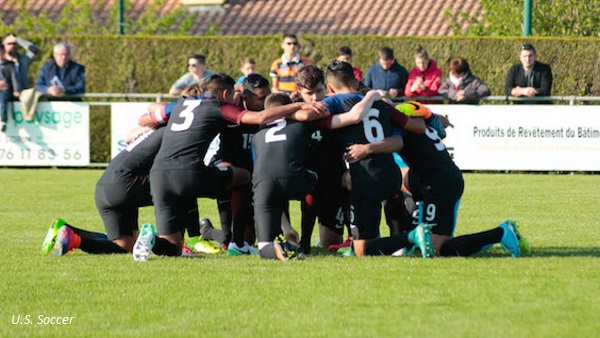 CHICAGO (Via U.S. Soccer) – The U.S. Under-18 Men's National Team will finish 2017 with a training camp at the U.S. Olympic Training Center in Chula Vista, California from Nov. 19 to Nov. 26. Although it's the U-18s' fifth event of the year, the 24 players called into camp by head coach Omid Namazi are a mixture of 2001 and 2002 birth years, marking the start to the 2018-2019 Youth National Team player cycle across all age groups.
The player pool, transitioning from the U-16 Boys' National Team, comes into camp after most recently participating in June's 2017 International Dream Cup in Japan. Across the Pacific, the U-16 BNT fell to Guinea 2-1, Japan 4-2 and Netherlands 5-2. Ten of the 24 players on this roster return from U-16 head coach Sean Tsakiris' squad at the tournament.
The trip to Chula Vista marks the fifth gathering of 2017 for the pool of players born in 2001 or later. Namazi got an early, first-hand look at the age group in April, when he led the U-16s for twelve days at the prestigious Tournament of Montaigu while Tsakiris assisted the U-17 MNT during its World Cup qualifying campaign in Panama.
+READ: Croix Bethune leads U.S. U-17 WNT to 4-0 rout over Mexico
At the Tournament of Montaigu, the USA started with a 1-0 victory over Belgium before falling to France 3-2, two days later. In their final group stage game, the Americans defeated rival Mexico 3-0, behind a brace and one assist from forward Stefan Stojanovic.
Although it's every player's first appearance on a U-18 roster, five players are making their debuts with the player pool in 2017: Jerry Ayon, Luis Hernandez, David Mendoza, Owen Otasowie and Alex Rando.
George Bello, the only player on the roster born in 2002, is age-eligible for the 2019 FIFA U-17 World Cup. Bello signed as a M.L.S. Homegrown player for Atlanta United FC in June and he's the most recent U.S. Soccer Development Academy national champion on the roster, as Atlanta took home the 2016-2017 season's U-15/16 hardware this past July.
Of the 24 players brought into camp, 22 have registered at least one season in the U.S. Soccer Development Academy.
Roster by Position

GOALKEEPERS (2): David Ochoa (Real Salt Lake; Herriman, Utah), Alex Rando (New York City FC; New York, N.Y.)
DEFENDERS (6): Julian Araujo (Barca Academy; Lompoc, Calif.), George Bello (Atlanta United FC; Douglasville, Ga.), Nico Benalcazar (New York City FC; Wilton, Conn.), Luke Hansen (Colorado Rapids; Littleton, Colo.), David Mendoza (Chicago Fire; Chicago, Ill.), Leonardo Sepulveda (LA Galaxy; Corona, Calif.)
MIDFIELDERS (9): Oscar Cervantes (LA Galaxy; Indio, Calif.), Cameron Duke (Sporting Kansas City; Overland Park, Kan.), Justin Haak (New York City FC; Brooklyn, N.Y.), Luis Hernandez (FC Dallas; Mesquite, Texas), Nelson Martinez (D.C. United; Woodbridge, Va.), Aidan Morris (Crew SC Academy; New Albany, Ohio), Owen Otasowie (Wolverhampton Wanderers FC; Merryhill, Wolverhampton, England), Marcelo Palomino (Houston Dynamo; Houston, Texas), Thomas Roberts (FC Dallas; Frisco, Texas)
FORWARDS (7): Luis Arriaga (Real Salt Lake; Herriman, Utah), Jerry Ayon (Monarcas Morelia; Morelia, Michoacan, Mexico), Azriel Gonzalez (Seattle Sounders FC; Renton, Wash.), Ulysses Llanez (LA Galaxy; Torrance, Calif.), Jose Rivas (Crew SC Academy; New Albany, Ohio), Gabriel Segal (Bethesda-Olney; Bethesda, Md.), Stefan Stojanovic (Sockers FC; Des Plaines, Ill.)