Colorado State women's soccer hires Joe Scachetti as assistant coach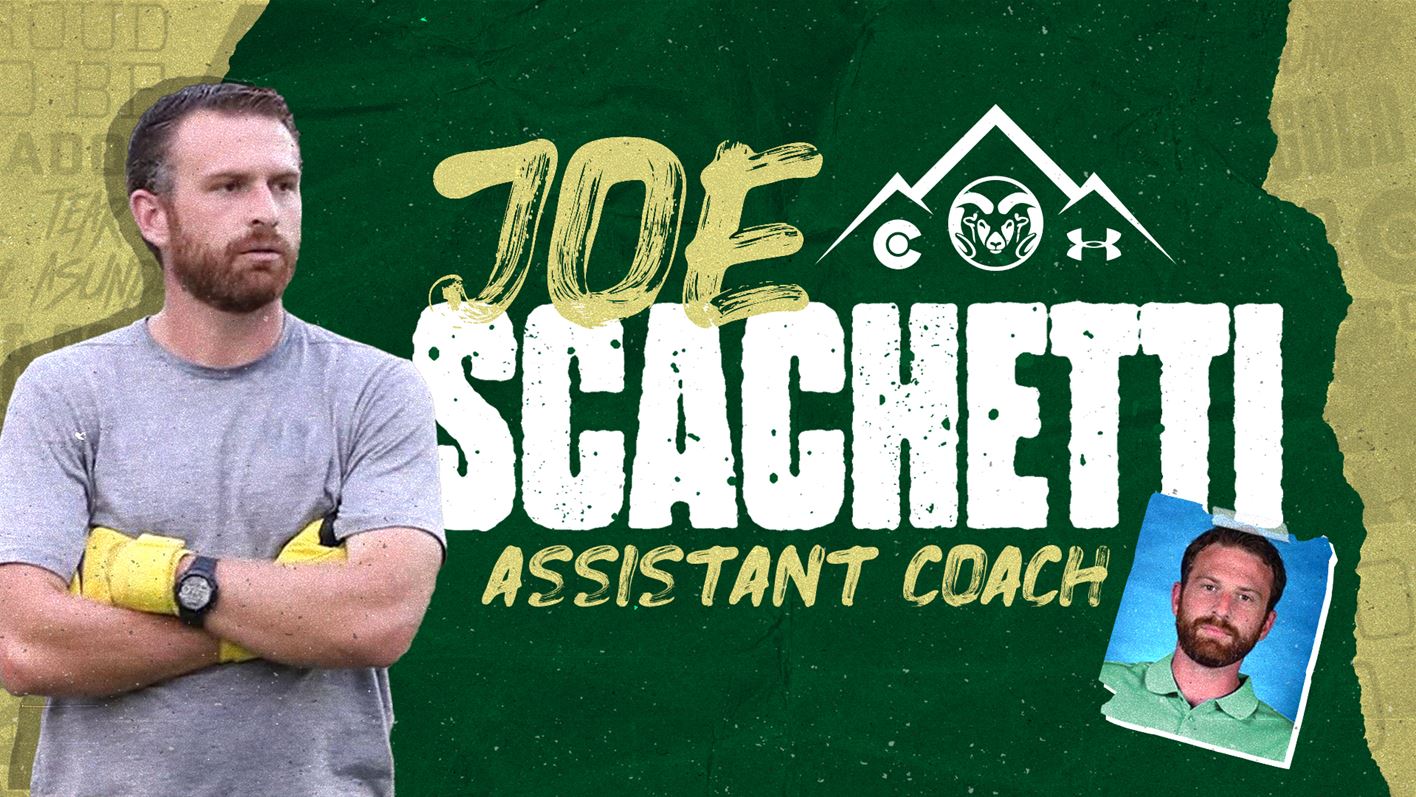 FORT COLLINS, Colo.  – Colorado State women's soccer head coach Bill Hempen announced the hiring of Joe Scachetti as an assistant coach to his staff on Monday.
Scachetti has spent the past year coaching at Warren Wilson College, serving as the Owls' head coach for the men and women's programs. Prior to that Scachetti was a part of the University of North Carolina – Chapel Hill men's program for three seasons, going to two NCAA College Cup Finals in 2016 and 2017, while also reaching the Atlantic Coast Conference Championship in 2018. Scachetti also served as an assistant at UNC-Asheville and Whittier College to total seven collegiate seasons on the pitch in his career.
"I feel extremely honored and privileged to become a part of the Ram family here at Colorado State," Scachetti said. "I want to thank head coach Bill Hempen, coach Tori Ball, athletic director Joe Parker, the student-athletes and the administration for this opportunity to become a part of a special place.  I am very eager to get onto campus and get started with the program."
The Los Angeles native graduated from West Torrance High School in 2007 and went to nearby University of California Los Angeles where he earned a Bachelor of Arts degree in Sociology in June 2013. He played soccer on scholarship for one season with the Bruins.
"Joe has definitely worked at his craft," Hempen said. "He brings the same passion for the game as his predecessor and we look forward to having him be a part of our Ramily. Although Joe's top priority will be coach and mentor to our Goalkeepers, we will use his enthusiasm for all aspects of our program, recruiting, on field coaching, camp programing and much more."
—
Joseph Scachetti File
Joseph Scachetti was named assistant coach as part of Bill Hempen's coaching staff in February 2020.
Scachetti comes to Fort Collins after one season at Warren Wilson College where he was the head men's soccer coach and the Athletics Crew Supervisor for the Owls. After inheriting the team with five returning players, Scachetti recruited 13 student-athletes to fulfill the roster, including USCAA All-American Second Teamer Will Feehan. He helped guide the Owls to its first national ranking in several years, ending the season as the No. 15 team in USCAA Division II.
As the head coach, Scachetti developed the schedule for the 2019 and 2020 seasons, hired a staff, maintained the program's budget, designed the training sessions, and implemented the team's core values and culture.
Prior to his time with the Owls, Scachetti spent three seasons from June 2016 to January 2019 as a men's assistant coach at the University of North Carolina at Chapel Hill. With the Tar Heels, he designed technical and tactical practices and drills for the team and goalkeepers. Specifically, Scachetti mentored keepers James Pyle and Alec Smir in the net. Pyle earned first team All-ACC in 2018 with a 0.52 GAA. In 2016, Pyle was named third team All-ACC with a 0.45 GAA – the third-lowest mark in school history. In between, Smir recorded a 0.69 GAA in 2017. During his time with the Tar Heels, UNC went 45-11-6 with trips to the NCAA College Cup Final in 2016 and 2017, while also reaching the 2018 ACC Championship Final.
Off the field at Chapel Hill, Scachetti was responsible for the program's operations, community involvement, aiding in marketing campaigns and held the Treasurer position on the UNC Soccer Board.
Before joining UNC at Chapel Hill, Scachetti was at another UNC affiliate, UNC at Asheville, for about a year from June 2015 to May 2016 in an assistant role with the men and women's soccer teams.
Scachetti got his start in collegiate coaching at Whittier College in California. From April 2013 to May 2015, he worked as the assistant to the women's team in addition to teaching an indoor soccer undergraduate course.
Outside of collegiate athletics, Scachetti has been involved in soccer in a multitude of ways. Most recently, he has been a youth coach for Triangle United Soccer Association based out of Chapel Hill. The last club team he was associated with was Highland FC during his time in Asheville, N.C. During college in Los Angeles, he helped with LA Galaxy Goalkeepers and Pre-Academy Goalkeepers, and West Torrance High School.
Scachetti earned a Bachelor of Arts degree in Sociology at University of California Los Angeles in June 2013. He played soccer on scholarship for one season with the Bruins.
The Torrance, California native attended West Torrance High School, graduating in 2007. In his high school career, he lettered one year under coach Mike Shimizu. Like many, he skipped his senior season to play in the U.S. Soccer National Academy League. He was named his team's Defensive MVP in 2007 after posting a GAA of 0.92 with 12 shutouts. The year prior, he also garnered the defensive MVP of his team to go along with team captain. As a freshman, he earned the Most Inspirational Award winner. Additionally, Scachetti participated in the 2007 adidas ESP camp and played club soccer for Irvine Strikers, leading his team to the finals of the 2007 Surf Cup where he was the goalkeeping MVP and the 2007 National State Cup.
Scachetti has two older sisters, Gina and Renee, who both played Division I college. He lives in Fort Collins, Colo.
Joe Scachetti Resume
Collegiate Soccer Coach
• Colorado State; Assistant Women's Soccer- February 2020-Present
• Warren Wilson; Head Men's Soccer – February 2019-February 2020
• University of North Carolina at Chapel Hill; Assistant Men's Soccer – June 2016-January 2019
• University of North Carolina at Asheville; Assistant Men and Women's– June 2015-May 2016
• Whittier College; Assistant Women's – April 2013-May 2015
Youth Soccer Coach
• Triangle United Soccer Association August 2018-Present
• North Carolina Football Club Staff Goalkeeper & Team Coach June 2016-July 2018
• Highlands Football Club Director of Goalkeeping June 2015-May 2016
• LA Galaxy Goalkeepers & Pre-Academy Goalkeepers January 2011-May 2015
• Impact Goalkeeper Academy Staff Coach June 2008-May 2015
• West Torrance High School Varsity Assistant Coach June 2011-March 2015