College Cup: Old guard meets new breed for Sunday's natl. championship tussle
By Charles Boehm
Hoover, Ala. – Both of the squads in Sunday's NCAA Division I men's soccer national championship game at Regions Park (2 p.m. ET, broadcast on ESPNU) are new to this stage, with no prior experience in the College Cup.
But when it comes to their programs' histories, a yawning gap separates Georgetown from Indiana, lending further contrast to a matchup of distinct playing styles and mentalities.
For all their excellence during the 2012 regular season, the Georgetown Hoyas have never before reached this stage. Coach Brian Wiese arrived on the Hilltop seven years ago carrying the lessons he learned as an assistant at Notre Dame and Stanford, and slowly but surely pushed the Hoyas into the NCAA elite with a fluid, possession-centric approach that cuts against the common perception of bruising, direct college soccer. Few of his players are physically imposing and they present a lighthearted face to the world both on and off the field.
Meanwhile, few can match the Hoosiers' proud legacy. Their four decades as a Division I varsity program have reaped a long list of alumni in the professional ranks, constant dominance in the Big 10 Conference, 18 College Cup appearances and seven national championships.
A loud, loyal, knowledgeable fan contingent travels great distances to support them – and parties hard on arrival, if the empty beer kegs and well-equipped tailgating scene in the parking lot before and after Friday's semifinal win over Creighton is any indication.
And as program founder and legendary former coach Jerry Yeagley pointed out on Saturday, soccer goals have become nearly as iconic as basketball hoops across the state, a sign of the extent to which the Hoosiers have helped grow the beautiful game back home. (The current roster features 16 in-state players.)
"I think we've got to have a conference call with our alumni to ask why they have more in their backyard than we do. They have a lot of [championship] stars over that IU [jersey logo]," said Wiese on Saturday. "So I think the culture there is a little different. With that culture comes a lot of alumni pressure – 'You gotta win, we won a national championships, you guys gotta be doing it too' – so I think there's some good and bad to that.
"But when you think of college soccer, Indiana is one of the schools you think of … Our job is to make sure they don't start up a whole new run of those things."
IU carry plenty of quality and technique in their ranks, though their Midwest roots are reflected in a hard-nosed, high-pressure philosophy built on a stingy defense. This blue-collar outlook links them to their Hoosier predecessors, a lineage they've readily embraced.
"Our mentality has been the "Q48," the quest for eight, the eighth star. It's been our team motto all year," said goalkeeper Luis Soffner. "We've kind of embraced it and so has Bloomington and all of our supporters. We're really excited we could have the opportunity to make it here and to move onto the final. It's been our goal from day one."
Conversely, the Hoyas' mantra was simpler: get to New Jersey's Red Bull Arena, the original host site of the Big East championship. As it turned out, Hurricane Sandy forced a relocation to PPL Park in Pennsylvania – and GU adapted as well, recovering from a tough loss to Notre Dame in their conference title game and maneuvering through the NCAA Tournament with a string of resourceful wins.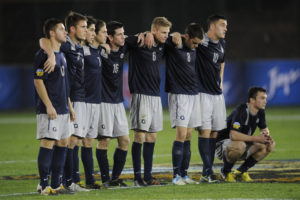 "I think we always had bigger plans than just Red Bull, but the idea behind that was something that we have never done before," noted defender Tommy Muller. "We felt like if we achieved that goal that the NCAA Tournament would kind of fall into place. It was kind of one step at a time, so when we got there we were ready and feel like that prepared us for the NCAA. That wasn't the only goal; it was kind of the first goal."
Like that of Akron before them, Georgetown's rise to the top of the NCAA heap would signal a triumph of attractive, nuanced soccer. But the return of college royalty presents a compelling narrative of its own.
"It's great for a storyline. We're proud to be in our 14th final and 18th College Cup. That's all historical pieces to it and it helps our proud tradition grow deeper and richer. But these guys know, and the players before them knew, that what goes on between the lines is where that piece is made," said Hoosiers boss Todd Yeagley, himself an alumnus and walking embodiment of the program his father built. "We have to do our job and win this game. Then the result will take care of itself and the mark will be left."