College Cup: Indiana tops Georgetown to notch eighth NCAA natl. title
Hoover, Ala. – Sunday began with Georgetown-colored gray morning skies here in central Alabama, but the sun arrived as the NCAA Division I men's College Cup played out, bringing with it a bright occasion for the Indiana Hoosiers, who returned to the pinnacle of college soccer with a hard-fought 1-0 win over the Hoyas at Regions Park.
Nikita Kotlov tapped home the game-winner after sterling work by teammates Patrick Doody and Eriq Zavaleta in the 63rd minute, earning an eighth national title for one of the proudest, most tradition-laden programs in the nation.
It was the only breakthrough in a tense contest that suited the Hoosiers' workmanlike style and rarely showed Georgetown at their fluid best.
As most would expect, the game began cagily and the best early chance fell to Georgetown's Tyler Rudy in the 17th minute as he ran up to a loose ball at the top of the Hoosiers penalty box and drilled a low shot that was well saved by Luis Soffner.
Seven minutes later a mistake by Hoyas defender Cole Seiler looked to have handed Indiana a gift of a goal to open the scoring as he was dispossessed by A.J. Corrado inside his own box. But goalkeeper Tomas Gomez advanced off his line and made a clutch save on Corrado's low shot to keep the match scoreless. That was the most alarming of several difficult moments for the team from Washington, D.C., who seemed to carry tired legs from their overtime thriller against Maryland on Friday.
The match continued to play out in tense, often scrappy fashion as the second half unfolded, with a few spaces opening up in transition but last-ditch blocks and imprecise finishing intervening at the final hurdle.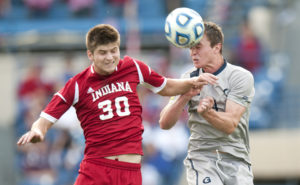 With just over an hour gone, the match's swerved in favor of Indiana thanks to a lung-bursting endline run and cross by Doody, whose deep service from the left wing dropped right next to the back post in an awkward spot for Gomez and his defenders. A mixup between the Hoyas netminder and his center backs allowed Zavaleta to head the ball down into the goalmouth, presenting Kotlov with a point-blank tap-in. Gomez lambasted his teammates but the damage was done, sending the strong contingent of Indiana supporters into delirious celebrations.
Their opponents had to shake off their fatigue and mount a rally, which they did with admirable tenacity but a shortage of the technical precision that had brought them to this point.
With 15 minutes left a turnover by Melvin Snoh handed IU a 3-v-1 counterattack opportunity that should've led to a game-clinching goal, but Zavaleta couldn't direct his angled blast into a corner as Gomez made a fine reaction block.
All afternoon Georgetown had been guilty of far too much hesitation around the Indiana goal, with many promising possessions breaking down without a shot at the end. That trend continued as Snoh, Allen and Riemer passed up chances to test Soffner while the tiring Hoyas hunted for an equalizer, though Riemer nearly created an own goal when he snapped a speculative drive that took a huge deflection off a Hoosiers defender and looped over Soffner's goal.
Indiana sat back a bit and soaked up pressure as the clock ticked away and GU pressed with more urgency, Neumann probing with a series of free kicks and corners. One final delivery into the box came agonizingly close to paying off as Neumann's late set piece found the head of Tommy Muller, whose flick left Soffner flatfooted only to carom off the far post and bounce into the Hoosiers 'keeper's grateful arms.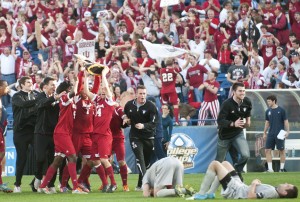 Nerves jangling throughout the stadium, IU salted away the result with some last-minute bunkering and the final whistle brought a huge cheer from their fans as they claimed their first NCAA national title since 2004.