College Cup: Championship final a bridge too far for tired but proud Hoyas
By Charles Boehm
Hoover, Ala. – The Georgetown Hoyas surprised countless observers with their run to the NCAA College Cup final, including themselves, to a large extent. But at the end of that long road, they found themselves a step – and perhaps a body or two – short of their final goal, falling 1-0 to Indiana on a mild Alabama afternoon at Regions Park.
"Indiana played incredibly up tempo. They pressed us really, really well," said Hoyas head coach Brian Wiese after his team's season-ending loss. "Tactics aside, they won the midfield. They were sharper to the ball, they were picking up seconds and they were very good from an energy point of view. We just didn't have the legs that we normally do … Our guys fought like crazy, even though I thought they were tired. They battled [but] Indiana makes it very hard.
"We have the second place trophy," he added. " Today it's one of the sourest things you can look at, but I know that given some time, it's going to be something that we really treasure as a great accomplishment for the program."
Wiese and his squad readily conceded a fair defeat – "Indiana was just better today," said the seventh-year boss – but neither they nor those who watched Sunday's match could deny that they carried a hangover from their exertions in Friday night's tumultuous, "110 minutes and 110 mile per hour" 4-4 overtime, shootout victory over Maryland. The fact that they kept pace with a deeper Indiana squad spoke to their substantial reserves of determination.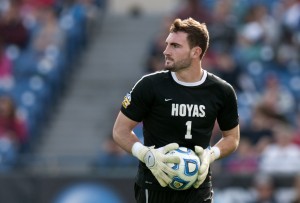 "There has been a belief this entire season that the games are really not over until the final whistle. I think guys played their hearts out today," said senior midfielder Ian Christianson. "We got our butts kicked in the first half and we just kept plugging away with the same mentality with maybe a little more energy."
The extra bit of crispness they lacked in their passing and movement might have been the difference on an occasion when they nonetheless carved out good chances to beat IU goalkeeper Luis Soffner, the most agonizing of which was a Tommy Muller header which kissed the right post in the dying minutes.
"The ball came in and I just got whatever I could on it, and flicked it," recalled Muller. "I saw it kind of dropping and I thought it was going in … It ended up going the right way, but not good enough."
Georgetown nonetheless conceded a number of opportunities to the relentless Hoosiers, with sophomore goalkeeper Tomas Gomez forced to make seven saves. The Webster Groves, Mo. product was massive all day – "He put us in a position to give us a chance at the end," said Wiese – with the sole exception of some fleeting hesitation that left him exposed on the Patrick Doody cross that led to Nikita Kotlov's game-winning goal.
The Hoyas' bitterness was leavened by their larger perspective on the impressive strides their program has made under Wiese.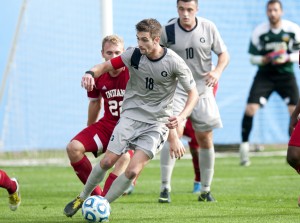 "It's night and day since we were freshmen," said Muller, referring to the 2009 campaign, when GU went 9-8-1 in the regular season. "The whole mentality of our team has changed and that has a lot to do with our leadership of the senior class, the coaching staff and the talent we brought. Every player on our team wants to be a pro. It brings that mentality and intensity every day to practice."
His classmate Christianson expressed a similar thought, albeit a bit more colorfully.
"If you had asked me freshman year [if] we would have been playing in the national final, I would have laughed in your face."