College Cup: Hoosier grit leads Indiana back to NCAA glory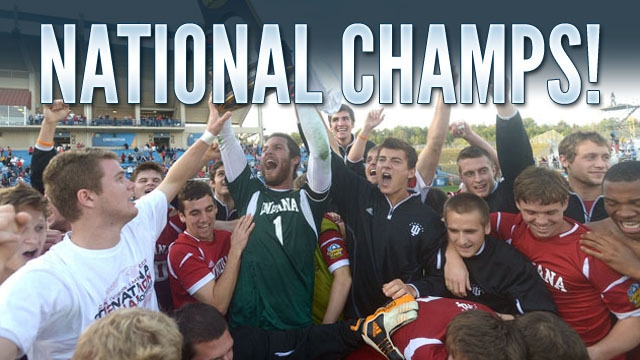 By Charles Boehm
Hoover, Ala. – A strong start powered Indiana into the ascendancy in the men's College Cup final on Sunday, paving the way for a resourceful 1-0 victory over Georgetown at Regions Park to claim their eighth NCAA national championship, just two shy of the all-time record held by St. Louis University.
Just like they did in Friday's 1-0 semifinal win over Creighton, the Hoosiers frustrated their opponents' efforts to build tempo and rhythm, dictating the terms of engagement to good effect.
"Watching them play against Maryland [in the semifinals], Maryland gave them a lot of space, especially in the first half, and Georgetown's a good team – you give a team like that space, they're going to gain confidence and get that mojo," noted striker Eriq Zavaleta. "We felt like if we could attack them from the first half and the first minute, get pressure on their backs, we could make them uncomfortable."
Junior Nikita Kotlov netted the decisive goal with 26 minutes remaining in the match after good work by Patrick Doody, whose deep cross to Zavaleta dragged Hoyas goalkeeper Tomas Gomez out of position to set up a point-blank, empty-net finish.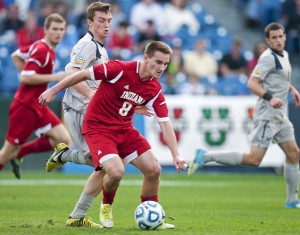 "The ball drifted in the air for quite a while, and the 'keeper was hesitant when it got into no-man's land," said Zavaleta. "I was at a tough angle to finish it, but with [Gomez] coming out I saw Nikita run into the box, and my goal was just to get the ball down and let him make a play. It was a tremendous effort for him to get that far into the box and finish that one off."
But much of the postgame praise was directed towards a Hoosiers rearguard which limited the Hoyas to two shots on goal (and one critical, late intervention by the woodwork) and disrupted GU's possession rhythm all afternoon.
"We always said that defense wins championships, and even when we're not having the best offensive game, our defense would come in, and every guy on the field came together and fought," said fifth-year senior goalkeeper Luis Soffner, who made two important saves to preserve the clean sheet. "We didn't let the ball into the net, and that was our mentality. We knew that we'd get a goal, as long as the defense held tough."
Soffner was animated during IU's postgame press conference, and he eventually admitted to having trouble bottling his emotions as his Hoosier teammates and their legions of traveling fans cranked up the celebrations outside Regions Park.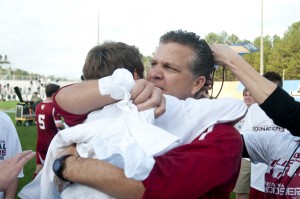 Thousands of Indiana supporters made the journey to Alabama, some of them driving several hours each way on a marathon day trip just to catch Sunday's result, which elevates this year's squad to elite status among the program's storied teams of the past.
"The entire IU soccer family will all share in this great moment," said head coach Todd Yeagley. "There's no prouder group of people than those that support IU soccer. From our fans across the country to our alumni, they had a consistent experience that makes it special. They see the opportunity for these players to be in their shoes, and they want to be there for them, and that's what it was today."