Indiana grind past Creighton to earn first NCAA final appearance since 2004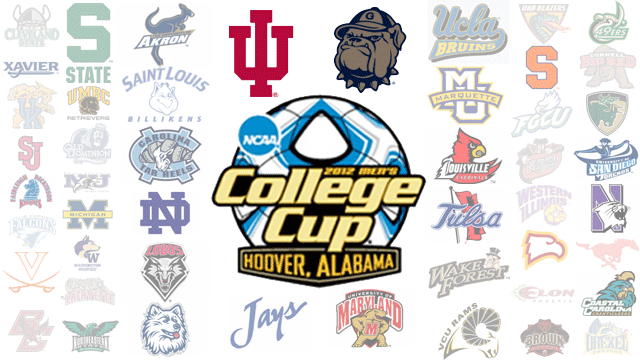 By Charles Boehm
Hoover, Ala. – One of college soccer's proudest programs is back in the NCAA championship game for the first time in eight years.
Thanks to a scrappy first-half goal by Femi Hollinger-Janzen, Indiana edged past Creighton 1-0 in the second half of a College Cup semifinal doubleheader at Regions Park on Friday night, booking a date with Georgetown for Sunday afternoon (2 p.m. ET, broadcast on ESPNU) to decide the national title. This marks the Hoosiers' 14th championship game appearance, breaking the all-time NCAA Division I record of 13, which they had jointly held with St. Louis.
It wasn't quite as dazzling to the neutral fan as the blistering 4-4 draw and resulting penalty-kick shootout between Maryland and Georgetown in the night's other semifinal. But as a taut, defensive tussle with scant margin for error, the Creighton-Indiana game was far closer to the norm for matches of this magnitude.
"There's no doubt that strong team defense is the formula for having successful tournament runs and winning championships," said Indiana's third-year head coach Todd Yeagley, a former Hoosiers standout and Hermann Trophy award winner who, as the son of legendary IU coach Jerry Yeagley, essentially spent his childhood in and around the program.
Indiana jumped out to a strong start but had to hang dearly to their lead in the final minutes. Creighton conjured up a late flurry of pressure that forced Hoosiers goalkeeper Luis Soffner to make a couple of sure-handed saves, including one particularly spectacular leaping parry of a Brendan Hines-Ike curler that was destined for the upper right corner of the net.
Hollinger-Janzen looked to have doubled his haul, and his team's advantage, when he blasted an angled drive into the net as first-half time expired. Referee Edvin Jurisevic courted boos and heckling from the large contingent of Hoosier fans in attendance as he waved off the effort, though, ruling that the finish had not been struck in time to beat the clock.
The only team to make a repeat College Cup appearance from last season, the Bluejays had upset powerhouse Akron to reach this point, only for their luck to run out as they struggled to make inroads against the buzzing pressure of a physical, composed IU squad.
"Obviously I'm disappointed for our seniors. We wanted just one more game, to go on [to] Sunday and take it a step further than we did last year," said head coach Elmar Bolowich.
"It took us a half to get into the game. In a championship match, that's not a good sign. But we were only 1-0 down at the half, so we had found ourselves in that position before as well. That game was still within reach for us – all it needed was that one goal … Unfortunately we couldn't convert."
Indiana's passionate contingent of traveling fans – which included a substantial portion of the marching band, albeit only in stationary mode – lingered in the stadium's parking lot long after the final whistle, savoring a long-awaited return to college soccer's biggest stage.