Georgetown men edge Maryland on PKs in classic College Cup duel
By Charles Boehm
Hoover, Ala. – Thanks to squabbling between their respective athletic departments, the Maryland and Georgetown men's soccer teams aren't allowed to meet in regular-season play, thanks to a blanket policy imposed by UMd athletic director Kevin Anderson.
But when they dueled in the semifinals of the College Cup at Regions Park on Friday evening, they made magic.
Georgetown midfielder Steve Neumann's hat trick and a double from Maryland speedster Schillo Tshuma highlighted a mesmerizing 90 minutes of end-to-end soccer which ended in a 4-4 draw, at last decided by Hoyas goalkeeper Tomas Gomez's save on Helge Leikvang in the fifth and final round of a penalty-kick shootout.
"This was, in my view, the greatest semifinal in the history of college soccer," longtime Terrapins head coach Sasho Cirovski said afterwards.
Few of those present to soak in the spectacle at this minor-league baseball stadium – reconfigured to host two consecutive editions of the College Cup – would disagree.
"That was pretty exciting," deadpanned Hoyas coach Brian Wiese, who admitted to some relief after his team twice fumbled away two-goal leads to their Capital Beltway rivals. "I think ESPN's pretty happy nobody decided to play defense today.
"It's a great result for us – people who haven't been following this team might be surprised by some things, but this group of guys have been doing this all season."
Wiese's squad entered the match with little in the way of big-game credentials compared to Cirovski and his proud program. But they attacked the Terps from the opening whistle on this balmy Alabama evening, and were unlucky to fall behind 1-0 on Tshuma's 22nd-minute opener.
The Zimbabwean stunned the Hoyas with the game's opening goal with 26 minutes left in the first half, bravely heading past the advancing Gomez after Patrick Mullins flicked on Dan Metzger's angled cross into the penalty box.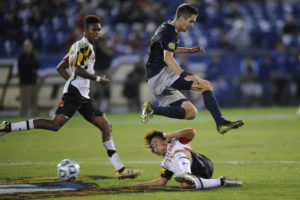 Georgetown, who won the possession battle all evening and were particularly dominant in the first half, responded gamely some 10 minutes later when Jimmy Nealis crossed to Tyler Rudy at the far post, who headed it back across goal to Neumann.
The junior from New Hope, Pa. corralled, then hammered home the chance, only to one-up himself barely a minute later as he struck again for a rapid-fire double.
Left all alone as he received a square pass just outside the Terps' box, the Pennsylvanian picked his spot with a delicate curling shot that flew past goalkeeper Keith Cardona, pinged off the inside of the far post and bounced into the net for a 2-1 Hoyas advantage.
"Stevie had two world-class goals there to get us the lead," said Wiese. "I made the mistake of telling the TV [commentator] that I think there was more goals in the game at halftime, and there were."
Cirovski was surely livid at his team's passive start and the Terps looked lively from the second-half whistle, only to dig an even deeper hole less than two minutes in. A poorly-weighted back pass to Cardona exposed the netminder to pressure from Georgetown striker Brandon Allen, setting up a stunning fluke of a goal as Allen blocked Cardona's clearance right into the Maryland net, running the score to 3-1.
That shocking setback clearly deflated the Terps, as their Beltway rivals passed the ball around confidently with the reassurance of a two-goal lead. But Tshuma soon found his second after Georgetown was unable to clear a set piece, finding space in the goalmouth and tapping home Mullins' cutback header.
Neumann didn't let it stay 3-2 for long, however, as he and teammate Andy Riemer caught Maryland napping on a deadly counterattack. Riemer surged down the left channel, guiding a delightful low cross through traffic that Neumann met with a sliding, close-range finish at the far post for what he said afterwards was his first hat trick at the college level.
"You always dream about having games like that on big stages like this," said Neumann. "I'm just very lucky fortunate for it to happen at this time in the season."
Mikey Ambrose came off the bench to give the Terps renewed hope with 17 minutes left. The FC Dallas youth academy product cut onto his left foot at the top of the Hoyas box and laced a blistering drive that beat Gomez but clanged off the crossbar, bouncing right to Mullins, who headed it into the net from close range to narrow the deficit to 4-3.
Maryland finally began to come into the game in earnest, winning more midfield battles and stringing together meaningful passing sequences. Their improvement was amply rewarded when freshman substitute Christiano Francois found a seam in the stretched Hoyas back line and jinked his way into the box, then stroked a curling effort around Gomez and inside the side netting to level matters at 4-4 and send the largely pro-Terps crowd into raptures.
The Terrapins were clearly in the ascendancy with Georgetown hanging on for dear life as time ticked away. Mullins almost won it late after he tangled with Gomez on the doorstep and poked just wide from a prone position.
Neither side could maintain quite the same breakneck pace in the 20-minute overtime, paving the way for a shootout in front of the fans seated along the stadium's third base line. The Terps made their first three spot kicks while GU missed their second. But an adjustment by Hoyas goalkeepers coach Brian Gill helped Gomez produce saves on UMd's final kick takers, Taylor Kemp and Leikvang.
"Going into this one, Coach Gill told me that they were looking to see when I moved early," explained Gomez. "Against Syracuse [who Georgetown defeated via PK shootout in their second NCAA tournament match, on Nov. 25] a couple of PKs I ended up leaving early and I guess [Maryland] saw and hit it to the other side.
"Today I stayed until they hit it and on the last one I just had a hunch to go there, and it ended up working out."
Georgetown advances to the national championship game at 2 p.m. ET on Sunday, where they will face the winner of Friday's nightcap between Creighton and Indiana.