Club Champions League Winter Showcase Girls Players to Watch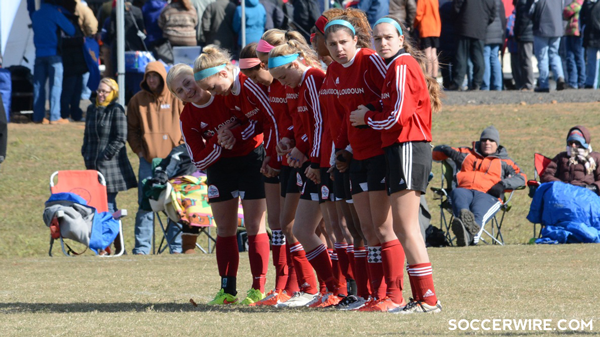 The Club Champions League Winter College Showcase is being played Feb. 6-8 at River City SportsPlex in Richmond, Va. with a long list of top college prospects competing on both the boys and girls sides. Once again the showcase games will count toward league play as teams begin the home stretch of the Fall-Spring 2014-15 CCL season. See below for a look at just some of the Players to Watch for the event on the girls side, which features ages groups U-15 to U-19.
+Read: Club Champions League Winter Showcase Boys Players to Watch
*Note: The following Players to Watch list is a tentative compilation primarily composed of players who have represented Maryland, Virginia and Region 1 in US Youth Soccer ODP competition. To recommend additional players, please let us know in the comments section below or add a SoccerWire.com Player Profile.
U-15
Emily Talotta | Arlington SA | Center Mid | 2018 | VA ODP
Gillian Schiffer | Arlington | Center Back | 2018 | VA ODP
Idelys Vazquez | Beach FC | Forward | 2018 | Region I ODP
Reagan Tate | Beach FC | Defender| 2018 | VA ODP call back
[player_box id=50417 leftright=right]Alix Allen | Beach FC | Defender | 2018 | Region I ODP
[player_box id=50433 leftright=right]Elizabeth Hummel | Fredericksburg FC | Midfielder | 2018 | VA ODP call back
[player_box id=50435 leftright=right]Katherine Hummel | Fredericksburg FC | Midfielder/Forward | 2018 | VA ODP call back
Jillian Bowers | Loudoun | Midfielder | 2018 | Region I ODP
Anna Felber | Loudoun | Midfielder | 2018 | VA ODP call back
Lindie Gibbs | Loudoun | Defender | 2018 | VA ODP call back
Tara Martinez | Loudoun | Defender | 2018 | VA ODP call back
[player_box id=50253 leftright=right]Alia Haskins | Maryland United | Defender | 2018 | ECNL experience
Jane Romness | SOCA | Midfielder | 2018 | VA ODP
Caitlin Harvey | SOCA | Forward | 2018 | VA ODP
Isabel Piazza | McLean |Midfielder/Defender | 2017 | MD ODP
U-16
Jessica Berlin | Annandale | Goalkeeper | 2017 | Region I ODP
Anna Heilferty | Annandale | Midfielder | 2017 | Region ODP
Meredith Beam | Arlington | Defender | Called back for VA ODP
Melanie Simpson | Arlington | Defender | Called back for VA ODP
Starland White | Beach FC | Forward/Defender | 2017 – Region I ODP
Lynn Farquhar | DC Stoddert| Defender | 2017 | Region I ODP
Camille Franks | DC Stoddert | Defender | 2016 | MD ODP
Sarah Savonis | DC Stoddert | Midfielder/Defender | 2016 | MD ODP
Joelle Nwulu | DC Stoddert | Midfielder/Forward | 2017 | MD ODP
Madison Hommey | FC Frederick | Midfielder | 2017 | MD ODP
Carrie Reaver | FC Frederick | Midfielder/Defender | 2017 | MD ODP
[player_box id=46950 leftright=right]Allyson Brown | Loudoun | Forward | 2017 | Region I ODP
[player_box id=49031 leftright=right]Leah Deutsch | Loudoun | Defender/Midfielder | 2017 | VA ODP
Anna Deutsch | Loudoun | Midfielder/Defender | 2017 | VA ODP
Genevieve Foster | Loudoun | Defender | 2017 | Region I ODP
Madeline Kelsey | Loudoun | Midfielder | 2017 | VA ODP
Courtenay Kaplan | Loudoun | Goalkeeper | 2016 | Region I ODP
[player_box id=50295 leftright=right]Dani Isaacson | McLean | Defender | Midfield | 2017
Brennan Rausch | Virginia Legacy | Midfielder | VA ODP
Rachel Bullard | SOCA | Midfielder/Defender | 2017 | VA ODP
[player_box id=50377 leftright=right]Emily Thorne | SOCA | Forward/Winger | 2017 | VA ODP
Tara Kelly | Roanoke Star | Defender | 2016 | VA ODP
Elizabeth Prillaman | Roanoke Star | Midfielder/Defender | 2017 | VA ODP
Ashley Sweet | Roanoke Star | Goalkeeper | 2016 | VA ODP
Madison Mertsch | FC Richmond | Goalkeeper | 2017 | VA ODP
Riley Sevensky | Maryland United | Defender | 2016 | MD ODP
U-17
Anna Sumpter | SOCA | Midfielder | Committed to UVA
Madalyn Messier | SOCA | Midfielder/Forward
Sunny Gelnovatch | SOCA | Midfielder
Carmen Thomas | SOCA | Forward | Committed to JMU
Hannah Keith | SOCA | Defender/Midfielder
Virginia Boras | Loudoun | Midfielder | 2016 | VA ODP
Halle Lahammer | Loudoun | Goalkeeper | 2015 | Committed to Robert Morris University
Victoria Vernail | Loudoun | Forward/Midfielder
Madeleine Dale | McLean | Midfielder
Katie Horenstein | McLean | Defender | Committed to CNU
Rea Sanger | Beach FC | Midfielder | 2016 | VA ODP
Logan Montel | Beach FC | Midfielder | 2016 | VA ODP
Emily Barranco | Roanoke Star | Midfielder/Defender
Abby Frazier | Roanoke Star | Midfielder
[player_box id=50284 leftright=right]Patricia Ward | Hampton Roads | Forward | 2018 | Region 1 ODP
U-18/19
Savannah Davis | Beach FC | Midfielder | Region I ODP experience, attended ODP National Camp
Darby Moore | Beach FC | Forward/Midfielder | Committed to Maryland
Ella Bonner | Beach FC | Two-way player | Committed to North Carolina State
Sheyenne Stretz | Beach FC | Midfielder | Committed to Longwood
[player_box id=48071 leftright=right]Kayleigh Stallings | BRYC | Committed to West Point
Claire Robbins | BRYC | Committed to William & Mary
Olivia Fiegel | BRYC | Committed to University of Iowa
Emily Littell | Loudoun | Midfielder | Committed to George Mason
Allison Littell | Loudoun | Defense/Midfield | Committed to George Mason
Jessie Ambrosio | Loudoun | Goalkeeper | 2015 | VA ODP experience
Alex Connell | McLean | Defender/Midfielder | Committed to University of Virginia
Kristina Diana | McLean | Forward/Midfielder | Committed to Virginia Tech
Caroline Kerns | McLean | Forward | Committed to Virginia Tech
Lorato Sargeant | McLean | Committed to University of Virginia
Madison Keck-Wilson | SOCA | Midfielder | 2016 | VA ODP experience
Yasmin Loredo | SOCA | Midfielder | 2015 | Committed to Winthrop University
Morgan Symmers | SOCA | Goalkeeper | 2015 | Committed to George Mason University
Kathryn Miller | FC Richmond | Forward | Committed to Longwood University
Mary Virginia Kelley | FC Richmond | Defender/Midfielder | 2015 | VA ODP experience
Paige Koetter | Florida Southern College | Goalkeeper | 2015 | Committed to Florida Southern College
Jenna Butler | Fredericksburg FC | Defender | 2018 | Region 1 ODP experience
Emma Lee | Fredericksburg FC | Defender/Midfielder | 2017 | VA ODP experience
Phoebe Dinga | Fredericksburg FC | Forward | 2016 | Committed to James Madison University
Shannon Lee | Fredericksburg FC | Defender/Midfielder | 2017 | Region 1 ODP experience
Myra Konte | Fredericksburg FC | Forward | 2017 | Region 1 ODP experience
Clara Robbins | Fredericksburg FC | Defender/Midfielder | 2016 | Region 1 ODP, committed to FSU
Maya Cherry | Potomac | Defender | 2015 | Committed to University of Georgia
Sophie Whitehouse | Potomac | Goalkeeper | 2015 | Committed to Columbia University
Naomi Weiner | Potomac | Midfielder | 2015 | Committed to University of Chicago
Nyah Spearman | Potomac | Midfielder | 2015 | Committed to Elon University