Club Champions League launching CCL II as second team pathway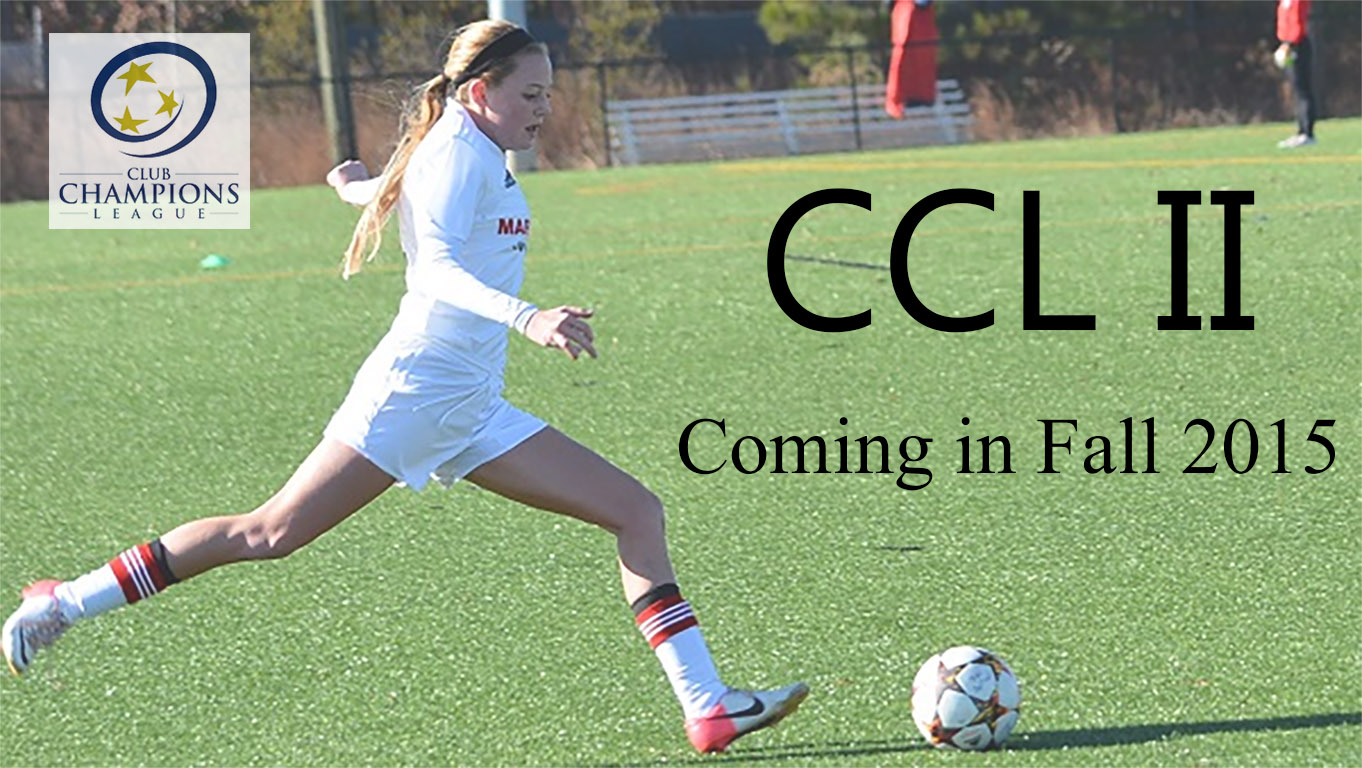 (Via CCL) – Beginning in fall 2015 the Club Champions League will launch an affiliate league known as CCL II, providing a pathway for member clubs to place their second teams from U-9 to U-14 in the same club-centric model as their first teams.
The inaugural season of CCL II will feature member clubs from D.C., Maryland and Northern Virginia, with future expansion to other regions of Virginia:  Southeast, Central, and Southwest. CCL II will also include non-CCL member clubs. For clubs currently not members of CCL, the same basic requirements for being admitted into the CCL – such as having a full-time director of coaching and a unified structure within the club – will be required for admittance to CCL II.
CCL II will provide scheduling for the U-9/U-10 age groups and the U-11 to U-14s. The league will incrementally expand each year, moving to U15, U16, etc.
+Read: CCL Winter Showcase: Top teams roll, others climb in standings
Participating clubs on the U-9/U-10 side for 2015 include: Arlington, D.C. Stoddert, Fredericksburg FC, LMVSC, McLean and SYA.
Participating clubs on the U-11 to U-14 side for 2015 include: Arlington, BRYC, D.C. Stoddert, FC Frederick, Fredericksburg FC, LMVSC, Loudoun, Maryland United, McLean, Potomac and SYA.
The primary objective of CCL II will be to bring the same club-to-club model that exists in the CCL to a larger pool of players, creating more flexibility between rosters and allowing for a simpler, more unified approach to training and game days.
"Through CCL II we're offering clubs the opportunity to no longer place second teams on an island all by themselves but on a developmental pathway that prepares them for future success within the CCL," said Executive Director Brian Kuk.
"From our standpoint it allows us to put almost every one of our teams in CCL so it's under the same development model," said BRYC Girls League Representative Mark Dolansky. "It's going to be great from a coaching perspective, great from a training perspective and it allows us to have more freedom to evaluate players."
There will not be promotion or relegation between CCL and CCL II as the clubs focus simply on player development, and not on winning at the younger ages. Per current CCL rules, clubs will have flexibility to move as many as five players between CCL and CCL II teams at a given time, which will allow for more open competition within player pools at member clubs. Additionally, players coming off injuries will be able to work their way back into form without starting immediately at the first team level.
"With CCL II, every team in our club will have the chance to be a part of a club-to-club model. If it were up to me, it would be this way all around the country,"Dolansky said. "It's fantastic that we have that opportunity in this area, and hopefully it will catch on and we'll be trailblazers as other clubs look to the same model."
So far a total of 11 clubs participating in CCL II in the inaugural season, six of which will have teams in every age group from U-9 to U-14, the league's governing body composed of the coaching directors of member clubs expects that number to grow significantly in the future. The directors decided to take a conservative approach to numbers and limiting the geographic region covered by CCL II in its first season, before expanding to Southeast, Central, and Southwest Virginia where non-CCL clubs will be open to apply.
"In the north, they're all CCL clubs. That's why it's going to take a little longer for the other regions to come together, there are not as many CCL clubs in those regions, but there are clubs in those areas that may love to be part of this model," said Roanoke Star Executive Director Danny Beamer. "We also have to make sure they have the right structure, the right coaching and the right number of teams."
"That's exactly why it will take longer (to expand), because the criteria of excellence will still remain," Kuk said. "The CCL has always been committed to long-term player development. CCL II fits seamlessly into the league's mission of developing players and teams from within rather than through recruitment, while also bridging the gap between a club's first and second teams playing in different leagues with different missions. The long-term benefits for clubs participating in CCL and CCL II will be profound."
Along with scheduling, structure and flexibility, CCL II will seek to provide another step in the direction of the European model of youth development with standardization among player pools at the club and league level.
More announcements on CCL II will come soon.