2015 Jefferson Cup Preview: U-18 Women's Championship Division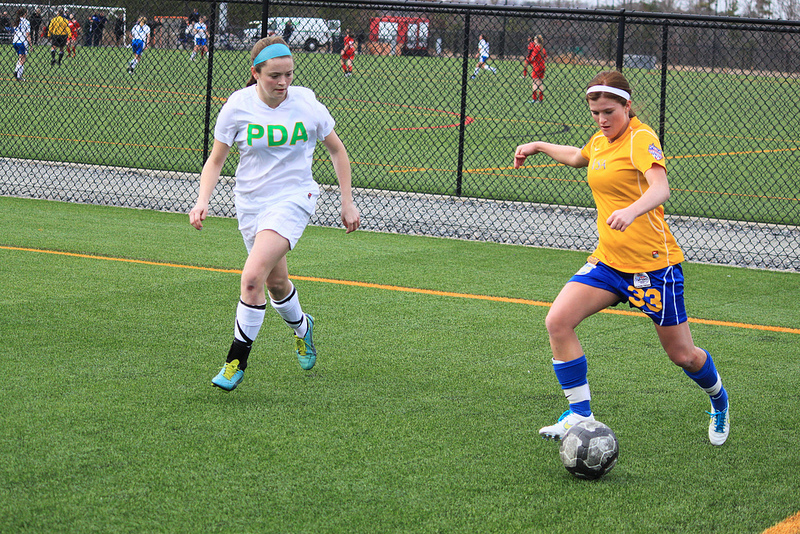 With the 2015 Jefferson Cup quickly approaching, SoccerWire.com has started an article series previewing the top divisions for the showcase age groups. See below for a look at the U-18 Women's Championship Division.
2015 Jefferson Cup Top Divisions: Girls 
Full Brackets: Girls U-10 to U-14 | Girls Showcase 
*Note: Jefferson Cup teams, please send us college commitments and Players to Watch by adding a SocceWire.com Player Profile. 
2015 Jefferson Cup Championship Division Previews
Girls: U-17 | U-16 | U-15
Strike FC Premier I
Head Coach: Rob Lestina
The reigning Wisconsin State Cup champions have earned their way into the top bracket of the Jefferson Cup after finishing second in the Region II Regional League in fall 2014 and reaching the final of the competitive Eclipse Select Challenge Cup. A few top players for Strike FC include recent Cleveland State University commits midfielder McKenna Vento, forward Danielle Sowinski and defender Sydney McCourt.
New York Rush Patriots 97
Head Coach: Steve Davis
One of the top US Club Soccer teams in the nation, New York Rush is coming off a run to the championship match of the NPL Finals, a title in the top division of the PDA Invitational Girls Showcase, a New York NPL title and New York Cup win in 2014. The Rush roster is loaded with 2015 Division I commits including forward Jessica Lazslo (UConn), defender Jennifer Balzan (UConn), defensive midfielder Olivia Closson (Boston University), forward/midfielder Sofia Griff (Yale) and defensive midfielder Fallon Sheridan (Yale) among others.
Bethesda ECNL United 96
Head Coach: Ellis Pierre  
Bethesda is third place in the ECNL Chesapeake Division behind a technically savvy attack with top level ball movement and distribution. Eight players have combined for 13 assists on the team's 15 goals. Columbia University 2015 commit Rachel Alexander has been stellar up top and in the midfielder with 2 goals and 3 assists, while her running mate Alex Hammer (Elon University 2015) has posted 3 goals and 1 assist. Forward Makela Davidson (Howard University 2015) has 3 goals and 1 assist, and forward Kate Reese (Loyola Md. 2015) has netted 3 goals. Midfielder Stephanie Shin, who will join Alexander at Columbia in 2015 has added 1 goal and 3 assists in ECNL play. In 2014, Bethesda won top divisions at the CASL Girls Showcase and at their home club's Generation Adidas Thanksgiving Tournament.
PSC Baltimore
Head Coach: Val Teixeira
The 2014 Maryland State Cup champs have also recently captured a CASL Girls Showcase Elite Black Division title, a PDA Invitational Showcase title in the Memorial Red Division and won the Region I Premier League. They also finished second in the U-17 Championship Division at the 2014 Jefferson Cup. Chloe Lewis, one of the premier defenders in Region I, has committed to La Salle for 2015 along with playmaking midfielder Marcela Robinson. La Salle finished the 2014 season ranked No. 26 in the country among Division I teams.
Potomac Hotspur
Head Coach: Steve Knapman
Potomac won Bracket 1 of the top flight at the 2014 WAGS Tournament, earning high profile wins over Region I finalist PDA United 96/97 and Loudoun, and battling to a scoreless draw against Region I champion/US Youth Soccer national finalist VSA Heat. Potomac Hotspurs were also finalists at the 2014 ASL Championships. A few of the team's top players include defender Maya Cherry (University of Georgia), midfielder Nyah Spearman (Elon University), defender Skyler Mackey (UMBC) and goalkeeper Sophie Whitehouse (Columbia University).
Rage SC Blackhawks
Head Coach: Eric Puls
Rage SC has torn through competition at some of the nation's top showcase events over the past year. The Pennsylvania East powerhouse squad won the PA Classics Winter Showcase, EDP Cup/MSSL Winter Showcase, MSSL Summer Showcase and PA Classics Mid-Atlantic Cup all in 2014 while finals and semifinals of several other high profile events. A few of the team's top players include: Defender LeAnne Davis (Monmouth University), forward Sarah Segan (William & Mary), defender Amanda Crecelius (Campbell University) and forward Bria Bittiger (La Salle).
McLean YS ECNL
Head Coach: Nadir Moumen
Sitting at a perfect 11-0-0 and first place in the ECNL Chesapeake Division, McLean brings to the table one of the best overall rosters in the country. Most of McLean's players have committed to some of the top women's college programs, including: Defender Sara Wilson (University of Florida), forward Lorato Sargeant (University of Virginia), forward Mia Hoen-Beck (University of Virginia), midfielder Alexandra Connell (University of Virginia), defender Alia Abu Hawa (Virginia Tech), midfielder Clare Beahn (Pittsburgh), forward Rebecca Callison (Kentucky), midfielder Kaitlyn Forsht (Kentucky), midfielder Lauren Harkes (Clemson) and forward Jarena Harmon (Pittsburgh), among others. +Full McLean NLI Signing Day List 
VSA Heat Blue
Head Coach: Steve Smith
A longtime Northern Virginia powerhouse, VSA Heat Blue has been cemented as one of the elite teams in the country in this age group. The 2014 US Youth Soccer Region I champions and National Championship finalists are also leading the National League U-18 Red Division. They recently won their division at the 2014 WAGS Tournament and captured the Disney Showcase Red Division title. A few of VSA's top players include goalkeeper Zoe Foxhall (Virginia Tech), defender Amanda Phillip (Radford), midfielder Olivia Korhonen (Northwestern), forward Bella Muzo (VCU), forward Kristin Schnurr (Penn State) and Erika Tomayko (James Madison). The team recently had 17 players commit to Division I colleges. 
Richmond United ECNL
Head Coach: Rob Ukrop
ECNL newcomers Richmond United are led by U.S. U-20 Women's National Team player pool member Katie Cousins (Tennessee), along with other Division I bound players including University of Maryland commits Olivia Mills and Darby Moore; University of Richmond commits Mackenzie Cox and Bailey Cristian; and VCU commits Lyndsey Moreland, Brittany Beckwith and Tori Browne. +Read: 18 Richmond United players announce Division I commitments
PWSI Courage 96 Red
Head Coach: Adam Soos
The 2014 Virginia State Cup finalists recently won their division at the WAGS Tournament in October, won the PDA Invitational Girls Showcase and finished second in their U-17 Elite Division group at the 2014 Jefferson Cup. They recently committed a host of players to Division I colleges, including: Megan Enos (VCU), Julia Suarez (VCU), Stephanie Hendrie (James Madison), Caitlin Sullivan (George Washington) and future Old Dominion University Monarchs Kyra Alexander, Jordan Todd and Madison Morningstar, among others. +PWSI Signing Day Recap 
SAC United Premier Kickers
Head Coach: Kevin Flynn
SAC won the Atlantic Soccer League Championships and reached the Maryland State Cup final in 2014. During the 2014 regular season the Kickers finished second in the ASL. One of the team's top players, defensive midfielder Renee Gast, recently committed to Towson University for 2015.
Beadling Gunners
Head Coach: Erik Duffy
Pennsylvania West State Cup champion Beadling Gunners recently won their brackets in the CASL Girls Showcase, PDA Invitational Showcase and Players Showcase 2014. They finished second in the 2014 Region I Premier League. Beadling will send 15 players to college soccer in 2015, 12 of whom will play for Division I programs. A few of Beadling's D-I commitments include: Laurel Carpenter (West Virginia), Chessa Ramirez (James Madison), Julie Vazquez (Pittsburgh), Kaylee Rabatin (Pittsburgh)  Savana Yurick (Vermont) and Duquesne commits Kyra Murphy, Casey Aunkst and Abby Losco.