Elite Tournaments, NSCAA renew youth soccer showcase events partnership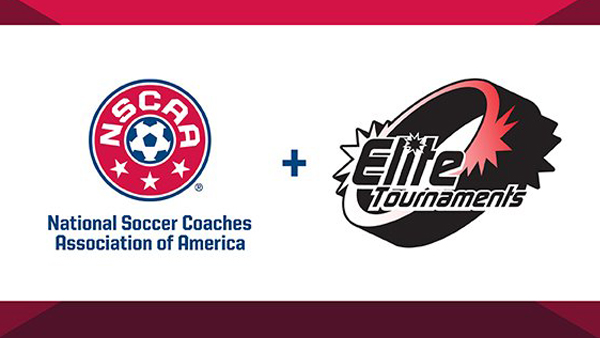 Elite Tournaments and the National Soccer Coaches Association of America (NSCAA) announced the renewal of their events partnership this week, extending their original three-year agreement to stage several annual youth soccer showcase events across the country.
The extension will expand Elite Tournaments' current event market, while extending the opportunities to reach coaches across the country for the NSCAA. A small family business which has grown into a nationwide player, Elite Tournaments has organized more than 200 youth soccer events and oversees more than 50 tournaments a year across the United States.
+READ: Elite Tournaments becomes new manager of Annandale Premier Cup series
"The NSCAA is very excited to continue to expand its offerings with Elite Tournaments and add to an outstanding slate of NSCAA Showcases," NSCAA CEO Joe Cummings said in a press release.
Elite Tournaments and NSCAA say their tournaments are structured as talent showcases as well as the best educational experience possible for both players and coaches, with teams playing only one match per day "when possible." One coach from each team receives a complimentary NSCAA membership, which provides access to various educational and coaching opportunities.
The partnership currently includes fall events in Baltimore, Maryland; Overland Park, Kansas; Fairfax, Virginia; Elizabethtown, Kentucky; Tacoma, Washington and Austin, Texas. The 2015 schedule is currently set with events in five premier locations (see below), while 2016 will bring growth in Milwaukee, Wisconsin; Oxford, Michigan; Foley, Alabama and Phoenix, Arizona.
These tournaments are typically open to both boys and girls teams ages Under-15 to U-19, unless noted differently. The tournaments are currently sanctioned as an unrestricted event open to US Youth Soccer and US Club Soccer teams. Pending international approval from U.S. Soccer, international teams are also welcome. All teams receive a three-game guarantee.
The 2015 NSCAA College Showcase Series includes the following dates:
Javanon Cup Presented by the NSCAA
April 10-12, 2015 Girls Weekend
April 17-19, 2015 Boys Weekend
Elizabethtown Sports Park
Elizabethtown, Ky.
WAGS Rael Vodicka Memorial Tournament Presented by the NSCAA
October 10-12, 2015 Girls Only
Evergreen Complex; Multiple Locations
Northern Va.
NSCAA College Showcase- Midwest
November 21-22, 2015
Overland Park Sports Complex
Overland Park, Kan.
Baltimore Boys College Showcase Presented by the NSCAA
November 27-29, 2015 Boys Only
Covenant Park
Baltimore, Md.
NSCAA College Showcase- South
November 27-29, 2015
Richland College
Dallas, Texas