Charlotte FC signs 16-year-old midfielder Brian Romero as Homegrown Player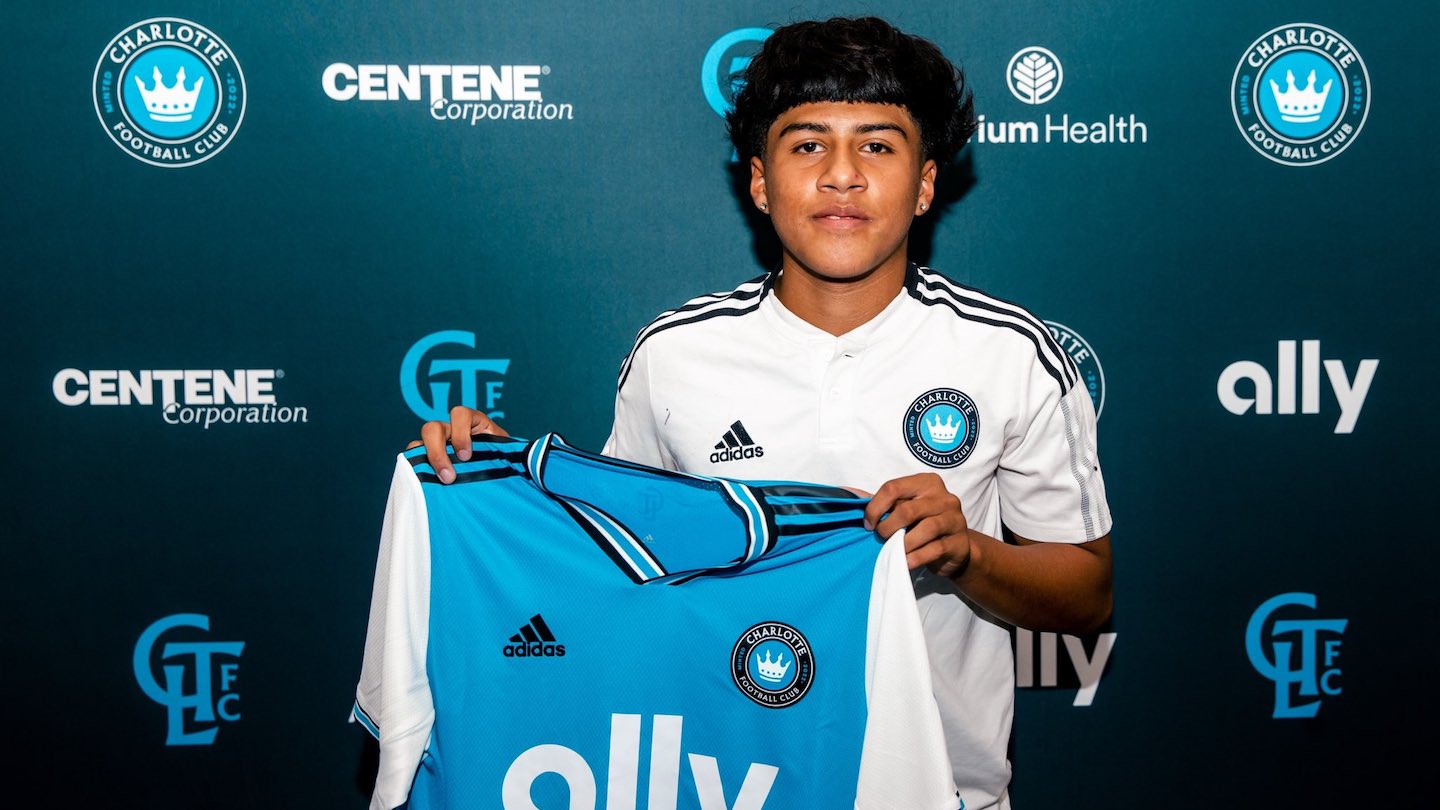 CHARLOTTE, NC – Charlotte FC has signed 16-year-old midfielder Brian Romero to a Homegrown contract through 2026 with an option for 2027.
Romero, a United States youth international, joined Charlotte FC's academy in 2020 as a 14-year-old from Charlotte Soccer Academy. He began with the U-15s before progressing to the U-17 team and has been a key part of setting the foundation of the Club's growing academy.
"Becoming Charlotte FC's first Homegrown signing is a dream come true. It's an emotional moment for me and my family and I'm very excited for what is to come as a professional," said Romero. "I want to thank my mom, my dad and the rest of my family who have supported me in this journey. Thank you also to all the coaches, staff and players throughout the Academy and First Team who have brought me in, welcomed me, and worked with me to have this opportunity."
[Photo Gallery: PHOTOS: Brian Romero | From Academy to Homegrown]
Romero was one of two academy players to train with the First Team during preseason preparations in Charleston and has been invited to continue training throughout 2022 season.
"Brian is a tremendous young man who loves to play football and has a hunger to become the best player he can be. He's shown his talent at the academy level and for the youth national team and has the potential to become one of the country's top talents," said Sporting Director Zoran Krneta. "This is a signing for our future. Brian still has to grow and adjust to senior football, but we have a specific plan for his development, and he will be learning under coaches with a true passion for mentoring and developing young players. We have worked since 2020 to develop our own talent throughout the Carolinas and to sign the first Homegrown player in Club history is one of our proudest moments."
The 16-year-old featured last month for the First Team during a friendly against Premier League giants Chelsea FC. The attacking midfielder came off the bench in the final minutes to draw a penalty which was converted by Daniel Rios to tie the game at one.
Romero is expected to play a major role for Charlotte FC's MLS NEXT Pro team next season in the Club's inaugural season.
"Youth development is at the core of our Club philosophy, and it has long been our goal as a Club to develop the top talent in the Carolinas. This milestone is a testament to the hard work from everyone in the academy across talent identification, coaching, off-field education and beyond," said Technical Director Bobby Belair. "As we continue to grow as a Club, we couldn't be more excited to build on this moment for many years to come."
He was recently selected to the inaugural MLS NEXT All-Star Game which will take place next week during the league's All-Star festivities in Minnesota.
"As an academy staff, we couldn't be more excited for Brian to take the next step in his journey and sign his first professional contract," said Executive Academy Director Bryan Scales. "Brian is Charlotte through and through. He is a local young man who has excelled on his pathway through our academy and at the international level, becoming a tangible example for young players across our region who have dreams of becoming a professional soccer player."