Champions crowned on Tuesday at Disney Girls Soccer Showcase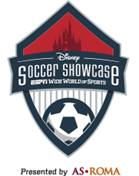 Full Results | College Coaches
Division champions were crowned on Tuesday at the Disney Girls Soccer Showcase in Orlando, Florida.
Alongside the 35 Disney Soccer Showcase divisions were five US Youth Soccer National League age groups, allowing college coaches and scouts on hand to observe both events held at the ESPN Wide World of Sports Complex, ChampionsGate Sports Complex, Austin-Tindall Park and North East Regional Park.
+National League Girls Recaps: Day 1 | Day 2 | Day 3
As six teams qualified for the 2017 US Youth Soccer National Championship via the National League, the rest of the U-15 to U-19 teams representing 36 U.S. states, Australia, England and Canada, battled for division titles in one of the most competitive showcase events of the year.
Michigan's Nationals Union had three teams win their respective divisions, the most of any club. Union 02 Black won the U-15 National League Division while also clinching a spot at the 2017 US Youth Soccer National Championships. Meanwhile, Union 01 Black finished atop its group in the U-16 National League Division and Union 99 Black placed first in the U-18 National League 'B' Division.
Maryland's Pipeline SC saw its teams win the U-15 Showcase Red and U-17 Championship Red Divisions, combining to post an unbeaten 7-0-1 record in the competition.
Virginia's Loudoun Soccer captured a pair of division titles, as Loudoun 99 Red won the U-18 Championship Black Division and Loudoun 01 Red won the U-16 Premier Gray Division.
+Read: Champions decided at Disney Boys Soccer Showcase
Florida Kraze Krush also had two championship squads, with Krush Black 02 winning the U-15 Premier Black Division and Krush Black 00 claiming the U-17 Championship Black Division.
Florida's Sunrise Sting was the only other club with multiple teams claiming division championships, as Sting 99 Black won the U-18 Showcase Black Division and Sting 98/99 took the 98/99 Showcase Red Division.
See below for a full list of champions and finalists from the Disney Girls Soccer Showcase. Click here to view the National League recap and results.
Champions and Finalists
U-15
National League
Champion: Nationals Union 02 Black (MI)
Finalist: North United FC Rush (PA)
Showcase Red
Champion: Pipeline SC Black (MD)
Finalist: SUSA ISA NPL 02 (NY)
Showcase Black
Champion: South Shore Select AP (MA)
Finalist: Massapequa NPL Lil Rowdies (NY)
Premier Red
Champion: Lonestar 02 Red (TX)
Finalist: FC United Premier 02 Select 1 (IL)
Premier Black
Champion: Florida Krush Black 02 (FL)
Finalist: Triangle Futbol Alliance 02 (NC)
Championship Red
Champion: Century V 02 Gold (PA)
Finalist: NEFC Breakers 02 NPL (MA)
Championship Black
Champion: Florida Elite 02 (FL)
Finalist: Chicago Inter Soccer 02 Red (IL)
U-16
National League
Champion A: Michigan Jaguars 01 Green (MI)
Champion B: Nationals Union 01 Black (MI)
Finalist A: BRYC Elite Academy 01/02 (VA)
Finalist B: Nationals Union 01 Red (MI)
Showcase Red
Champion: NJ Wildcats Averbuch NPL (NJ)
Finalist: SUSA ISA NPL 01 (NY)
Showcase Black
Champion: Tennessee SC 01 Showcase (TN)
Finalist: Tampa Bay United Premier 01 (FL)
Premier Red
Champion: Ottawa South United 01 Force Black (CND)
Finalist: South Carolina United FC 01 Elite (SC)
Premier Black
Champion: FC Alliance 01 (TN)
Finalist: SUSA Elite 01 (NY)
Premier Gray
Champion: Loudoun Soccer 01 Red (VA)
Finalist: GPS Florida West 01 (FL)
Premier White
Champion: FC Copa Academy 01 Black (NJ)
Finalist: Pinecrest Premier 01 Blue (FL)
Championship Red
Champion: Team Chicago Academy 01 Elite (IL)
Finalist: Wilmington Hammerheads White (NC)
Championship Black
Champion: Kentucky Fire Juniors 01 Premier Red (KY)
Finalist: PA Classics Academy 01 (PA)
Championship Gray
Champion: Sporting BV Bordeaux 01 (KS)
Finalist: NASA Tophat 01 Gold (GA)
U-17
National League
Champion A: FC United 00 Select 1 (IL)
Champion B: Campton United SC 00 (IL)
Finalist A: Sunrise Sting 00 (FL)
Finalist B: Triangle Futbol 00 Alliance (NC)
Showcase Red
Champion: Princeton SA IGFA 00 NPL (NJ)
Finalist: Lou Fusz SC – M. Elam (MO)
Showcase Black
Champion: Massapequa SC Strikers NPL (NY)
Finalist: Team Boca 00 White (FL)
Showcase Gray
Champion: Cincinnati United Premier 00 Gold (OH)
Finalist: Beach FC 00 Red (VA)
Premier Red
Champion: United Futbol Academy Milton 00 Premier (GA)
Finalist: IMG Academy (FL)
Premier Black
Champion: CSA Lobos-Rush 00 Lady Lobos Premier (TN)
Finalist: Dallas Texans 00 (TX)
Premier Gray
Champion: SUSA ISA NPL 00 (NY)
Finalist: La Roca FC Premier 00 (UT)
Premier White
Champion: New York SC 00 Sapphire (NY)
Finalist: STA Morris United NPL 00 (NJ)
Championship Red
Champion: Pipeline SC Black (MD)
Finalist: Weston FC 00 NPL (FL)
Championship Black
Champion: Florida Krush Black 00 (FL)
Finalist: Chicago Inter Soccer 00 Red (IL)
Championship Gray
Champion: CL Force 00 Elite+ (IL)
Finalist: GPS ME Phoenix 00 Blue (ME)
U-18
National League
Champion A: Syracuse Development Academy 99 (NY)
Champion B: Nationals Union 99 Black (MI)
Finalist A: Midwest United FC 99 Royal (MI)
Finalist B: FC Pennsylvania Strikers (PA)
Showcase Red
Champion: FC Europa Eilte (PA)
Finalist: OPSA Magic (MD)
Showcase Black
Champion: Sunrise Sting 99 Black (FL)
Finalist: Orlando City Youth Soccer 99 ECNL (FL)
Premier Red
Champion: Pittsburgh Riverhounds Academy 99 (PA)
Finalist: OBGC Soccer 99 (MD)
Premier Black
Champion: Herndon United 99 (VA)
Finalist: NTH Tophat 99 Gold (GA)
Premier Gray
Champion: Vienna Youth Soccer 99 Phoenix (VA)
Finalist: Arundel Premier 99 (MD)
Championship Red
Champion: Summerville SC Freedom 99 (SC)
Finalist: Michigan Jaguars 99 Green (MI)
Championship Black
Champion: Loudoun Soccer 99 Red (VA)
Finalist: NJ Stallions Academy 99 NPL (NJ)
U-19
National League
Champion: Carolina Rapids Burgundy (NC)
Finalist: Team Chicago Academy 98 Elite (IL)
Showcase Red
Champion: Sunrise Sting 98/99 (FL)
Finalist: Lake Grove Newfield SC Tsunami (NY)
Premier Red
Champion: Ambassadors FC 98 Blue (OH)
Finalist: Bayside FC Bolts 98/99 (RI)
Premier Black
Champion: Sting Austin 98 Premier (TX)
Finalist: SYA Cardinals 98 Red (VA)