Champions crowned at US Youth Soccer ODP Championships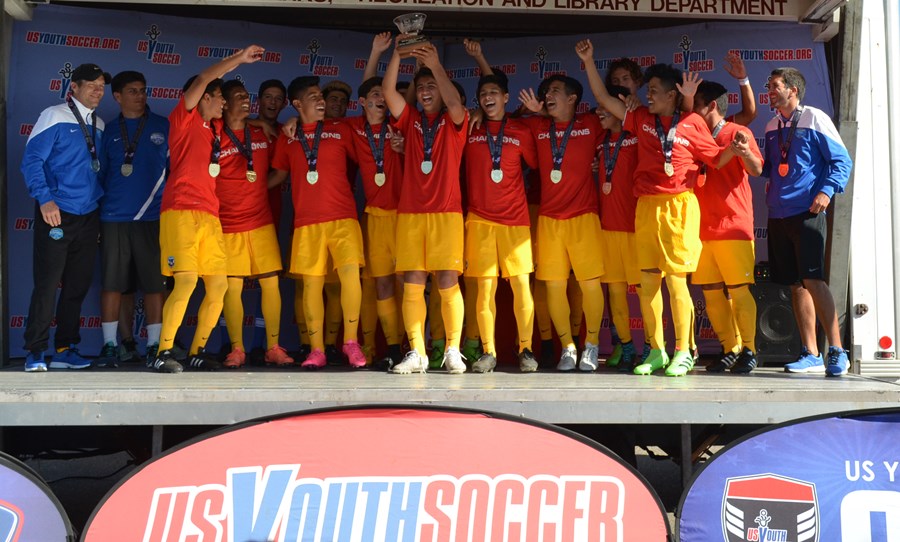 Cal South Goes 3 for 3
Eastern New York Earns First Boys Title
PHOENIX, Ariz. (Via US Youth Soccer) — Champion teams were crowned Sunday at the 2016 US Youth Soccer Olympic Development Program Championships at the Reach 11 Sports Complex in Phoenix, Ariz. Cal South took home three national titles, while Eastern New York claimed its first boys title in the 1999 age group with both wins coming from kicks from the mark.
2016 US Youth Soccer ODP Champions
| | |
| --- | --- |
|    1999 Girls Champion – California South* |    2000 Girls Champion – California South |
|    1999 Boys Champion – Eastern New York |    2000 Boys Champion – California South |
* Two-time ODP Champion
Players try out for the high-level US Youth Soccer Olympic Development Program through a series of trials at their US Youth Soccer State Association. Those selected are exposed to some of the nation's best coaches, trainers and facilities.
US Youth Soccer ODP is the original Olympic development program. It is the only elite player development program that can claim members of Major League Soccer and the National Women's Soccer League, as well as a majority of current and past national and youth national team members, as alumni. With programs in all 55 State Associations, as well as regional, national and international tournaments, US Youth Soccer ODP continues to offer development and exposure opportunities to any player, regardless of hometown or club affiliation.
Match Highlights:
1999 Girls
Cal South 99 won its second straight ODP Championship with a 5-0 win over Michigan 99. Cal South got goals from Sydney Carr, Chloe Boice, Ashley Johnson, Samantha Fisher and two-time US Youth Soccer National Champion with Legends FC 99 (CA-S) Denae Antoine, to secure the title in the team's final match.
1999 Boys
It's not very often a team wins a tournament without scoring a goal in regulation or extra time, but that is exactly how Eastern New York 99 claimed its first ODP Championship title on the boys side by overcoming Minnesota 99 via kicks from the mark. Eastern New York followed a very similar formula to its semifinals win over North Carolina 99. In both matches Eastern New York played significant time a man down, held it's a opponents scoreless, received game winning kicks from Pablo Napoli Borrero and had game winning saves by Tyler McElhinney.
2000 Girls
A second half goal from Annabella Folino was the difference for Cal South 00 as the Region IV side defeated North Carolina 00 1-0 in the finals. After a scoreless first half, the 2012 US Youth Soccer Region IV Champion with West Coast FC (CA-S), broke the draw with a goal in the 60th minute, and the Cal South defense would hold off North Carolina to claim the national title.
2000 Boys
Cal South 00 would win the 2000 Boys title by the same score as their female counterparts as they defeated Michigan 00 1-0. Christian Zavala, who was named to the 2016 ODP Region IV Championships Tournament Team, broke the scoreless stalemate 15 minutes into the match after receiving a cross on the left side of the box and burying his shot. Michigan would earn a myriad of opportunities in the second half, but were unable to find the back of the net as Cal South completed a sweep of the 2000 age group.